City Shopping - Jewelry Blogs
Back to Blog... | View More Bloggers...

About the Author: About the Author: Ruth J. Katz is a well-known shopping and service writer based in New York City. She has written about shopping for 25 years for New York magazine; covered the topic on-air at Fox-TV for several years as the Home Services expert; and had her own show on both the USA and Lifetime Cable networks. Katz wrote extensively for The New York Times as well, and contributed periodically to the New York Daily News. She is a passionate shopper, always looking for not merely a good buy, but the best buy, ferreting out a "steal" or discovering up-and-coming designers. She has written five books and is a former contributing editor to Hearst's Redbook, Classic Home, and Colonial Homes; she is currently a Contributing Editor of New York Home, Golf Connoisseur, The Modern Estate, and Promenade magazines. She is also the former Shopping Director for Davler Media's Manhattan Living.


---
City Shopping
This autumn, the esteemed Swiss watchmaker Chopard will celebrate the twentieth anniversary of the creation of its fun and fantasy watch, the Happy Sport. The ingenious creation of co-president Caroline Scheufele, the Happy Sport originally married casual elegance and haute joaillerie in a single timepiece.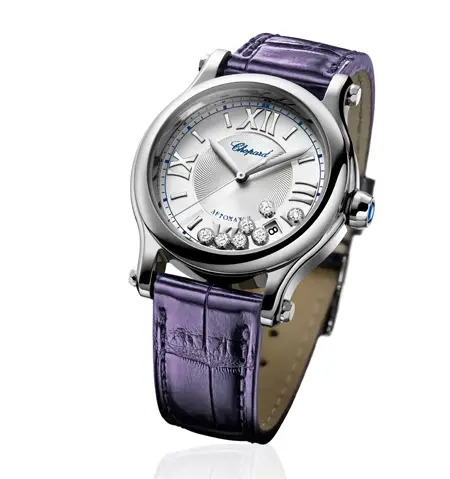 According to Chopard, it was the first time something as precious as diamonds was combined with a material as mundane as steel, exuding the devil-may-care vibe, coalescing diamonds and daytime in a way they had not been used together before. Over the years, there have been countless models of the Happy Sport watch, some giddily silly with "dancing" fish chasing diamond prey, twinkling snowflakes, fantastic four-leaf clovers, others more sedate but still with an toward whimsy, with playful, roving diamonds on the face of the watch. But always, the Happy Sport has brought a smile to a viewer's or a wearer's face.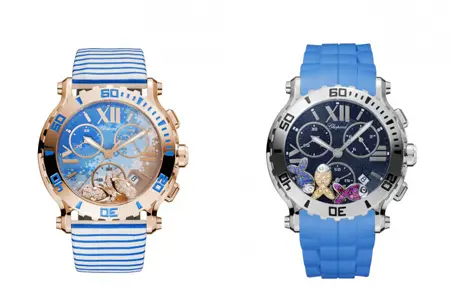 In acknowledging this landmark, Chopard has created a method for customers to create their own contemporary version of the Happy Sport, to have a one-of-a kind, truly singular watch. The Happy Sport customization process allows purchasers to truly personalize a timepiece, engaging them in the design process for the first time. The procedure is kind of fun, too: Download the iPad or iPhone app (or go to a Chopard boutique) and design your watch from scratch through the various options, selecting items from the hot pink Happy Sport traveling trunk-kit (pictured below): Pick a strap (how about lavender or coral rubber?), a face, a design, embellishments (trinkets, charms, and so on), different colors, and, well, you get the point... Three weeks later, voilà! You have a custom-made watch!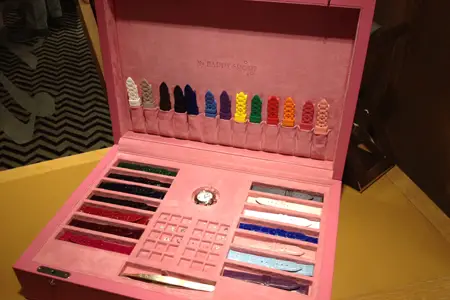 Watch prices vary of course, but most Happy Sport watches start at about $10,000, and of course, the sky is the limit, if you decide that you just need to have many roaming diamonds in the face of your watch! BE prepared to grin every time you look at the watch to check the time.
Chopard Boutique, 709 Madison Ave., 212-223-2304; chopard.com
Posted on Monday, July 01, 2013 @ 05:01 PM | 0 replies Start the Discussion
---
City Shopping
There are watchmakers and then there are watchmakers. In the pantheon of the superlative, the name Abraham-Louis Breguet, namesake of the eponymous Swiss watchmaking company, takes a front-and-center position, high in the firmament of timekeeping geniuses. It was unquestionably Breguet who was considered the leading watchmaker of his time (1747-1823), responsible for countless innovations and inventions, not the least of which was the 1801 patent for the tourbillon escapement, which he developed around 1795.
Celebrating the wizardry of Breguet, now through February 2, 2014, is the exhibit entitled Breguet, the Innovator: Inventor of the Tourbillon which honors the man and the "machine" at The Frick Collection's Portico Gallery, the only room in this illustrious jewel of a museum where direct sunlight bathes the artifacts—and therefore allows the treasured bijoux to glow in their own luminosity. Concommitantly, the Frick's Precision and Splendor: Clocks and Watches at The Frick Collection has also been mounted and it highlights some of the most spectacular timepieces ever created.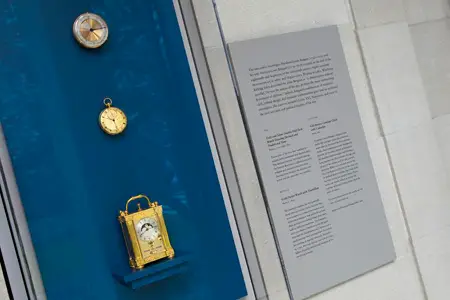 In his day, Breguet was the go-to guy for anyone wanting a specialty watch or a tricky clock—indeed, anything horological. His clientele included many leading political and public figures as well as members of the European aristocracy. Alongside his friend and contemporary John Arnold, Breguet is now widely acknowledged as one of the greatest horologists of all time.
Among other treasures, the exhibit features three historic Breguet timepieces by the master and his son, Antoine-Louis—a double-dial desk clock, a gold tourbillon pocket watch, and a gilt-bronze carriage clock—spanning the period from the early sixteenth century through the nineteenth century. Noted Ian Wardropper, director at The Frick Collection, New York, that for this exhibition, "We chose the Breguet watches and one clock before we ever thought about partnering with Breguet because they happen to be the finest clocks of that time. The three watches together just made a wonderful display and showed the innovation and clock-making of this era." Indeed, this is a partnership made in heaven...the best of New York and the best of Breguet.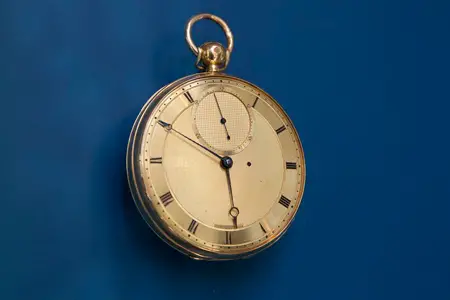 The show chronicles some of the most significant European watches in the United States and the items for it were carefully and artfully selected by Charlotte Vignon, The Frick Collection's associate curator of decorative arts. The exhibit comprises 11 clocks and 14 watches from the inheritance of Winthrop Kellogg Edey, as well as five clocks lent by collector Horace Wood Brock, which have never been on display in New York.
The Frick Collection is supporting the exhibition with educational programs, videos, and seminars during the run. It is no coincidence that during the time the exhibit is mounted, the anniversary of Breguet's creation of the tourbillon will occur—this week, June 26th (1801), and at that time, at the Breguet boutique flagship store (711 Fifth Avenue at 55th Street), there will be a viewing of the company's Extra-Thin Tourbillon 5377 along with an extensive collection of tourbillon timepieces and some of the newest and most novel models presented at the recent BaselWorld 2013. Additionally, earlier this year, Breguet began to celebrate its founder's tourbillon innovation through a month-long exhibit in Geneva that will tour other cities worldwide.
Posted on Monday, June 24, 2013 @ 11:00 AM | 0 replies Start the Discussion
---
City Shopping
I have always loved (and appreciated) the jewelry designs of Jane Bohan and periodically I have featured her work in the pages of Promenade magazine. She is well known for her stackable rings, many of which are beautifully incised, featuring exquisite intaglio carving or etching, giving the shanks and settings remarkable texture and dimension. Her necklaces are usually elegant statement pieces, and her earrings are always feminine and provide the just-right touch for any outfit.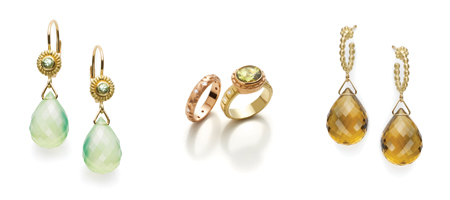 Luckily for us, all her bijoux are about to go on sale in her annual Holiday Jewelry Sale, for two weekends, December 6th through the 8th and the 14th through the 15th. She is promising huge savings on everything, with at least 50% off retail pricing. Prices at the sale start as low as $150 and escalate up to $2,500, significantly lower than her normal tariffs.
The sale is taking place at 611 Broadway (corner Houston Street), Suite 840. Hours: hursday the 6th, Friday the 7th, and Friday the 14th, from noon to 7 p.m.; Saturday the 8th and Saturday the 15th, from 11 a.m. to 5 p.m. Cash and credit cards accepted. Additional info: 212-529-6090 and info@janebohan.com.
Posted on Tuesday, December 04, 2012 @ 03:50 PM | 32 replies View/Post Feedback
---
City Shopping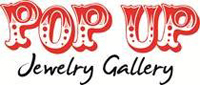 The holiday shopping season is now officially in full swing, and to help you pinpoint that just-right jewelry gift (and who wouldn't want a little sparkly something?), a charming pop-up jewelry gallery, aptly named POP Up Jewelry Gallery, has opened at 30 Gansevoort Street (between Hudson and Greenwich Streets). Open through December 31, the shop has a giant "pop-up" sign in the window...in bright Hollywood-style lights. It's cozy, spotless, and all-white inside, the better canvas for ferreting out sparkly jewels.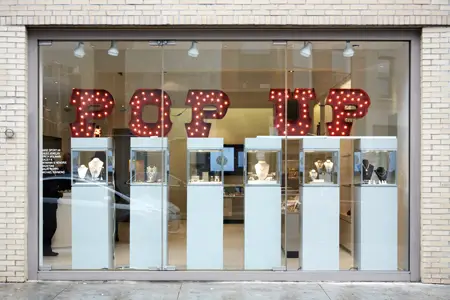 POP Up Jewelry Gallery located at 30 Gansevoort Street in the Meatpacking District features 8 fine jewelry designers for a limited time (until December 31st) including: Anne Sportun Fine Jewellery, Caleo, Heimann & Hendrix, Erica Molinari, Kacey K, MAD by Madstone and Madstone, Mauri Pioppo Fine Jewelry, Michael Raymond Designs
And of course, the timing could not be more perfect since forty percent of all fine jewelry is sold in the last quarter of the year. Unlike most pop-up shops which create an ultimate frenzy for impulse shoppers, this gallery has already been open for two months, establishing a mini-foothold in the ultra-trendy Meatpacking District, and attracting the typical weekend shoppers and the nabe regulars.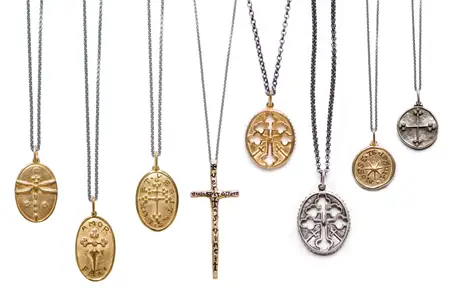 Erica Molinari - Sterling silver double sided charms with oxidized silver chains; 14 karat gold double sided charms with oxidized silver chains; 14 karat gold cross pendants with oxidized silver chains; Suggested retail prices range from $250 to $2,000
The salon is the brainchild jewelry-partners-in-crime, designer Kerri Halpern of MadStone Jewlery and Mad by MadStone and Diana Heimann of Heimann & Hendrix. The partners conceptualized, opened, and will manage the pop-up for the duration of the holiday season. The other designers on board include Anne Sportun Fine Jewellery, Caleo, Erica Molinari (above), Kacey K, Mauri Pioppo Fine Jewelry, and Michael Raymond Designs. Each designer showcases his/her bijoux in a separate case and the feel of the emporium is more gallery than shop.
Jewelry prices range from the highly affordable ($150) to the aspirational ($20,000), with a wide panoply of styles and tastes represented within that broad spectrum. While the majority of the jewelry in the shop is for women, there are also some designers specializing in menswear, with cufflinks, chunky chains, cool logo pins, and the link. There are also fine men's watches with a great deal of style and pizzazz from Jorg Gray. Additionally, there are some other items, such as special coffee table books, which are also available for sale.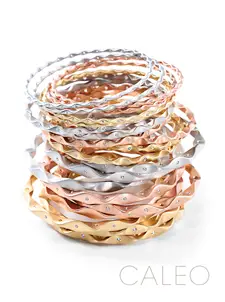 Jewelry from Caleo is actually from a husband-and-wife team, she an architect, and he, a sculptor. Working with elegant moonstones and hematite, they create lovely and delicate chains (and some more substantial ones for men) and talismans. Halpern's two lines range from about $200 to $18,000 and feature some fanciful pieces. She describes herself as a "rocker who loves champagne," and to satisfy that craving, she has created her "Bubble" line, with quartz etched with floating bubbles on the underside of the stones. She handles amethyst, smoky topaz, and quartz masterfully and brings the gems to life magically. Her bangles are a steal at $100. (The Caleo PINCH bangles, pictured right, come in many sizes and variations, and range from $275 to $6,250.)
Heimann & Hendrix's line includes some charming stackables, both feminine and delicate, and well-priced. Kacey K's offerings are dainty and fine, with countless variations of jewelry that can be worked with names, monograms, initials, and personal icons. Her line ranges from about $300 to $3,600. Erica Molinari's jewelry is noteworthy for its reversible pendants and charms. She also creates many dangly earrings, worked with a single stone that sparkles and dazzles. A simple, elegant statement. The work from jewelry Anne Sportun is marked by the use of colorful briolettes, sapphire beads, kyanite stones, shaped spinels (that look like lava rocks)and organic-shaped jewels. The line from Mauri Pioppo Fine Jewelry is rife with crystals, pendants, spirituality, symbolism—from love letters to initials, little locket-like charms that have room for a picture. A yogi, she tries to even incorporate healing stones within her work.
The shop will host themed weekly events (last week it was a doggy day, a fundraising event for orphaned pets from Hurricane Sandy), designer appearances, and entertainment, with a live DJ and an array of smart cocktails. Open to all patrons, the week's events will be posted on the front door. Store hours are Tuesday to Sunday, noon to 7:00 pm, closed Mondays. For more information, call 646-861-1180 or email info@popupjewels.com.
Posted on Monday, November 26, 2012 @ 11:12 AM | 0 replies Start the Discussion
---
City Shopping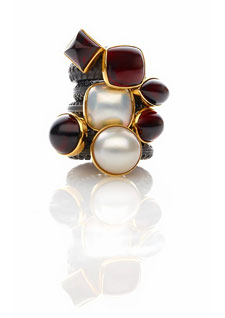 The word "loot" conjures up images of precious (perhaps purloined?) treasures—the spoils and bounty of war, plundered golden artifacts encrusted with diamonds, chalices and goblets dripping with ormolu, tomb-raided objets d'art. You get the idea: Prized, valuable "stuff," objects that can elevate the spirit or enlighten civilization—things meant to be coveted and cherished.
Twelve years ago when the Museum of Arts and Design began its annual LOOT extravaganza-event, it was hoped that the buying public would react that way—and come to purchase the splendorous and valuable jewelry showcased in this pop-up shop/exhibit. Here are riches designed by contemporary studio artists—jewelers you do not find at a typical "jewelry store"—many of whom have never shown in the States. Their works are inventively modern pieces, some created with precious metals and stones, and other jewelry crafted from unexpected materials such as titanium, stainless steel, glass, wood, rubber, fabric, leather, paper, and found objects.
Unlike any other jewelry event in the country, LOOT 2012 gives aficionados and neophytes alike the opportunity to meet some of the most innovative and sought-after jewelers working today...and to buy highly collectible bijoux from these gifted artists. This curated edition of LOOT is the grandest ever and represents an international cavalcade of over 50 fine jewelers. (It will also showcase the work of jewelry students from Gotham's own Fashion Institute of Technology.)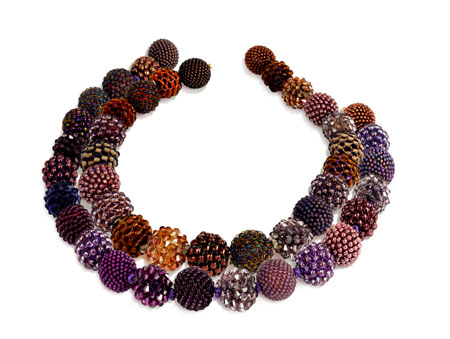 For the first time, LOOT will honor esteemed German jeweler Axel Russmeyer, who will receive the inaugural LOOT Award for Contemporary Art Jewelry. Russmeyer's signature work is constructed from extraordinarily stunning, ethereal, and elegant beaded-beads that he painstakingly creates by hand and then works into the most appealingly seductive earrings, necklaces, and bracelets (such as the one pictured above). Talk about wanting to covet jewelry—he's your man. (Russmeyer's works at the show will range in price mostly from $1,250 to $3,250, although there are highly desirous necklaces that soar up to $12,500.)
The show-sale is being staged September 11 to 15 at the Museum; proceeds benefit the exhibition and education programs of the Museum of Arts and Design. LOOT 2012 is made possible in part through the generosity of the Silver Institute: Silver Promotion Service and MAD's Jewelry Study Day is supported by Van Cleef & Arpels. Additional info: madmuseum.org; madaboutjewelry.tumblr.com
Posted on Tuesday, September 11, 2012 @ 12:45 PM | 0 replies Start the Discussion
---
City Shopping
A mere two years ago, the Masterpiece London art/collectibles show was established, staged at the former Chelsea Barracks. The fair, offering an extraordinarily wide range of goods—from cars, fine wines, timepieces, barometers, and ceramics, to fine and decorative arts and jewelry—featured 118 exhibitors, and resulted in a solid attendance record,18,000, which is certainly strong for a first-time exhibition. A year later, the show moved to its now-permanent home, the South Grounds of the Royal Hospital Chelsea, and the roster of dealers grew to over 150, while the number of attendees mushroomed to more than 28,000, among whom were HRH Prince Harry, Sir Elton John, Oprah Winfrey, Anish Kapoor, and Tom Ford. This year's show, with over 5,000 people attending the opening night preview over the weekend, promises to produce even greater numbers. (There are three more days to catch the show, so if you're in London, this is the place to be.)
Dealers from the world over have converged for the 2012 staging, and they are selling over £1 billion of collectibles—fine and decorative arts, Egyptian artifacts, jewelry, textiles, prints, contemporary art, automobiles, fine wines, clocks and watches, porcelains and ceramics, furniture, and objets de vertu. Galleries include a veritable who's who in the art world and also in the world of luxury collectibles, such as Hemmerle, Vacheron Constantin, Verdura, Ruinart Champagne, Rolls Royce Motor Cars, S. J. Phillips,Ltd., Marlborough Fine Art, Linley, Kentshire Galleries, Theo Fennell, and A La Vielle Russie; they are merely the proverbial tip of the iceberg in a list that again numbers well over 150.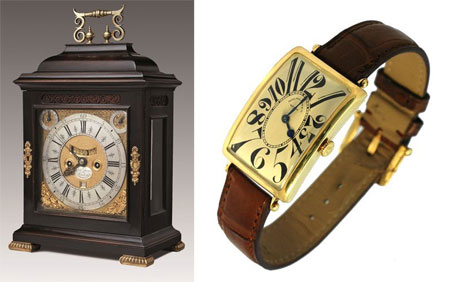 The show offers the world's best in fine and decorative arts and bespoke collectors' items. According to Masterpiece London Chairman, Philip Hewat-Jaboor, "This year the fair has attracted many of the most serious collectors, curators, and patrons from the Middle East, the Far East, Europe, America, and Canada. We've seen an incredibly high caliber of visitor, including Lord Thompson, Sheikh Al-Thani, Rose Tarlow, Charles Saatchi, Terence Conran, and Jeffery Archer, to name a few." New York City collector Roy Zuckerberg, who has experienced the fair since its inception, commented, "There's a wonderful crowd at Masterpiece London. As a collector the fair is excellent and gets a little better every year…and I'm a three-year veteran."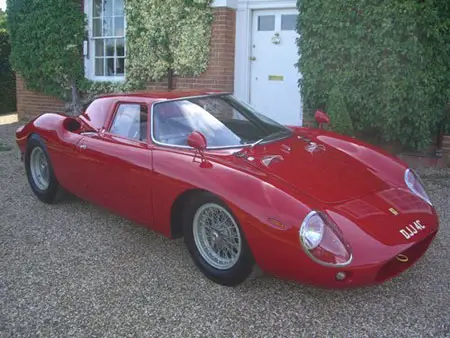 Presenting a snapshot of the history of art and design from antiquity to the present day, Masterpiece London provides visitors with the opportunity to view stellar offerings, all under one roof. The show is open today, Monday, from 11 a.m. to 9 p.m.; Tuesday, from 11 a.m. to 6 p.m.; and Wednesday, from 11 a.m. to 9 p.m. Tuesday's earlier closing allows time for Masterpiece London's charity event, the Masterpiece Midsummer Party, from 7 p.m. to 10 p.m., which supports CLIC Sargent, the UK's leading cancer charity for children and young people. Tickets for the fair are £20 per person and for the CLIC party, £150 per person. Tickets can be purchased online at www.masterpiecefair.com, where additional information is also available.
Posted on Monday, July 02, 2012 @ 10:50 AM | 0 replies Start the Discussion
---
City Shopping
In our jewelry pages in the current issue of Promenade, we are featuring baubles and bijoux that people collect: Talismans, lockets, amulets; vintage jewelry; stackable jewelry; and charms for charm bracelets (or even charm necklaces). The latter is particularly dear to me, as I still have (and wear!) my charm bracelet, started when I was eight years old. Every time I bring it to my jeweler's to add another charm—which I do buy, but really far and few between at this stage of my life—my jeweler says that he could blackmail me, became he knows so much about me from my bracelet's charms and all the history they bear. (Dare I say that they tattle?)
One of the charm bracelets we have featured in this story is from Carolee, celebrating its fortieth year in business. Founded by Carolee Friedlander in 1972, the company has been at the forefront of stylish costume jewelry for these forty years -- always creating collections that you would salivate for. (Full disclosure: Yes, I have many Carolee pieces.) There have been collections inspired by Jackie O, the Duchess of Windsor, and countless other ladies of taste. There have been fabulous pin collections, great bridal jewelry, and the lavish Luxe Collection that has taken costume jewelry to new heights…and I may say new widths, too, since Carolee is now sold in 33 countries around the world. That is pretty broad distribution, an acknowledgement of the universality of the four-times-yearly collections and a tribute to the skill and acumen of the company's astute designers.
Perhaps the best thing that the company has done was to mark its 25th anniversary by partnering with the Breast Cancer Research Foundation. From that time 'til now (and I would assume forevermore, given the company's commitment), Carolee has created specific pieces for purchase that strike a fashionable note for women, and which strike a ka-ching with the charitable cash register: A portion of the purchase prices of these special pieces goes to the Foundation.

Newest to join the ranks of these singular pieces are three charm bracelets (above, from left - click here for a larger version): one created for Bloomingdale's ($95), one for Lord & Taylor ($65), and one for Macy's ($55). Each is different and exclusive to the specific department store. They are gold- or silver-tone and really adorable. The best part, however, is that $5.00 of the purchase price of each goes to the BCRF. They are cute and fun -- the Bloomie's bracelet features, among its charms, the signature Little Brown Bag. You'll recognize other icons, as well, on the bracelets...and you'll want to snap them up immediately, as they were produced in limited editions. If you feel you need more charms, you can always buy two bracelets! (Then you won't have a meddlesome jeweler knowning all your life's secrets, were you to add your own charms!)
Posted on Tuesday, June 05, 2012 @ 09:48 AM | 1 reply View/Post Feedback
---
City Shopping
If you made it to the SOFA show this past week (it ended yesterday and was last week's blog post), then chances are you appreciate exquisitely handmade, fine, functional art (and craft, if you will), as well as unique jewelry. So, if the latter tickles your fancy, then you'll want to at least look on at the Headley-Whitney Museum's Web site in case your travels do not take you to Lexington, Kentucky, between now and July 8th...and if they do, then you'll want to visit the museum, for sure.
The Headley-Whitney (a Smithsonian affiliate) is a little-known jewel in the pantheon of jewelry: George W. Headley III (1908-1985) studied art at the Art Students League in New York and l'Ecole des Beaux-Arts in Paris. He later apprenticed as a designer with the well-known New York jeweler Paul Flato in the '30s, and shortly thereafter, he opened his own bijoux boutique in California at the posh Hotel Bel-Air. Before long, he had a loyal fan base, devotees who included such Hollywood glitterati as Fanny Brice, Mae West, and Joan Crawford.
After nearly a decade of success on the West Coast, Headley returned to his family farm, La Belle, in Lexington and continued his career designing jewelry and bibelots. In 1960, he married Barbara Whitney Henry Peck, sister of noted thoroughbred horseman Cornelius Vanderbilt Whitney and daughter of the sculptor Gertrude Vanderbilt Whitney, the founder of New York's Whitney Museum of American Art. In '68, he opened his distinctive Jewel Room and Library building on the scenic grounds of the family homestead. The museum complex was completed with the addition of a new main building and a sort of charming, albeit a bit wacky, shell grotto.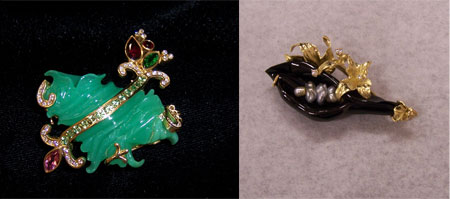 Left: Garden of Delight by Paula Crevoshay; right: pin by Angela Conty
The museum continues to mount gorgeous shows like The Cutting Edge II: A Gem and Jewelry Invitational, highlighting the decorative arts and, of course, jewelry. This lovely, carefully curated show showcases the works of 23 jewelers. The stunning jewelry on display includes brooches, rings, earrings, necklaces, bracelets, as well as wonderful eyewear and sumptuous objets de vertu, like pens, spoons, and decorative metalwork. This amazing exhibit features the work of 23 American and Canadian contemporary jewelers and gem carvers, many of whom have garnered prestigious awards including accolades from the American Gem Trade Association. Some of the fine jewelers have been featured in the pages of Promenade, our luxury magazine, and include Darryl Alexander, Jackie Anderson, Paula Crevoshay, Derek Levin, Todd Reed, Gil Roberts, Naomi Sarna, and Llyn Strelau, among the group.
The Headley-Whitney Museum is open Tuesday through Friday from 10 a.m. to 5 p.m., and Saturday and Sunday noon to 5 p.m, with the last tour at 4pm. For additional information: 859-255-6653 or visit the museum's Web site.
Posted on Wednesday, April 25, 2012 @ 01:33 PM | 0 replies Start the Discussion
---
City Shopping
Girard-Perregaux, the luxury Swiss manufacturer of haute horologie, is showcasing its most classic, iconic timepieces for the first time in New York City. The brand is currently celebrating 220 years of watch-making history, and in so doing, is honoring many of the genius, virtuoso watchmakers who have contributed over two centuries of fine watch-making, extraordinary craftsmanship, and great ingenuity to the company's legendary reputation. Upon viewing the intimate exhibition, it will become instantly apparent why this company has such a burnished reputation. Included in the show are outstanding pieces from the proprietary Girard-Perregaux collection, many watches being the ne plus ultra of quality, excellence, and originality. On display will be a stunning collection of timepieces, from elegant pocket watches to multiple, award-winning wristwatches, from both past and present collections, each infused with the company's traditions of impeccable artistry and skillful expertise.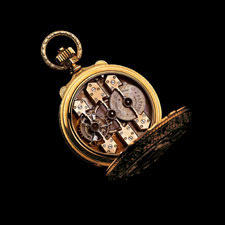 Girard-Perregaux is paying tribute to the finest moments of its history by presenting its most famous pocket watches, like the 1889 La Esmeralda (right) and its 1840 Lepine pendant watch, signed by J.-F. Bautte & Co, in addition to its classic wristwatches. These include the 1991 Tourbillon, the 2009 version of the Vintage 1945, and the 1966 Tourbillon, with its refined architecture, and which is now the standard bearer, as the company's 220th Anniversary wristwatch (pictured on our home page). To observe the steady movements of these watches is to understand the spirit and genius of a particular time and place.
The exhibition is taking place at the Girard-Perregaux boutique, at 701 Madison Avenue (63rd Street), and is open to the public (free) from Friday, November 18th to Wednesday, November 23rd, daily, from 10:00 a.m. to 6:00 p.m. (closed Sunday, the 20th). Additional information: www.girard-perregaux.com; 646-495-9915.
And if you haven't gotten your fill of watches from this outstanding show, you can then hop over to A La Vieille Russie, at Fifth Avenue and 59th Street, to see the exhibition of the historic Parmigiani watches we wrote up two weeks ago. That exhibition has another few days left for viewing...and by then, after viewing both, you should be sated with the splendor and wonder of fine watches...and ready to buy a new one!
Posted on Monday, November 14, 2011 @ 12:56 PM | 0 replies Start the Discussion
---
City Shopping
Mechanical Wonders: Antique Automatons and Contemporary Watchmaking is a must-see exhibit, now showcased at one of New York City's most jewel-like gallery-shops, A La Vieille Russie; the show is co-sponsored by renowned watchmaker Parmigiani Fleurier, one of the most prestigious of the Swiss haute horlogerie brands of collectible watches. The exhibit opened last week and will continue through December 10 (see below for hours and other particulars).
This astonishing show, while aimed at watch collectors and connoisseurs of automatons and Fabergé objets, is a treat for anyone who loves beautiful decorative objects. The show offers a unique opportunity to celebrate the art of watchmaking, and many of the pieces on exhibit are being seen here in America for the first time: There are mechanical marvels, exquisite "trinkets" from Fabergé (including the majestic Imperial Peacock and Swan eggs, pictured below), and masterful, contemporary timepiece creations of Parmigiani Fleurier.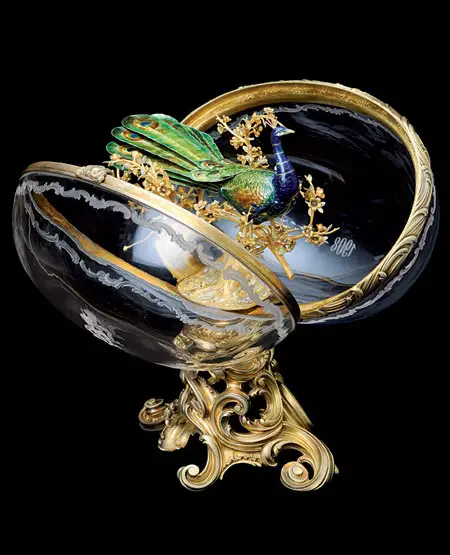 The pieces on display are from the exclusive Maurice Sandoz Collection, which was restored by Michel Parmigiani. Sandoz, a writer, composer, and collector of timepieces and automatons, had an eye for exceptional pieces. Upon his arrival in the United States in 1941, he began to cultivate a close relationship with A La Vieille Russie. Through this collaboration, in 1954, Sandoz acquired the celebrated Imperial Swan Egg, created by the jeweler extraordinaire, Peter Carl Fabergé. The Sandoz Collection now consists of several pieces by this legendary Russian jeweler, including the Miniature Piano, the Imperial Peacock Egg, the Youssoupoff Clock, the Golden Peacock, and of course, the Imperial Swan Egg -- all of which are on display throughout the exhibit. Other wondrous items include a perfume "gun," a miniature sewing kit, etuis and bibelots of all type, cane handles, magicians boxes, vanity mirrors, and the like. One is more staggeringly stunning than the next.
Michel Parmigiani has always been committed to the centuries-old tradition of watchmaking excellence and today his company produces exclusive mechanical timepieces. Each piece within the Sandoz Collection boasts a variety of unique features. In tribute to this event, Parmigiani chose to create two timepieces, each of which reproduces a particular mechanism from the collection, honoring two of Sandoz' pocket watches—an oval watch with telescopic hands and a Perrin Frères pocket watch. Both of these exquisite specimens date from the 1800s.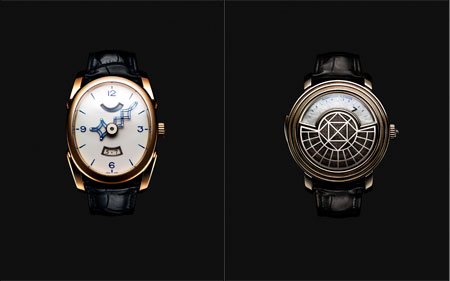 Parmigiani's homage to the former is a timepiece with telescopic hands that run around the radii of an oval-shaped dial. As they reach the 12 and the 6 marks, each hand extends to its greatest length and when each reaches the 3 and the 9 marks, each compresses. Within these two hands—in order to effectuate this intricate elongation and shortening—there are sixty different parts! The second, the watch honoring the Perrin Frères, is an elaborate minute repeater with cathedral chimes, with the time displayed in a half-moon aperture with hours passing by—a reverential nod to the inventiveness of the master watchmakers of the past. On the back of the calibre, the blued-steel cathedral chimes come in a highly original serpentine shape around the movement, perfectly visible through the sapphire crystal case-back.
A La Vieille Russie has remained a family enterprise since its founding in Kiev in 1851; the gallery has been at its present location on the corner of Fifth Avenue and 59th Street since 1961, and is currently under the direction of brothers Messrs. Paul and Peter L. Schaffer and Paul's son, Dr. Mark A. Schaffer. Over the years, among its customers are many celebrated aficionados of fine collectibles, like Queen Maria of Romania, the Duke and Duchess of Windsor, and King Farouk of Egypt.
The exhibition was originally scheduled to run through November 26 and has now been exetnded to December 10; it is open daily, Monday to Friday, 11 a.m. to 6 p.m., Thursday, 11 a.m. to 7 p.m., and Saturday, 12 p.m. t 5 p.m. (Closed on Thanksgiving, November 24th). There is an admission fee, $15.00, to benefit the Jazz Foundation of America. A La Vieille Russie is located at 781 Fifth Avenue (at 59th Street), New York City; 212-752-1727
Posted on Tuesday, November 01, 2011 @ 02:04 PM | 0 replies Start the Discussion
---
City Shopping
Carolee, the jewelry company with the "mostest" (no, I am not going to say, "for the leastest," as Carolee's lines are not cheapo -- although they are value-oriented, for sure -- great goods, stylish design, excellent workmanship, all for a good price -- and the Carolee Luxe line features fabulous designs that only look like they cost a mint....but I digress)....so as I was saying, the jewelry line with the "mostest" has once again produced a wonderful charity item.
Carolee has been affiliated with the Breast Cancer Research Foundation for 17 years and every year, come back-to-school time, the company creates a terrific item to benefit the not-for-profit BCRF, whose mission is to achieve both prevention and a cure for breast cancer in our lifetimes; the organization provides critical funding for innovative clinical and translational research at leading medical centers worldwide and it seeks to increase public awareness about good breast health. Since its inception, the foundation has raised over $330 million and those funds have helped underwrite the most advanced and promising breast cancer research for this cause.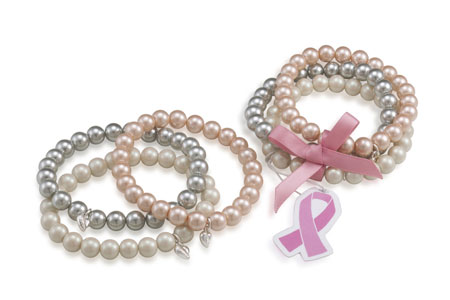 This year's fundraising jewelry is a set of bracelets, pretty and pearly: One is multi-colored, glass-pearl (white, pink, and pewter) bracelet ($35, with $5 going to the organization; pictured above); the other is an all-freshwater, white pearl bauble ($75, with $10 going to the charity; pictured below). Both bracelets have charms inscribed with the words Love, Happiness, and Hope.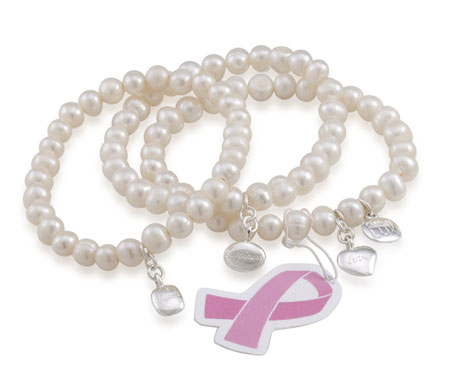 They are available currently at Bloomingdale's.
Posted on Thursday, September 15, 2011 @ 05:07 PM | 0 replies Start the Discussion
---
City Shopping
Greta Garbo, Marlene Dietrich, Eva Péron, Barbara Hutton, Doris Duke, Marjorie Merriweather Post, Jackie Kennedy Onassis, Maria Callas, Elizabeth Taylor. What these bold-face-name ladies all had in common was the jewelry of Van Cleef & Arpels (And they also might have had in common very wealthy--and generous--h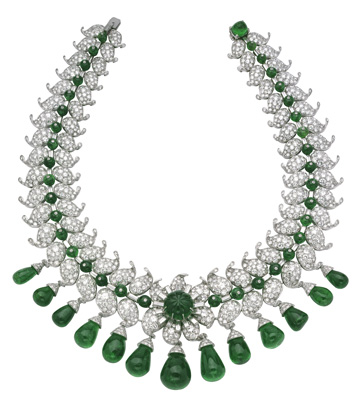 usbands who bought a few of their trinkets). And, oh what jewelry it was...and is, and lucky for us, some 350 pieces from the venerated jeweler is on view now.
If you were afraid you were going to miss this amazing show, Set in Style: The Jewelry of Van Cleef & Arpels, at the Smithsonian's Cooper-Hewitt, National Design Museum, fear not. This extraordinary exhibit, a fabulous collection of vintage jewels, has been extended through July 4th, so you still have another month to transport yourself to the museum at Fifth Avenue and 91st Street. Just plan on an hour or two to soak it all in; this is not a show for a fast look-see. And be prepared to drool and have your eyes pop out of your head.
The exhibition features more than 350 works, including jewelry, tiaras, timepieces, fashion accessories, and objets d'art, many of which were created exclusively for American clientele (like the aforementioned ladies), along with design drawings and sketches, commission books, fabrication cards, and imagery from the firm's archives.
Among the most startling and clever innovations is the company's signature mystery settings (I defy you to try to figure it out--not a prong or bezel in sight), in which stones seem to float in invisible channels. Also unique to the company is the minaudière, now a de rigueur fashion accessory for the well-dressed socialite. The story goes that M. Van Cleef noticed that the esteemed Mrs. Florence Jay Gould was all gussied up and carrying her "necessaries" in a Lucky Strike cigarette box (not too many necessaries, as you might guess, given the size of a cigarette box); he was inspired to create a petite, box-like evening clutch for the job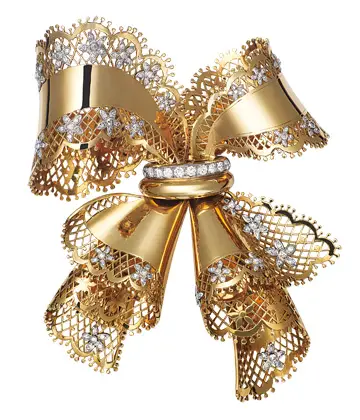 , something a little more classy than a pack of cigarettes...et voilà! Thus was born the classic, hard-sided, diminutive minaudière, with its adorable little boxy compartments for a hankie, cigarettes, a lipstick, a lighter (although it's likely that these kinds of grandes dames never had to light their own cigarettes--a ready and steady hand most likely was always nearby with a light), a compact, and perhaps even rouge.
The Van Cleef & Arpels salon opened its doors in 1906 on the fashionably chic Place Vendôme in Paris, and truly, the rest is history. You can follow that history through the carefully thematically organized jewelry in the vitrines; the cases themselves are also works of art, splendidly designed for maximum viewing--often a necklace will have a mirror behind it so you can view a fancy closure or catch the gleam of precious stones dangling at the nape of the neck, or so you can glimpse how a bracelet can be cleverly attached at the back of a necklace to make it longer. There are six sections to the exhibit: Innovation, Transformation, Nature, Exoticism, Fashion, Personalities.
Each area offers so many visions in color, texture, style, design, examples of technical expertise, and drama, that it would be impossible to pluck out just a few pieces to wax poetic about. Among my favorites, though, is the "Unzipped" necklace. This is a celebrated piece, that underscores the company's technical innovation, visible in all the "Zip" jewelry, where a necklace is zipped (yes, like a real zipper) together to create a bracelet. The technical difficulties in producing this work are evidenced by the length of time it took between its conception in the late 1930s, when the Duchess of Windsor proposed a piece of jewelry that zipped, and its production in 1951.
But don't take my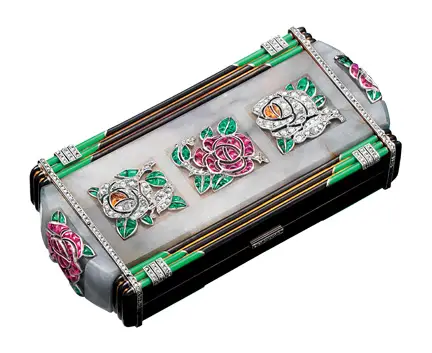 word for it, you'll find all your own favorites, as you scrutinize the items in the show. Be sure to pick up an iPad (free to use for perusing the show) to help you through the exhibit...there is lots of info loaded into it, supplementing the items' IDs and info cards, and it sure beats the old fashioned audio tours!
The museum is located at 2 East 91st Street at Fifth Avenue and is open Monday through Friday, 10 a.m. to 5 p.m.; Saturday, 10 a.m. to 6 p.m.; and Sunday, 11 a.m. to 6 p.m. General admission is $15. For further information, 212-849-8400 or visit www.cooperhewitt.org.
© Ruth J. Katz, all rights reserved
Posted on Tuesday, June 07, 2011 @ 02:41 PM | 0 replies Start the Discussion
---
City Shopping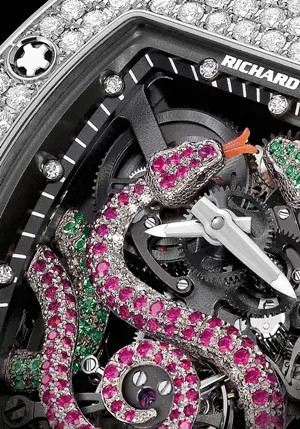 "My wife promised me that when I turned forty, I could get a new watch," commented one VIP visitor today, at the new TimeCrafters show. The exhibition and sales extravaganza is New York's first luxury watchmaking fair, and today is the preview for press and VIPs; the show opens to the public tomorrow. "Well," he continued, "when we got close to that date, I really put the thumb screws on to remind her, and, of course, when I got that new watch, she couldn't complain, since it was her idea." (However, he hastened to add, that the wife in question will soon have a birthday of her own, and so jewelry is on the horizon.)
This gentleman was but one of the droves of rabid watch collectors (mostly men), who are often the kinda' guys who would rather have a new timepiece than a new car, and who were eagerly "shopping." And if that is the case (ahem) for you, then this is the perfect show to visit. (Leave your charge card at home, or you will get into serious trouble.) On view from 20 manufacturers (among the mix are A. Lange & Sohne, Girard-Perregaux, Officine Panerai, Audemars Piguet, IWS Schaffhausen, and Chopard) are their latest, most unusual, most seductive, most precious keepers of time.
Organized by Editions Temps International (ETI), the leading European publisher of supplements in the international watch sector (with sponsoring support from the Mandarin Oriental Hotel, Piper Heidsieck, Sotheby's, Swiss Airlines, and the Watch Avenue.com), the show also features an exhibition of historic timepieces, curated by the Fondation de la Haute Horlogerie, which promotes technical and precious fine watches throughout the world. This wonderful exhibition features over 50 extraordinary examples of benchmark timepieces, each illustrating the development of the art and science of a handcrafted mechanical watch movement and the subsequent advances in technology that have helped to create newer and amazing complications. Addition there are three skilled watchmakers—craftsmen of the highest order—who will be workin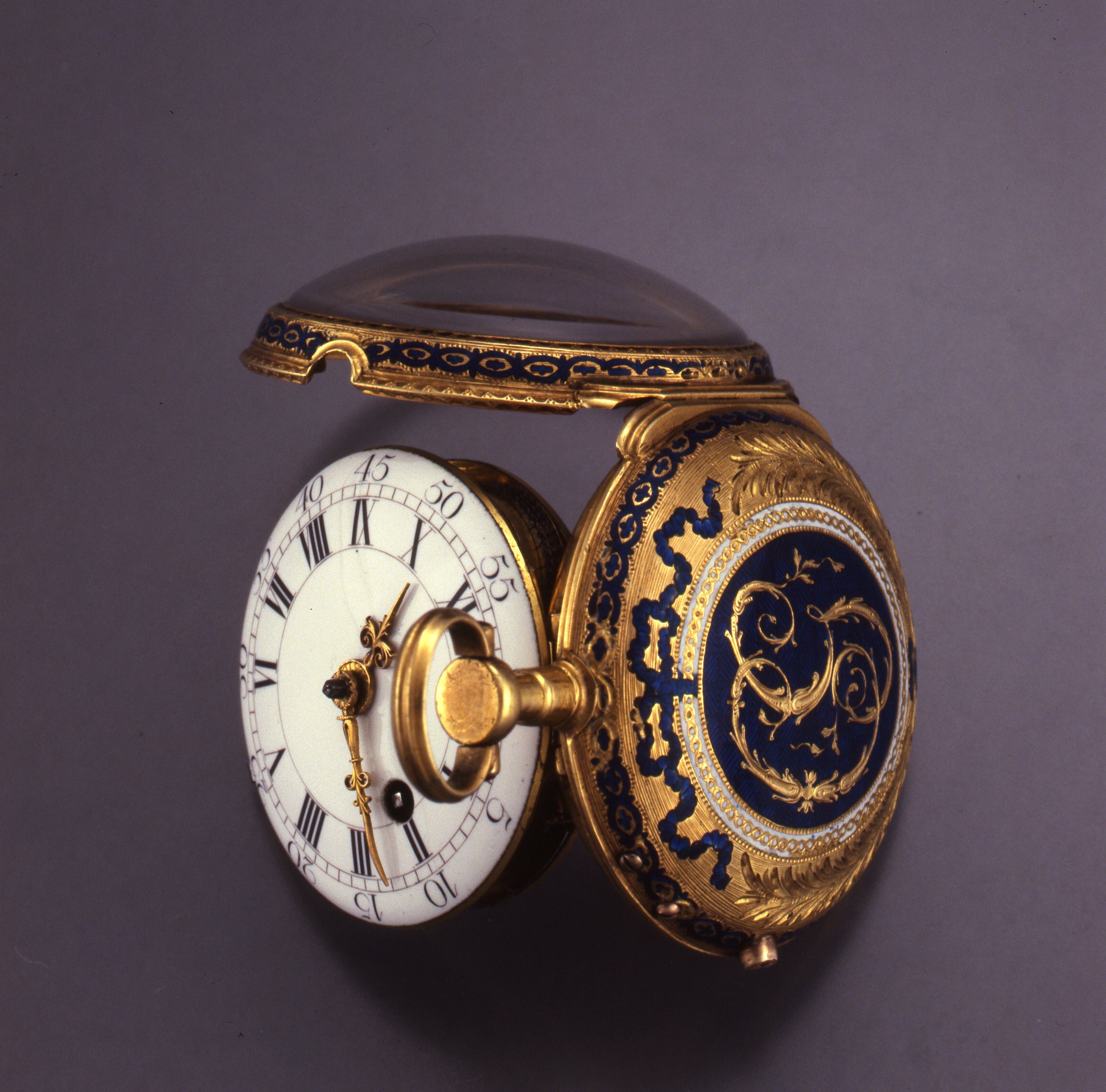 g at benches in the exhibition to give visitors a glimpse of the extraordinary expertise required to call one's self a master watchmaker.
Perhaps the most staggering part of the extravaganza is the exhibit, so even if you own but one pedestrian Crackerjack-box watch, you will still have reason to go and ooh-and-ahhh: You can view the transition from pocket watches to wrist watches; there are one-of-a-kind beauties that represent elegant jewelry-watch combos—a ring, a little book (Girard-Perregaux), a button closure, a pendant. Additionally, you'll marvel at the Vacheron-Constantin watch that has shutters on the face, the Jaeger-leCoultre Memovox wristwatch, two Audemars Piguet watches (one with a minute repeater and another, a tourbillon). And among the women's watches on view are two true marvels with itsy-bitsy movements: a Jaeger with the tiniest mechanical movement ever made and a drop-dead-gorgeous Cartier Art Deco diamond model.
The show is open Saturday and Sunday, from 9 a.m. both days to 6 p.m. on Saturday and to 5 p.m. on Sunday. The exhibition is mounted in the stunning The New York Times' TimesCenter, at 242 West 41st Street, between Seventh and Eighth Avenues. More information: timecrafters.us
Posted on Friday, May 13, 2011 @ 03:42 PM | 0 replies Start the Discussion
---
City Shopping
Madison Avenue, that gilded swath (dare we say Swatch?) of retail fantasy, stretching from midtown up to about 86hth Street is home to more fine, upmarket watch boutiques than there are hours on the clock dial. And in recognition of the prestigious brands that have graced the thoroughfare over the years and in honor of all the new watch emporia opening (think: Vacheron Constantin and Geneva's DeLaneau, among others), this boulevard of dreams is staging its first Madison Avenue Watch Week from April 11th (Monday ) through the 16th (Saturday). Madison Avenue Watch Week (presented by The Wall Street Journal) is a celebration of haute horology for collectors and connoisseurs, feat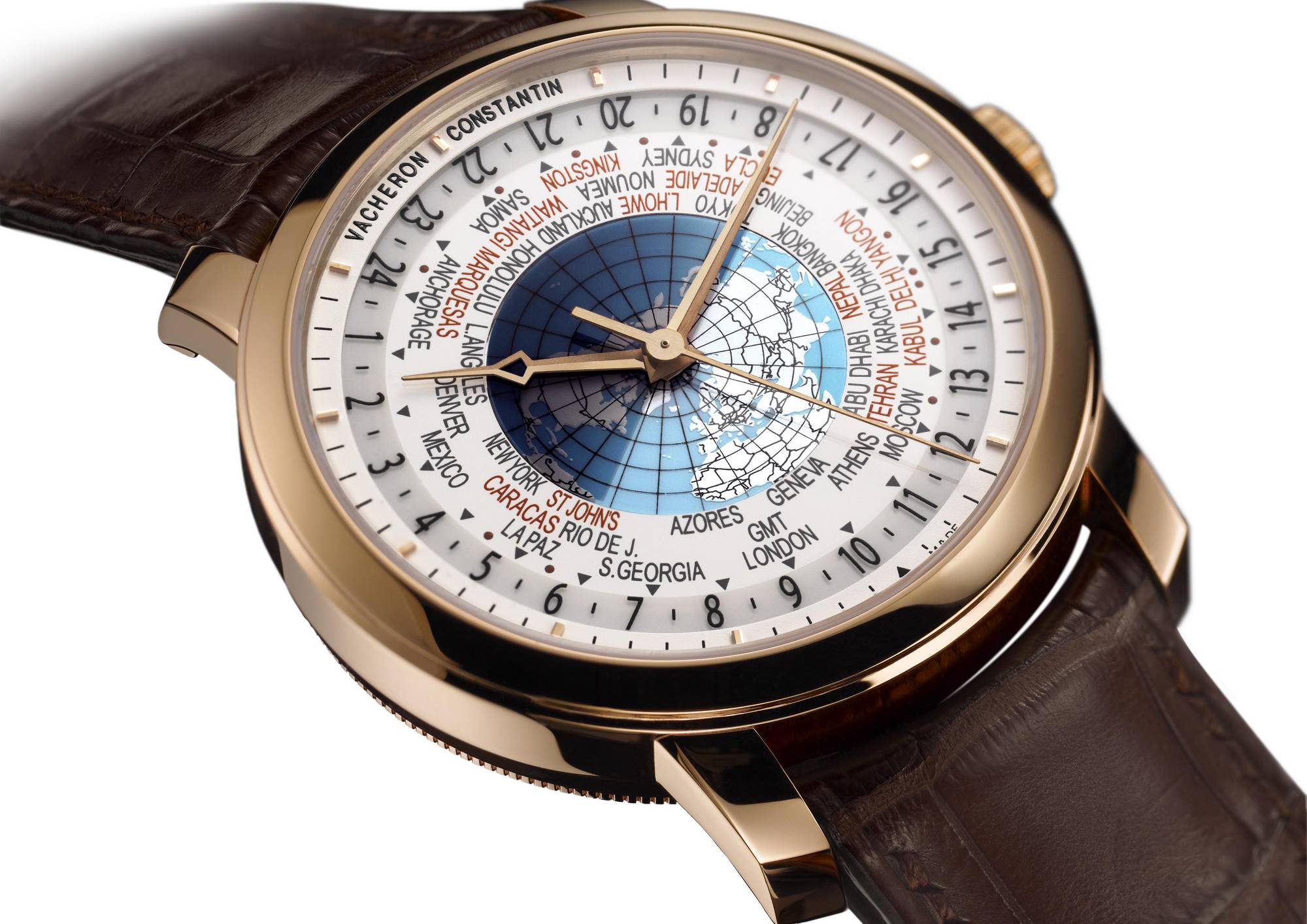 uring artisan demonstrations; new watch previews and launches; discussions with watchmakers; presentations regarding trends in design, manufacturing, and mechanism technology; an exhibition of antique and historic timepieces; and private VIP sales opportunities.
This is definitely a time to set the alarm on your watch to remind you of the many opportunities that there will be along the Avenue, for both shopping and dreaming. Participating boutiques include:
Asprey / 853 Madison Ave. / 212-688-1811
Blancpain / 781 Madison Ave. / 212-396-1735
Breguet / 779 Madison Ave. / 212-288-4014
Chopard / 709 Madison Ave. / 212-223-2304
Damiani / 796 Madison Ave. / 212-375-6474
David Yurman / 712 Madison Ave. / 212-752-4255
DeLaneau / 681 Madison Ave. / 212-355-3142
Georg Jensen / 687 Madison Ave. / 212-759-6457
Girard-Perregaux / 701 Madison Ave. / 646-495-9915
Graff / 710 Madison Ave. / 212-355-9292
Hublot / 692 Madison Ave. / 212-308-0408
Mauboussin / 714 Madison Ave. / 212-752-4300
Montblanc / 598 Madison Ave. / 212-223-8888
OC Concept Store / 655 Madison Ave. / 212-759-9220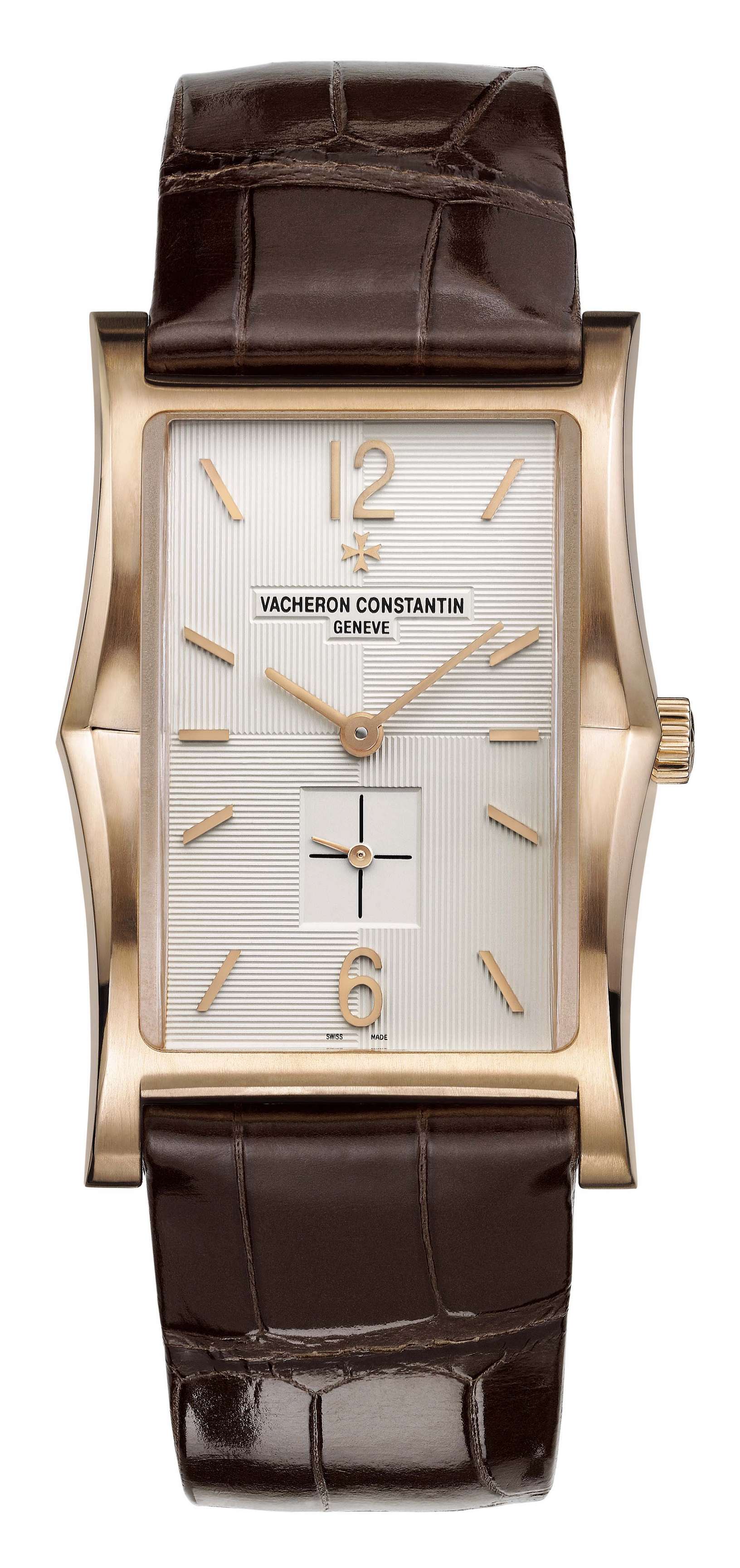 Peter Elliot / 1070 Madison Ave. / 212-570-2300
Porsche Design / 624 Madison Ave. / 212-308-1786
Vacheron Constantin / 729 Madison Ave. / (opening soon) / 877-862-7555
Log on to the home page to access of the calendar of events for the week and to sign up for information on in-store programs, invitations to receptions, talks, and so on.
For additional information: Matthew Bauer, Director, the Madison Avenue Business Improvement District, at information@madisonavenuebid.org.
Posted on Thursday, April 07, 2011 @ 02:02 PM | 0 replies Start the Discussion
---
City Shopping
It may be the fall-ish season on the calendar (we're still thinking last gasp of summer, though, and not happy about letting summer slip away), but at Henri Bendel on Fifth Avenue, it's bangle season! Two weeks ago, the
entire entry atrium of the store was awash in bangles of every stripe, every demeanor, every color, every shape, every style. It was enough to send one into cardiac arrest. Bracelet Heaven.
The entire atrium is still aglow in shiny, twinkling jewels, but the size of the bangles-only display tables has been reduced and now occupies but one wall, with a few display podiums. BUT, even those few display stands still have sparkly stuff galore, still enough to set the heart pounding. Still enough to inspire a breathless gasp for air.
Prices range from a mere $25 to a hundred-and-something, maybe $175, at most....and names like Rachel Leigh and Natasha are obvious, but other names, are not, brands you know and brand you don't know are there. Ab
ove all else, what is there is enough to inspire lunatic shopping, so guard your charge card and your wrists, as you'll want to walk out with them all on your arm.
Posted on Thursday, September 16, 2010 @ 04:59 PM | 0 replies Start the Discussion
---
City Shopping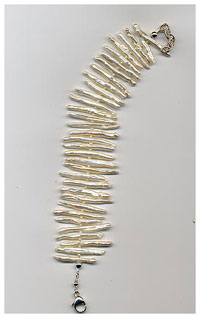 The Jewish Community Center on the Upper West Side is holding its annual Mother's Day Gift Sale, Tuesday and Wednesday, May 6th and 7th, from 11 a.m. to 8 p.m., featuring the work of the Center's professional teaching staff, from its art/craft/design faculty. We always write this sale up, as we know that there are so many wonderful artists, designers, and craftspeople there selling great stuff...and the price is usually "right."

Here is a perfect opportunity to snag some exquisite jewelry, textiles, ceramics, and other professionally handmade items that are well priced and one-of-a-kind, the perfect gifts to say "I Love You" to Mom. There will be richly beaded necklaces, bracelets, and earrings; lavish hand-painted scarves and pillows; belts, hats, and other fashion accessories; as well as home furnishing items. Prices are from $15 and up. (Shown here: a lavish pearl bracelet from glass artist/jeweler Melissa Terman, whose work includes both beaded jewelry and blown-glass jewelry.)

All the teachers at the sale offer courses, too, at the JCC (that's the whole point, of course!), so inquire about signing up for the late spring or early summer semester if you are inspired and think you'd like to learn how to make beaded jewelry or paint on silk yourself...or whatever.

Cash, checks, and credit cards accepted. For more information call Sigrid Orr at 646-505-5715. JCC in Manhattan, The Samuel Priest Rose Building, 334 Amsterdam Avenue at 76th Street; www.jccmanhattan.org
Posted on Monday, May 05, 2008 @ 07:46 AM | 1050 replies View/Post Feedback
---
City Shopping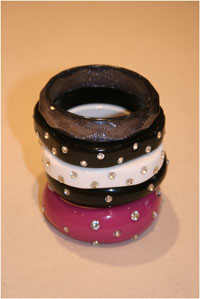 We love sparkly things, and we love bangle bracelets, so when we stumbled across both those things at the fairly new Helianthus boutique in the Village, we had to share them. This cute little shop has a mix of American and European clothing and accessories, but what kept grabbing our eye were the stacks and stacks of bangles, which range in price from $22 to $42 -- hot pink, black, clear, silvery, white, and all twinkling with rhinestones and crystals.  The shop is located at 522 LaGuardia Place, between Bleecker & West 3 Sts., near Washington Square Park.  (212-677-6888; www.helianthusny.com)

Posted on Wednesday, March 19, 2008 @ 10:04 AM | 3227 replies View/Post Feedback
---
---
City Shopping
It's that time of year again, although it's hard to believe....but you better. The tree at Rock Center is going up as we speak and the first day of Chanukah is barely three weeks away. So, it's time for that wonderful sale of handsome, handmade gifts at the Upper West Side Jewish Community Center. It runs for two days, Tuesday and Wednesday, November 13th and 14th, from 11 a.m. to 8 p.m. The Center's very talented studio art/craft teachers sell their goods, so count on everything from exquisitely crafted, beaded, blown-glass, gold, and silver jewelry; textiles/scarves/wovens; and ceramic sculptures and utilitarian objets, among the many fine craft items these pros produce.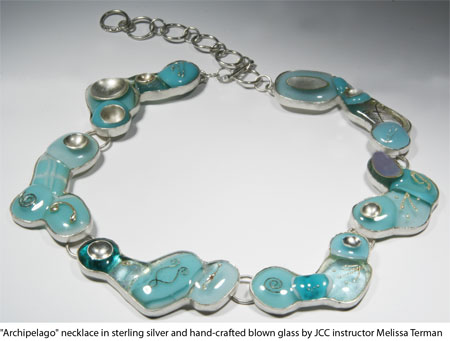 The JCC is at 334 Amsterdam Avenue, at 76 Street, and the Jewelry, Ceramics, and Wearable Art Holiday Sale takes place in the lobby in the Samuel Priest Rose building. Check out more info at www.jccartstudios.org. (If you're intrigued, you can even register for classes from these gifted instructors!) Cash, checks, and plastic accepted.
Posted on Monday, November 12, 2007 @ 03:30 PM | 0 replies Start the Discussion
---
City Shopping
The shops at the Metropolitan Museum of Art have been having a sale the last few weeks (shame on us, we were out of the country, so we just didn't get a chance to attend to blogging, but more about that in later posts), which ends on Monday, so here's your chance to get last licks in. The Museum has reduced tons of items (stock up now for Christmas, because it's not too early to think Santa -- despite the fact that it feels like summer outside!), and take advantage of the reductions up to 50% off original retail.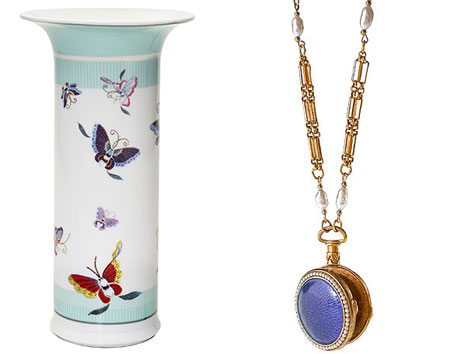 Here are but a few items you might find on sale: A Chinese trumpet-style "Butterfly" vase (porcelain), originally $85, now $57.38 (for members and $63.75 for non-members); a pearl-and-enamel chatelaine, normally $140 and on sale now for $62.99 (members) and $69.99 (non-members). The Metropolitan Museum of Art, 1000 Fifth Ave., 212-570-3894; other locations include Rockefeller Center, 15 W. 49th St.; Macy's Herald Square, 151 W. 34th St.; 800-468-7386.

Posted on Thursday, October 25, 2007 @ 12:31 PM | 0 replies Start the Discussion
---
Subscribe to this Blog's
Feed