City Shopping - Home Cleaning & Repairs Blogs
Back to Blog... | View More Bloggers...

About the Author: About the Author: Ruth J. Katz is a well-known shopping and service writer based in New York City. She has written about shopping for 25 years for New York magazine; covered the topic on-air at Fox-TV for several years as the Home Services expert; and had her own show on both the USA and Lifetime Cable networks. Katz wrote extensively for The New York Times as well, and contributed periodically to the New York Daily News. She is a passionate shopper, always looking for not merely a good buy, but the best buy, ferreting out a "steal" or discovering up-and-coming designers. She has written five books and is a former contributing editor to Hearst's Redbook, Classic Home, and Colonial Homes; she is currently a Contributing Editor of New York Home, Golf Connoisseur, The Modern Estate, and Promenade magazines. She is also the former Shopping Director for Davler Media's Manhattan Living.


---
City Shopping
No, this "cleaning up over holiday time" isn't about amassing the most loot under the Christmas tree. It's the old-fashioned way to clean-up-actually using an appliance to tidy up after the crowd has departed and the leftovers have been stashed in the fridge. Not to mention the other kind of cleaning:the pre-company heavy-lifting. Between now and the new year, we'll be a-cleaning, a-shopping, and a-cleaning again.
To cut to the chase: Nobody makes the cleaning easier than Hoover, with its line of vacuums, sweepers, carpet-cleaners, and hand-helds. The company has been in the biz for over 100 years; it actually invented the first electric portable vacuum machine-called the suction sweeper-in 1908! Hoover engineers have been at the forefront of technologies that have made life easier for us-Wind Tunnel, SprinScrub, DualV Nozzle, MaxExtract Technologies. But the one I am most excited about is the LiNX Cordless battery system.
Truth is, I'd been planning since the Housewares Show last spring to write about the Platinum line of Hoover products (esp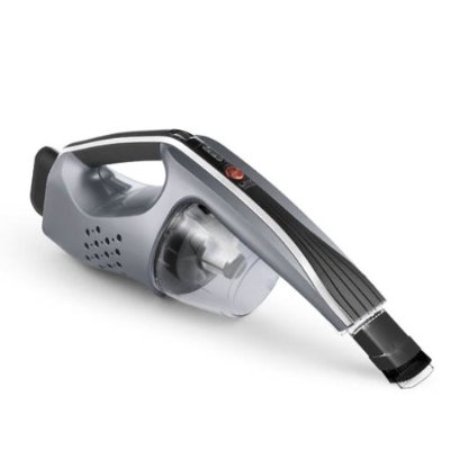 ecially the Cordless Hand Vacuum), that use this technology. With Austin Katz, Canine Correspondent to this blog (who just happens to shed Golden Retriever fur everywhere), a hand-held needs to be at the ready--always. (Attention Fans of Austin: The Big Boy is returning for a cameo scribe job for two weeks to write about doggie Xmas gifts....but he could be writing this entry, too, since the hand-held is used mostly for High Highness' detritus.)
So, the Hoover Platinum Line Cordless Hand Vacuum: In a word, I love it. It's not that I didn't have a hand vac; I did, and it was a "fancy" one. But it always seemed to lose its charge all too quickly, and all the attachments always seemed to migrate to Never Never Land. Not to mention, the debris chamber was just too small for all the dog fur. For anyone who swears by a hand-held, this is your dream-come-true.
For starters, this Platinum Collection (there are a few models in it, including a heavy-duty carpet cleaner [$400] that and a stick vac [$180] that is easy to use and stash), are powered by a LiNX battery system (it's a lithium-ion) that can be swapped back and forth among appliances, and most importantly, that battery has a charge life of three hours! You are completely free of power cords, plus the machines deliver great suction, and don't do a slow fade. (There is even Platinum Pet Plus Carpet & Upholstery Detergent to use with the carpet cleaner.)
The hand-held (about $140) also has the niftiest built-on and built-in attachment for upholstery, crevices, and odd jobs. The multi-functional nozzle is already attached to the hand-held, on a hinge. It folds back under the main nozzle--it can never get lost! The batt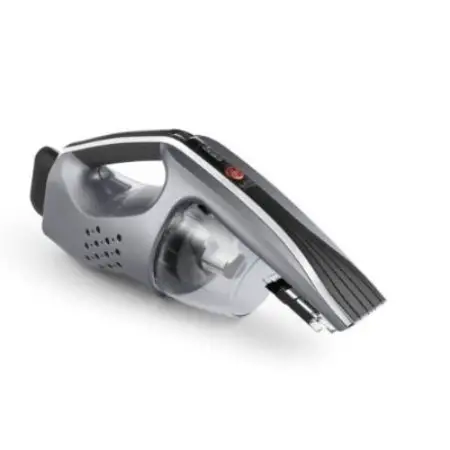 ery takes three hours, give-or-take, to charge up the first time, and after that, you're home free. Once you start using this Platinum Collection, you may well throw away your old vac! There is even a battery gauge (the fuel gauge, they call it), so you know how much of your charge is left, something my old hand-held didn't' have and it made it all the more maddening, when it just died in the middle of vacuuming sofa cushions. The dirt cup is also see-through, so you can tell when it's time to empty it. And the filter is a breeze to clean-just run it under cold water.
So, commona' my house this holiday season. I'm just dying to clean up after people (and dogs!).
Posted on Wednesday, December 01, 2010 @ 05:51 PM | 0 replies Start the Discussion
---
City Shopping
There must be something to being a cartoon character and loving to clean.

During last Sunday night's Oscar Telethon, actress Amy Adams reprised her "Happy Working Song" from the delightful fairytale Enchanted. In the film -- with the help of some of her cartoony friends -- she seemed downright thrilled to be cleaning while singing. She is not alone: Let's not forget about Snow White, who is a veritable Cleaning Dervish, crooning "Whistle While You Work" as she and a brigade of cute chipmunks and birds put her home in order.

So, we got to pondering, What would make us sing and be so cheerful while cleaning? Especially since spring is a mere three weeks away and we'll be starting our spring cleaning soon. Snow White instructs us, courtesy of Walt Disney, "...as you sweep the room, imagine that the broom is someone that you love?" and we thought we could go one better than that: We'd like to imagine that we are just in love with the broom, period.

Well, we don?t have to imagine it; we are in love with a broom. The new ECO-FRIENDLY bamboo broom from Casabella
, which just happened to win an award itself, at the 2008 Housewares Design Awards a few weeks ago. (O.K., so it?s not an Oscar.) But, we love it because its head is made from sustainable bamboo and its bristles are natural, hardy, water-resistant palmyra, from a very plentiful palm found in the Far East, not petroleum-based nylon. The handle is a lightweight aluminum that won?t rust, and it's priced at an affordable $34.99. We liked it so much, we actually bought its sister products, a floor duster (also constructed from sustainable bamboo, with a natural cotton dusting head, another plus -- no poly-anything here

and two scrub brushes (more bamboo with palmyra).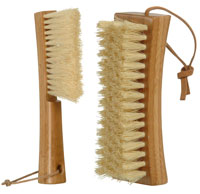 (You can find them all at Casabella's Web site, www.casabella.com, from $14.99.)

After you've got your EARTH-FRIENDLY cleaning tools, hit iTunes to download the right work vibe. 

Posted on Tuesday, March 04, 2008 @ 11:47 AM | 5 replies View/Post Feedback
---
City Shopping
The annual Kips Bay designer showhouse always features some pretty nifty rooms filled with sumptuous furnishings -- the finest carpets, extraordinary draperies, and countless objets and bibelots all just waiting to be manhandled and broken. The delicate task of cleaning the tchotchke-filled mansion during the month-long show falls on the shoulders of New York's Little Elves, run for 30 years by the intrepid Barbara Fierman. (In addition, Fierman numbers among her clients the Southampton Showhouse, countless fussy designers, and the party space at the Time Warner building.) In short, these elves know how to clean up after a major bash and for very particular folks...and they'll know how to scour and polish after your engagement party or at-home wedding -- or how to tackle that spring cleaning you've been putting off. Some of Fierman's staff have been with her for over ten years, and many of her employees are part of extended families. (Most importantly, she points out, all her people are covered by workers' comp, something very few firms can boast about.) And they're fussy, careful, and thorough. The cost is $34 per hour per person, and if you need three or more, she'll supply a captain for the crew at $43 per hour. They'll use your supplies ("Most people have pretty weak vacuums, though," she points out) or they'll bring their own ($125), everything from Q-Tips to an industrial vacuum. One thing she jokes about: "We don't do windows," but she'll bring in the service she regularly uses that does! By reservation only. 212-673-5507; www.nyelves.com (This article originally appeared in the 4/06 issue of Manhattan Living.)
Posted on Monday, November 26, 2007 @ 03:52 PM | 211 replies View/Post Feedback
---
City Shopping
It's a dirty job, but someone has to do it -- and David Stern has been doing it for more years than he cares to recount. The "it" is laundering and repairing Venetian blinds. Stern and his nimble-fingered staff can clean and refurbish almost any type of blinds: wooden, faux-wood, aluminum, plastic, verticals, and even vintage, assuming he has or can make the parts. He can handle product from Levelor, Hunter Douglas, and Graber, among the most popular manufacturers; he can even rejuvenate Hunter Douglas' Duettes, Silhouettes, and Vignettes.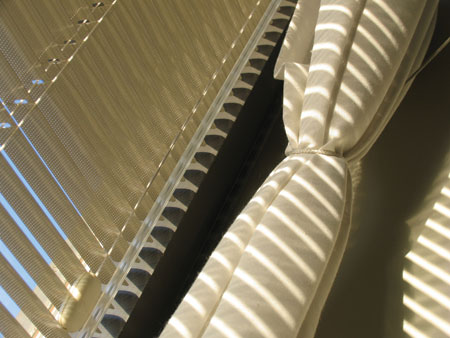 Some simple repairs (like re-cording or putting on new pulls) can even be done on your premises. (More intricate tasks, like re-taping, must be done at his shop.) He can replace slats, wash city debris off of surfaces, and even do on-site cloth-shade and drapery cleaning (starting at $400). The minimum for in-home repairs is $200, so it's worth waiting until you have a lot of work for him before calling; otherwise, you can mail blinds to his shop and he'll turn most repairs around in about a week. He does make occasional trips into the city for consultations and pick-ups, so it's best to call first to discuss your repairs and catch him on a day he's scheduled for city work. 79 South Third Ave., Mt. Vernon, NY, 914-668-8860; www.davidsternwindowtreatments.com (This article originally appeared in the 3/06 issue of Manhattan Living.)
Posted on Monday, November 26, 2007 @ 03:51 PM | 4236 replies View/Post Feedback
---
City Shopping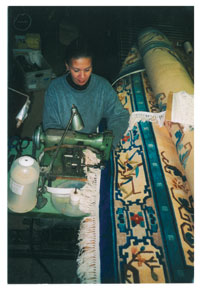 "One of the biggest problems we see is rot, the result of potted plants," observes partner Howard Katz, whose father started this company nearly 80 years ago. Katz explains that carpets can degrade and disintegrate from the moisture leaching from a clay pot. "It's the moisture-loving clay that does it." "Crumbling" carpet, torn fringe, burned and stained spots -- to name but a few of the problems that Majestic tackles -- are all in a day's work for Katz and his magicians. Patching a 12-inch square of carpet starts at $75; from its enormous cache of supplies, the company can choose another carpet piece that is similar and will more or less match in weight, color, and pattern. Katz's "pile patrol" can also overcast frayed edges, sew rips, and re-fringe ends or machine-bind edges (both $5 per foot). The company also cleans carpets, and the cost is based on carpet classification, from simple bound remnants to decent machine-woven carpets, to delicate hand-mades; cleaning a 9-foot-by-12-foot Oriental is usually around $175. Pick-up and delivery are included in the price, although there's a modest fee for putting a rug back down. About the only thing Majestic doesn't do is reweave. 644 Whittier St., The Bronx, 718-542-7474 & 212-922-0909 (This article originally appeared in the 3/06 issue of Manhattan Living.)
Posted on Monday, November 26, 2007 @ 03:51 PM | 3829 replies View/Post Feedback
---
City Shopping
In his native Hungary, Janos Spitzer was a horse-drawn-carriage maker, but when he came to America over 40 years ago he realized he wouldn't be building too many carriages stateside. So he turned his prodigious woodworking skills to something more useful: flooring. Today he is considered one of the preeminent flooring artists in the city.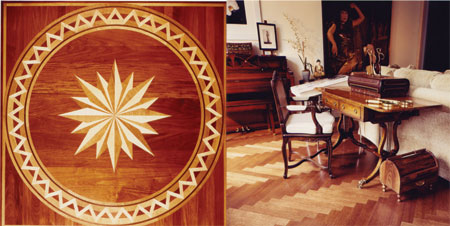 He focuses on high-end residential projects, building and repairing plain flooring, straight-strip floors, and elaborate parquets. Enamored by exquisite flooring, Spitzer matter-of-factly states the he is "on a mission to teach architects how to design properly constructed floor systems." And to do that, he holds monthly seminars for architects and designers. He further notes that one of his most satisfying projects was consulting "in the building that used to be Alexander's, the Bloomberg building. I designed the floor assembly, assisted in obtaining the quarter-sawn white-oak plank material, and supervised the milling and installation. I am proud to say that you can do a 'proper' floor in a high rise -- it's level, it has sound attenuation, built-in softness, and beauty -- and it's a whole lot less expensive than you would think." His talented artisans work on both pre- and post-war flooring, although they are handled quite differently. They will sand and refinish mechanical (i.e., nailed-down) floors, starting at $6 a square foot. "We sand four to five times with different grades of sandpapers, and our prep is very thorough. We will even move and protect furniture, taking photos so we put it all back where it goes when the floor is complete." Installation of top-quality flooring starts at $25 per square foot. 133 W. 24 St. btw. Sixth & Seventh Aves., 212-627-1818; www.janosspitzerflooring.com (This article originally appeared in the 3/06 issue of Manhattan Living.)
Posted on Monday, November 26, 2007 @ 03:51 PM | 1405 replies View/Post Feedback
---
City Shopping
Martin Albert Interiors has been in the decorating business 25-plus years, custom-crafting draperies, valances, window treatments, headboards, bedding ensembles, pillows, and all manner of home furnishings. The company keeps thousands and thousands of fabric samples and swatch books in the shop and offers excellent prices on designer yard goods that would cost much more elsewhere (cottons from as low as $12 a yard, to silk taffetas at about $45 per yard, up to the most opulent silk brocades at $600 a yard); its fees for its workroom labor are also affordable. 
For the design-challenged, there are talented decorators on staff who can guide you through what might be, for some, a daunting process. Recently, the shop opened up an on-premises workroom -- in addition to the smaller atelier it maintains above the store -- for actually building furniture, and now Martin Albert can custom-craft any one of a dozen chairs and a half-dozen sofas that it maintains in its proprietary line. Here's how it works: You pick the model sofa that you like -- say, a camel-back, or a Chesterfield, or a classic Lawson style -- and then the frame is built and the entire unit is covered in muslin. You come in for a "fitting" and adjust the seat height, depth of the back, the pitch, or whatever needs tinkering with. The turnaround time is quick for custom work; usually less than three weeks. Prices (without fabric) are quite reasonable for what you're getting: $1,600 to $2,400 for club chairs, $3,200 to $5,000 for sofas. 9 E. 19 St. btw. Fifth Ave. & Broadway, 212-673-8000; www.martinalbert.com (This article originally appeared in the 3/06 issue of Manhattan Living.)

Posted on Monday, November 26, 2007 @ 03:51 PM | 4305 replies View/Post Feedback
---
City Shopping
If the holidays brought not only cheer but also a broken antique Limoges platter or a shattered alabaster candy dish, then carefully pack up the pieces and head over to Ark. Rena and Anatoly Kristul are geniuses at putting things back together again, to paraphrase a well-known line about Humpty Dumpty. Rena studied design, glass, and porcelain manufacturing, and Anatoly engineering, and together they can tackle repair and conservation jobs on just about any objet -- ceramics, stone, wood, metal, enamel, and even glass. 
While they count prestigious museums and bold-face-name collectors among their clients, they will still repair a humble coffee mug, but only you can decide if it's worth the tariff. The easiest repair is a sharp break (with clean edges) and, assuming you haven't fiddled around with Krazy Glue yourself, Rena can often do a minor repair -- a lifesaving measure, if you will -- for $35. More elaborate partial restoration -- where a chip, say, on the rim of a plate is filled in and colored but not glazed -- would represent another rung up in the price scale. The most costly restoration (and Anatoly says rates can escalate into the thousands) for multiple, nasty breaks on a pedigreed Sevres tureen, for example, would require recreating a glaze and overglaze (and might even necessitate creating a tricky clay body), sculpting a shape to fill in missing parts, and might also involve gilding. But Ark's work is seamless, producing a repair that is virtually invisible. By appointment only. 252 W. 37th Sts. btw. Seventh & Eighth Aves., 17th flr., 212-244-1028; www.arkrestoration.net (This article originally appeared in the 1/06 issue of Manhattan Living.)

Posted on Monday, November 26, 2007 @ 03:51 PM | 8 replies View/Post Feedback
---
Subscribe to this Blog's
Feed