Snuggly Stuff On Sale (A Really Good Sale!)
Back to the Blog... | Post Feedback | Author Bio | Printer-Friendly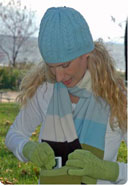 O.K., so it's sort of balmy today, but by Tuesday it could be in the 20s -- if you believe the forecasts on www.weather.com.  And don't forget that four years ago, in April, we had a major, brrr-brrr blizzard. We suspect you don't need these mild scare tactics, though, to appreciate a really amazing sale: Log on to www.girl32.com and check out the hats, gloves, and scarves available now for nearly half-price. They're not just plain ol' wintergear, either: The hats have a neat set of Swarovski-crystal buttons that open up to allow you to stick your ponytail through, so you're not sporting a lumpy-head look; the gloves have flip-top digits so your thumb and index finger can work your Blackberry; and the scarf (our favorite) has a handy zippered pocket for keys and secret stuff (pictured). The palette of colors is beautiful, from a luscious pink to punky stripes. Everything is 51% wool and 49% acrylic, so they wash well and wear even better. Hats are $33 now (originally $65); gloves, $20 ($35); and scarves, $40 ($75). Buy the entire trio for $89 (as opposed to $93, or the original $175). Now that is a really great deal for snuggly style.

Posted on March 01, 2007 - by

---
Reader Feedback - Be the first to kick-start this discussion...



---
About the Author: About the Author: Ruth J. Katz is a well-known shopping and service writer based in New York City. She has written about shopping for 25 years for New York magazine; covered the topic on-air at Fox-TV for several years as the Home Services expert; and had her own show on both the USA and Lifetime Cable networks. Katz wrote extensively for The New York Times as well, and contributed periodically to the New York Daily News. She is a passionate shopper, always looking for not merely a good buy, but the best buy, ferreting out a "steal" or discovering up-and-coming designers. She has written five books and is a former contributing editor to Hearst's Redbook, Classic Home, and Colonial Homes; she is currently a Contributing Editor of New York Home, Golf Connoisseur, The Modern Estate, and Promenade magazines. She is also the former Shopping Director for Davler Media's Manhattan Living.

Recent Entries: