Holy Zagats! A New Shopping Guide
Back to the Blog... | Post Feedback | Author Bio | Printer-Friendly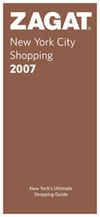 The 2007 Zagat New York City Shopping guide ($14.95) is out as of yesterday, and although we wanted to be the first on the block to bring it to you -- after what in the publishing biz is called an embargo was lifted -- we were just too jet-lagged to do it, so we're a day late. (More about the jet lag later this week.)  
On to the important stuff, the shopping:  Even if you're an inveterate shopper -- an intrepid New Yorker who has plenty of his or her own little haunts and secrets shops -- this guide is a very useful Baedeker, a resource you'll consult often, if only to check an address, phone number, or the cross streets (something that they wisely added this year). Like all the Zagat guides, it's a handy, pocket-sized volume; you'll find many new features and updated graphics and icons. Moreover, our good friend and professional colleague Randi Gollin edited it...so we just have to tell you how wonderful it is! There are close to 2,500 shops listed, with 167 new entries. There is also a pull-out map (also new, and a smart addition) with all the most popular chains and independents dotting the geographical landscape. Click here to get your copy.

Posted on March 15, 2007 - by

---
Reader Feedback - Be the first to kick-start this discussion...



---
About the Author: About the Author: Ruth J. Katz is a well-known shopping and service writer based in New York City. She has written about shopping for 25 years for New York magazine; covered the topic on-air at Fox-TV for several years as the Home Services expert; and had her own show on both the USA and Lifetime Cable networks. Katz wrote extensively for The New York Times as well, and contributed periodically to the New York Daily News. She is a passionate shopper, always looking for not merely a good buy, but the best buy, ferreting out a "steal" or discovering up-and-coming designers. She has written five books and is a former contributing editor to Hearst's Redbook, Classic Home, and Colonial Homes; she is currently a Contributing Editor of New York Home, Golf Connoisseur, The Modern Estate, and Promenade magazines. She is also the former Shopping Director for Davler Media's Manhattan Living.

Recent Entries: