Soap Opera: Claus Porto Soaps of Portugal
Back to the Blog... | Post Feedback | Author Bio | Printer-Friendly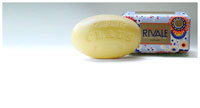 So, today kicks off Portuguese Weekend -- that is to say, we expect to write about the island of Madeira and the amazing Reid's Palace Hotel over the next several days -- and we thought a good appetizer would be an introduction (for those of you who do not know them) to the emollient-rich, sinfully creamy, headily fragrant soaps of Claus Porto -- obviously made in Portugal, and obviously admired adjectivally by us. You've probably seen them at Saks and better specialty shops, but may not have been able to associate the name with their whimsical packaging.  Not only are they dee-vine inside, but they're memorable for their packaging, which looks like an explosion in a fireworks factory. The designs and graphics are original -- i.e., what was used in the first half of the 20th century -- and every bar is cloaked in distinctively different eye-popping, vivid wrappers. 

The company is 117 years old and was founded (not coincidentally in Porto) by two chemists who were (company literature declares) world-renowned at the time, and, not surprisingly, one of them had a "Claus" in his name. Today, the firm is still family-owned and churning out the soaps the same way great-grandpa did yesteryear.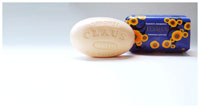 O.K., about the soaps: They are milled seven times (that means that all the ingredients are basically thrown into the soap-making equivalent of a Cuisinart -- or I guess we should say a Mixmaster, given the years we're discussing here, and considering the company is still using many of its very old machines),  and then the ingredients are creamed, like you cream butter in that Mixmaster to make a nice layer cake.  The more the ingredients are milled, the more air is removed from them, with the result being a creamier soap that eagerly retains fragrance and doesn't crack and split with age...and that's good, because the largest sizes are so grand, they'll last you a month.  Hence, they're worth every penny of the $14 they cost for a 12.3-ounce bar. They come in "flavors" that span the alphabet, as diverse as "Almond" and "Acacia Tuberose" to "Vetyver" and "Vanilla."  There are also boxes of three smaller-size soaps for $22.  But the item we love best, our absolute favorito, is the colossal holiday sampler -- a dozen soaps for the entire calendar -- for $85.  Find them all in Portugal, or at www.lafcony.com; it's decidedly more fun to go to Portugal, but easier and cheaper to click on a URL.

 
Posted on March 16, 2007 - by

---
Reader Feedback - Be the first to kick-start this discussion...



---
About the Author: About the Author: Ruth J. Katz is a well-known shopping and service writer based in New York City. She has written about shopping for 25 years for New York magazine; covered the topic on-air at Fox-TV for several years as the Home Services expert; and had her own show on both the USA and Lifetime Cable networks. Katz wrote extensively for The New York Times as well, and contributed periodically to the New York Daily News. She is a passionate shopper, always looking for not merely a good buy, but the best buy, ferreting out a "steal" or discovering up-and-coming designers. She has written five books and is a former contributing editor to Hearst's Redbook, Classic Home, and Colonial Homes; she is currently a Contributing Editor of New York Home, Golf Connoisseur, The Modern Estate, and Promenade magazines. She is also the former Shopping Director for Davler Media's Manhattan Living.

Recent Entries: