Chocolotta' Trouble
Back to the Blog... | Post Feedback | Author Bio | Printer-Friendly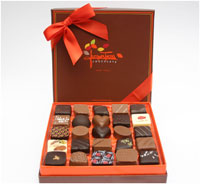 Uh-oh. We're in deep cocoa trouble. Chocolatier Jacques Torres has just signed a lease to open his third Gotham emporium right across the street from -- dum-da-dum-dum -- our residence. Bring in the guys in the hazmat suits for damage control.  The new shop will be on Amsterdam Ave. just north of 73rd St., within punting distance of the 72nd Street subway stop and Verdi Square.  It will be 1,000 square feet -- in other words, just large enough to sell more chocolate than you could eat in a year. Stay tuned; we'll be getting more particulars and an opening date...so you can mark your calendar and we can start the diet -- so we'll all be ready for the maestro when he starts tempering that chocolate on the UWS.

Posted on March 20, 2007 - by

---
Reader Feedback - Be the first to kick-start this discussion...



---
About the Author: About the Author: Ruth J. Katz is a well-known shopping and service writer based in New York City. She has written about shopping for 25 years for New York magazine; covered the topic on-air at Fox-TV for several years as the Home Services expert; and had her own show on both the USA and Lifetime Cable networks. Katz wrote extensively for The New York Times as well, and contributed periodically to the New York Daily News. She is a passionate shopper, always looking for not merely a good buy, but the best buy, ferreting out a "steal" or discovering up-and-coming designers. She has written five books and is a former contributing editor to Hearst's Redbook, Classic Home, and Colonial Homes; she is currently a Contributing Editor of New York Home, Golf Connoisseur, The Modern Estate, and Promenade magazines. She is also the former Shopping Director for Davler Media's Manhattan Living.

Recent Entries: