Everything's Coming Up Roses...and Nasturtiums
Back to the Blog... | Post Feedback | Author Bio | Printer-Friendly
Yesterday, we promised you several more "springy" items over the next few days, to at least acknowledge the arrival of prima vera and perhaps coax the gods into sending us more lovely weather. And, yes, today is warmer than yesterday -- and (hopefully) the thermometer will keep going in the right direction -- but we still have not seen the crocuses trying to push through the slush. However, one look at the work of Isabelle de Borchgrave and you'll think "spring" and feel peppy and upbeat.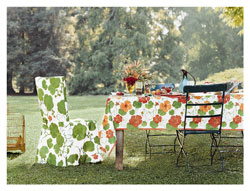 This gifted Belgian designer has created some amazing projects, all from paper (yes, she also designs in fabric and other materials), including floral kimonos for a Marshall Fields flower show, shop windows for Hermès and LVMH, and a collection of mind-blowing, life-size gowns and dresses, all modeled after the frocks of the legendary and much lauded Ventian designer, Mariano Fortuny.  Not coincidentally, these whimsical paper concoction-constructions are on display -- a visual feast, truly -- in the aptly named Fortuny Bar at the luxurious Hotel Cipriani in Venice.

So, what spring-like things can Isabelle supply you with?  Her chair covers and tablecloths, designed for Target, are so pretty (and they could not be any cheaper!), you'll find it hard to believe that the table cloth is made from paper and the chair covers are made from a paper-like, non-woven, polypropylene, spun-bounded material -- in other words, plastic paper, if such is possible. They are astonishing -- and practical.  The "Nasturtium" tablecloth is $5.99 and the leaf-patterned chair covers are $3.99 each. (They fit over a standard dining-table chair or bridge chair; also available in a rose pattern.) For more Target locations, call 800-800-8800 or visit target.com. 
 
Posted on March 22, 2007 - by

---
Reader Feedback - Be the first to kick-start this discussion...



---
About the Author: About the Author: Ruth J. Katz is a well-known shopping and service writer based in New York City. She has written about shopping for 25 years for New York magazine; covered the topic on-air at Fox-TV for several years as the Home Services expert; and had her own show on both the USA and Lifetime Cable networks. Katz wrote extensively for The New York Times as well, and contributed periodically to the New York Daily News. She is a passionate shopper, always looking for not merely a good buy, but the best buy, ferreting out a "steal" or discovering up-and-coming designers. She has written five books and is a former contributing editor to Hearst's Redbook, Classic Home, and Colonial Homes; she is currently a Contributing Editor of New York Home, Golf Connoisseur, The Modern Estate, and Promenade magazines. She is also the former Shopping Director for Davler Media's Manhattan Living.

Recent Entries: