Thinking Spring Again (and Summer): Juva Skin & Laser Center and MediSpa
Back to the Blog... | Post Feedback | Author Bio | Printer-Friendly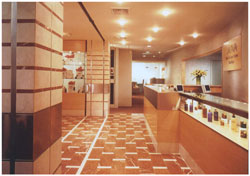 Well, we interrupted our barrage of spring stuff that we started last week (appropriately enough, on the first day of spring) to tell you about a few sample sales and so on, but we're back to putting spring in our step, especially after yesterday's 70-degree weather. So here's one post that is Strictly Ballroom -- or rather, we mean Strictly Beauty:

Juva MediSpa (60 E. 56th St., 212-421-9501; www.juvaskin.com) is sponsoring a series of info-evenings, called JuvaChats, focused on topics that can help you feel spring-like yourself. (Or as our friends say, will help you feel and look like "the Y word"  -- as in youthful).  Of course, some of those tools might just be things like Botox, Restylane, or Radiesse…and others might simply be a good night's sleep. Drs. Bruce Katz (no relation -- he's the highly esteemed medical director at Juva) and Michael Bruck (the Center's plastic surgeon) will impart the latest info and thinking on everything you need to know to get ready for bathing-suit weather.

On Apr. 10, the topic will be "Look Sizzlingly Good This Summer," dealing with age spots, spider veins, cellulite, and the like. On May 8, the evening's topic will be "Update on Fillers, Botox, and Lasers" -- learn how they not only make you look better, but they also can rejuvenate your skin. Dermatologist Katz writes and lectures prodigiously, and is an acknowledged expert in the field who will touch on the very newest weapon in his profession's arsenal: Artefill, which will soon get FDA approval.

The lectures are free and from 6 to 8pm both evenings. Pre-registration is mandatory: call 212-688-5882 to register. Hors d'oeuvres and light refreshments will be served and participants will all receive a Juva gift.   
Posted on March 28, 2007 - by

---
Reader Feedback - 685 Replies