Hippity Hoppity Easter
Back to the Blog... | Post Feedback | Author Bio | Printer-Friendly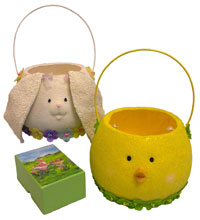 We love the "stuff" at Papyrus. All the beautiful gift bags, the clever cards, the gift-wrap accessories that we absolutely don't need and yet fall for each and every time we see them. Every trip to one of the 17 Papyrus stores is always an exploration into soul-pleasing fun, albeit financially ruinous soul-pleasing fun. It's not that the merch is pricey (it's very well priced, in fact), but it's just that we want it all. The stores are an outgrowth of the Marcel Schurman Company, known for years for its fine papers and party products. Today, Papyrus stores are merchandised so cleverly and festively, it's hard not to want to bring everything home -- for whatever celebration we're painting the town fuchsia.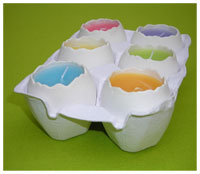 So get there now for all your Easter needs. The little chickie baskets are darling, as are the bunny baskets ($19.95).  We loved all the shopping bags trimmed in marabou and we were salivating to light up the half-dozen "eggs" in the crate -- —they are actually sorbet-colored candles in "eggshells" ($14.95). If there is no store near you, check out the site: www.papyrusonline.com.
 
Posted on April 05, 2007 - by

---
Reader Feedback - Be the first to kick-start this discussion...



---
About the Author: About the Author: Ruth J. Katz is a well-known shopping and service writer based in New York City. She has written about shopping for 25 years for New York magazine; covered the topic on-air at Fox-TV for several years as the Home Services expert; and had her own show on both the USA and Lifetime Cable networks. Katz wrote extensively for The New York Times as well, and contributed periodically to the New York Daily News. She is a passionate shopper, always looking for not merely a good buy, but the best buy, ferreting out a "steal" or discovering up-and-coming designers. She has written five books and is a former contributing editor to Hearst's Redbook, Classic Home, and Colonial Homes; she is currently a Contributing Editor of New York Home, Golf Connoisseur, The Modern Estate, and Promenade magazines. She is also the former Shopping Director for Davler Media's Manhattan Living.

Recent Entries: