Mother's Day Madness: A Pencil for Your Thoughts
Back to the Blog... | Post Feedback | Author Bio | Printer-Friendly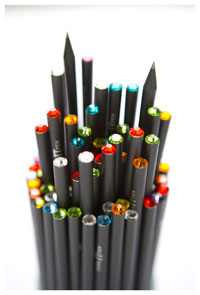 Twelve more shopping days 'til Mom's special day. Have you made a list, checked it twice? Oh, dear, that's the wrong holiday. But actually, it's not, as we are eager to get you to write something...and to use that instrument as a jumping-off point for a gift for mom. Russell + Hazel has just come out with (they're so new, you'll be able to get them ONLY at the Web site, www.russellandhazel.com, but soon, they'll be in stores) the world's most magnificent pencils. Sleek matte black, they're crowned with a brilliant, luminous Swarovksi crystal. Oh, O.K., we know: "Hasn't' the world seen enough Swarovski crystals?" you're sneering. But no, it's never enough…and you've not seen them like this, anyhow. Besides, we really love sparkly things (we wouldn't turn down a tiara, you know) and we're sure your mom will just adore these sparkly things, too. Big deal -- so you can't get her the Kohinoor Diamond, or the Hope, but get her a basket of these beauties. And, by the way, they're not that cheap, either; she won't think you chintzed on her gift. Three pencils are a mighty $20, but they are ever so worth it. They come in three different colorways -- the orange-y/red group is nice, we think, but the celery/light blue group is even nicer, and then there's the orchid/pink group that is just splendid. Oh, they also come in gold!

Posted on May 01, 2007 - by

---
Reader Feedback - Be the first to kick-start this discussion...



---
About the Author: About the Author: Ruth J. Katz is a well-known shopping and service writer based in New York City. She has written about shopping for 25 years for New York magazine; covered the topic on-air at Fox-TV for several years as the Home Services expert; and had her own show on both the USA and Lifetime Cable networks. Katz wrote extensively for The New York Times as well, and contributed periodically to the New York Daily News. She is a passionate shopper, always looking for not merely a good buy, but the best buy, ferreting out a "steal" or discovering up-and-coming designers. She has written five books and is a former contributing editor to Hearst's Redbook, Classic Home, and Colonial Homes; she is currently a Contributing Editor of New York Home, Golf Connoisseur, The Modern Estate, and Promenade magazines. She is also the former Shopping Director for Davler Media's Manhattan Living.

Recent Entries: