Charmed, I'm Sure: Custom-Crafted Necklaces for Mom
Back to the Blog... | Post Feedback | Author Bio | Printer-Friendly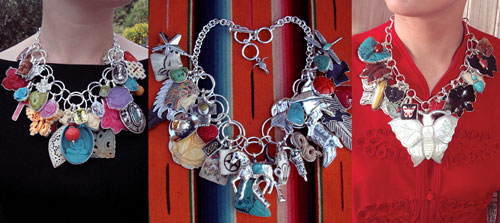 J. W. Cooper, one of the Shops at the Time Warner Center (10 Columbus Circle, 59th St. & Broadway), is well known for its extraordinary sterling silver belt buckles and Southwestern jewelry. Among its stunning fare, however, is a little-known item: The amazing sterling necklaces of Corinne Cordova, a jewelry designer who made herself a charm-laden necklace some years ago and suddenly found she was getting requests from friends. These show-stopping necklaces are now custom-crafted for Cooper customers, made to order with the exact sorts of charms you'd use to express yourself -- or honor mom, in this case. Cordova has the charms made mostly in Mexico, but also in far-flung corners of the world, like Tibet, China, Japan, Africa, and India. The shop keeps a supply of necklaces in stock that are themed around some popular motifs, Cordova's most requested subjects -- like "Lucky in Love," (which features a Queen of Hearts, an elephant with an upturned trunk, the key to your heart, a horseshoe, a four-leaf clover, and so on), and "Way Out West," which is chockablock with Southwestern-themed charms. If you want your necklace totally custom-built for you, you just tell the staff that you want farm animals, or gardening-oriented charms, or travel, or whatever....

A necklace with three charms is about $250; fuller necklaces range in price from $2,000 to $3,000.
Posted on May 09, 2007 - by

---
Reader Feedback - Be the first to kick-start this discussion...



---
About the Author: About the Author: Ruth J. Katz is a well-known shopping and service writer based in New York City. She has written about shopping for 25 years for New York magazine; covered the topic on-air at Fox-TV for several years as the Home Services expert; and had her own show on both the USA and Lifetime Cable networks. Katz wrote extensively for The New York Times as well, and contributed periodically to the New York Daily News. She is a passionate shopper, always looking for not merely a good buy, but the best buy, ferreting out a "steal" or discovering up-and-coming designers. She has written five books and is a former contributing editor to Hearst's Redbook, Classic Home, and Colonial Homes; she is currently a Contributing Editor of New York Home, Golf Connoisseur, The Modern Estate, and Promenade magazines. She is also the former Shopping Director for Davler Media's Manhattan Living.

Recent Entries: