Pop the Cork for Mom!
Back to the Blog... | Post Feedback | Author Bio | Printer-Friendly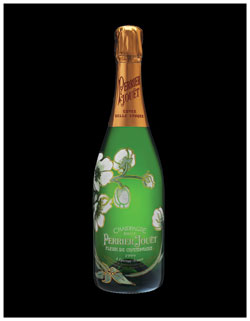 Regardless of what you are buying for mom, or where you are taking her to celebrate her special day on Sunday, pop the cork first on a bottle of the newest prestige vintage from Perrier-Jouët, its 1999 Fleur de Champagne. This prestige cuvée is blended exclusively in years that are marked by perfect weather conditions and a flawless harvest season. Since the 1964 vintage (which was released in 1969), only 17 subsequent vintages have been deemed worthy successors for the brand's standard. This new vintage benefited from near-perfect harvest conditions in 1999: a cold but frostless winter followed by a moderate spring season, a warm and sunny summer, and capped off by a cool August, culminating in a flawless weather trifecta. Et voilà! The resulting Chardonnay wines are delicate, with heady, fruity aromas, while the Pinot Noir wines are light, bright, and fruit-driven. The resulting Fleur de Champagne is an elegant signature blend from Perrier-Jouët, and of course, delivered in the classic green, anemone-covered bottle.

It is one of the most delicious Champagnes you'll taste and certainly perfect for Mom. It has a crisp and clean taste on the palate, with the slightest hint of almond and nougat, and a very long finish. Inhale its intoxicating scent and you'll find that there are notes of white flowers (think gardenias and paper narcissus), a touch of honey, and a mind suggestion of a toasty brioche. It is just heavenly. The 1999 Fleur de Champagne retails for $125, and as the L'Oreal commercials suggest, your mom is worth it. 
Posted on May 10, 2007 - by

---
Reader Feedback - Be the first to kick-start this discussion...



---
About the Author: About the Author: Ruth J. Katz is a well-known shopping and service writer based in New York City. She has written about shopping for 25 years for New York magazine; covered the topic on-air at Fox-TV for several years as the Home Services expert; and had her own show on both the USA and Lifetime Cable networks. Katz wrote extensively for The New York Times as well, and contributed periodically to the New York Daily News. She is a passionate shopper, always looking for not merely a good buy, but the best buy, ferreting out a "steal" or discovering up-and-coming designers. She has written five books and is a former contributing editor to Hearst's Redbook, Classic Home, and Colonial Homes; she is currently a Contributing Editor of New York Home, Golf Connoisseur, The Modern Estate, and Promenade magazines. She is also the former Shopping Director for Davler Media's Manhattan Living.

Recent Entries: