S-O-S for M-O-M: Last-Minute Gifts and Cards
Back to the Blog... | Post Feedback | Author Bio | Printer-Friendly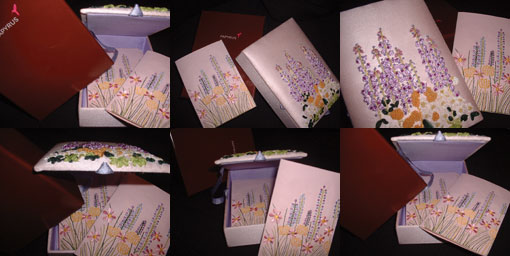 We have previously sung the praises of the local Papyrus stores, which keep sprouting up, everywhere in the city, it seems. We spot a new one every time we alight from the subway and stare at a street corner, figuring out which way to walk. And lauding the shops' merchandisers once again -- just in time for Mother's Day -- is actually in order. Yes, there are pretty picture frames, exquisite and diverse journals, bath and spa products, and even books Mom might like (on Audrey Hepburn, Chanel, and other iconic women), but once again, we have to say our favorite Papyrus things are the paper goods -- the stationery collections, the bags, the wrappings, the cards, the trinkets. Never have so few done so much with, and for, paper.

We spotted several stationery collections that would make lovely gifts, packaged in re-usable silky boxes, just oozing trimmings of one form or another -- embroidery, beads, opulent embellishments. And inside each is a set of handsome note cards, and maybe even a pen. Look for the celadon-green collection with tons of beads in forms that resemble a Chinese-inspired floral fantasy garden (around $40) or the silky, pale-lavender box, heavily embroidered with seasonal blossoms, containing six elegantly embroidered (yes, embroidered on handmade paper) note cards in the palest of pinks (around $30). The shops' assortment of cards is all-encompassing -- for the hip mom, the grandmom, the steadfast mom, the friend who acts like a mom -- whether you want to make a funny statement or hit a heartfelt, Hallmark-y kinda' note.

You will not go wrong with anything from the Papyrus shops. Surely, all the Papyrus people have mothers they want to please and they stocked the store with all the things that they'd buy for them! 

Posted on May 11, 2007 - by

---
Reader Feedback - 255 Replies