Getting Waisted: Banana Republic Skinny Belt
Back to the Blog... | Post Feedback | Author Bio | Printer-Friendly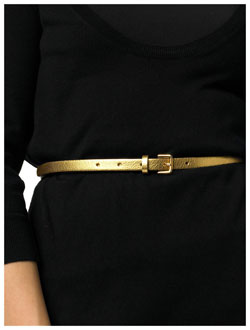 It's definitely the season of the belt and it's also the season of glitz, so combine the two and pick up a very useful wardrobe-builder in the form of a skinny little gold metallic belt. Cinch it over T's, tanks, and tops. Banana Republic has a very chic, narrow, glittery gold leather belt that won't wear out after four outings (or get all cracked at the buckle point), but at $38 it won't break the bank, either...and it's also something you'll have and use for years. BR also has some handsome horn bangles ($28), some coral-y, ombréd, beaded bracelets ($24) and lots of bags, scarves, and cute ballet flats, all of which can transform an outfit, taking it from no-nonsense office-y to lots-of-nonsense after-hours-y. 

Posted on May 21, 2007 - by

---
Reader Feedback - 5340 Replies