Clear As Day: Bags to See You Through Spring and Summer
Back to the Blog... | Post Feedback | Author Bio | Printer-Friendly

Maybe you lusted after the Chanel "Naked" bag, but just didn't want to spend $895. Maybe you bought one of Target's two-in-one bags, with the clear outer tote and the cotton, printed-floral inner tote, for a remarkable le $10.49. Regardless, you cannot have escaped the trend this season for clear, clear, clear plastic, vinyl, PVC, whatever. They are everywhere...and we really love them. Coach has a beauty, too…but the two we think are the best (the Chanel one is just too small, anyhow, so who needs it?), are from Furla and the Metropolitan Museum of Art (yeah, really).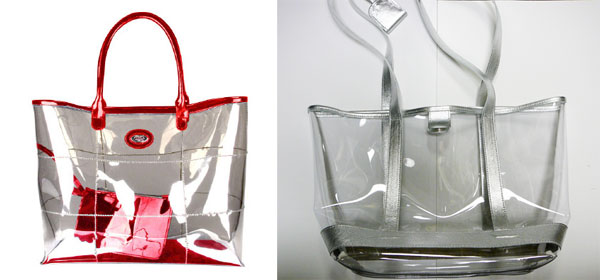 The Furla bag, called "May" (left), comes with leather trim in a few colors -- and here it is with red patent leather trim and a matching little change purse tethered to the bag. It's roomy, chic, fun, and very of-the-moment. ($260; www.furlausa.com)
The Met's version (style number 15-00637-2, for $195) is also very roomy with sturdy, wide handles in silver (ooh-la-la) or brown leather (too utilitarian for our taste), and also very stylish. It's available at the Met's Great Hall Luxury Boutique or by calling 212-570-3894.
Posted on May 24, 2007 - by

---
Reader Feedback - 2 Replies