April Showers...May Flowers...June Umbrellas
Back to the Blog... | Post Feedback | Author Bio | Printer-Friendly
Yesterday's deluge reminded us that we had totally forgotten to complete our April umbrella cycle! That is to say, when the April showers started coming, we suggested picking up the mini-est of mini-umbrellas, Totes' itsy-bitsy six-incher. But we had other umbrellas to share -- not tiny and not inexpensive, but VERY cool and very special. We snagged a picture or two of the ones we are eager to put over our head on a rainy day (or any day). But then again, our better judgment tells us that even when we become the proud owner of one of these rhinestone-encrusted brollies (just waiting to win the lottery, you see), to never take it out for a stroll, because we are sure to leave it in a cab, at the dentist's, or in somebody's office. And we'd just shoot ourselves. Because not only are these umbrellas, from an Italian company called Pasotti, singular and charming and stunning, but they're also pretty $$$ up there. Some are $450. Yeah. Hang on to your rain hat.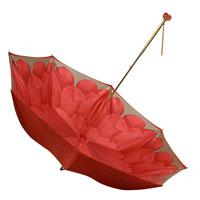 But the ones with the ombréed scattering or deliberate pattern of rhinestones are breathtaking. And they're all lined in different color fabric, too…so it's like having two umbrellas for the price of one. (Well, not really. That's just a rationalization, since you really can't turn them inside out!) But, on the plus side, the handles are special and jewel-like. As you can readily see, we are trying our damnedest to talk ourselves into running out right now and getting the hot pink one with all the rhinestones, sort of strewn over the surface. We're not saying "Rain, rain, go away," but we are hoping it never rains again, so we won't feel "deprived" when next we open up our plain black brolly (probably this afternoon) and feel like a have-not. (Oh, are we sounding like Paris now? Do you think she had to leave one behind when she entered the Big House?)

You can see a huge chunk of the Pasotti line at BrellaBar (www.brellabar.com) and can even shop online. (We've even spotted some Pasotti umbrellas on eBay!) Otherwise, it's a trip to 1043 Third Ave. btw. 61st & 62nd Sts., 212-813-9530. Bring a charge card, for sure, and be prepared for umbrella madness.

Posted on June 05, 2007 - by

---
Reader Feedback - Be the first to kick-start this discussion...



---
About the Author: About the Author: Ruth J. Katz is a well-known shopping and service writer based in New York City. She has written about shopping for 25 years for New York magazine; covered the topic on-air at Fox-TV for several years as the Home Services expert; and had her own show on both the USA and Lifetime Cable networks. Katz wrote extensively for The New York Times as well, and contributed periodically to the New York Daily News. She is a passionate shopper, always looking for not merely a good buy, but the best buy, ferreting out a "steal" or discovering up-and-coming designers. She has written five books and is a former contributing editor to Hearst's Redbook, Classic Home, and Colonial Homes; she is currently a Contributing Editor of New York Home, Golf Connoisseur, The Modern Estate, and Promenade magazines. She is also the former Shopping Director for Davler Media's Manhattan Living.

Recent Entries: