Father Time
Back to the Blog... | Post Feedback | Author Bio | Printer-Friendly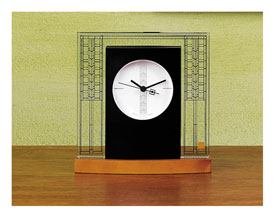 Dad has given us so much of his time over the years, so for Father's Day, why not give some time back to him? We think that this desk clock from the Metropolitan Museum of Art is the perfect way to capture time and share it with dear ol' pop. It's adapted from a 1905 art glass window by Frank Lloyd Wright, which was created for the living room of the W.A. Glassner House in Glencoe, Illinois. The $65 clock is constructed from a mineral glass panel and a solid wood base with a light cherry stain. (Measures 6 1/4" in height, 6 1/4" in width, and 2" in depth.) Available at the Metropolitan Museum of Art bookstores (800-662-3397) or online (www.metmuseum.org/store). Watch as tempus fugit with this gift!

Posted on June 12, 2007 - by

---
Reader Feedback - Be the first to kick-start this discussion...



---
About the Author: About the Author: Ruth J. Katz is a well-known shopping and service writer based in New York City. She has written about shopping for 25 years for New York magazine; covered the topic on-air at Fox-TV for several years as the Home Services expert; and had her own show on both the USA and Lifetime Cable networks. Katz wrote extensively for The New York Times as well, and contributed periodically to the New York Daily News. She is a passionate shopper, always looking for not merely a good buy, but the best buy, ferreting out a "steal" or discovering up-and-coming designers. She has written five books and is a former contributing editor to Hearst's Redbook, Classic Home, and Colonial Homes; she is currently a Contributing Editor of New York Home, Golf Connoisseur, The Modern Estate, and Promenade magazines. She is also the former Shopping Director for Davler Media's Manhattan Living.

Recent Entries: