Belt One Out for Dad
Back to the Blog... | Post Feedback | Author Bio | Printer-Friendly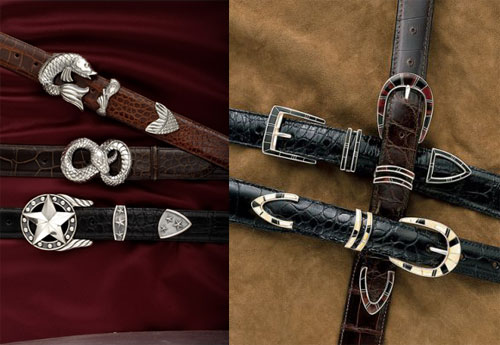 A month or so ago, we sang the praises of the J.W. Cooper jewelry emporium at the Shops at the Time Warner Center, when we were touting the one-of-a-kind charm -- not bracelets but necklaces, for Mother's Day. Now it's Dad's turn. (We'll try to give you some suggestions each day this week.) Cooper has actually built its reputation on its huge variety of fine sterling belt buckles and belt findings/buckle sets, all hand-crafted and unique. Each is virtually a "trophy buckle" of classic or contemporary design. There are themed buckles that will celebrate Dad's favorite sport, hobby, or pastime -- and there are literally hundreds of choices priced from a few hundred dollars up to the thousands. And lest we forget, the buckles come on belts, too, and the Cooper staff will help you select from a wide array of skins -- from the exotic to the exclusive to the exceptional. Cooper also has belts in just about every size -- up to size 50 -- for the fat-cat Dad whose workout is in the boardroom, not on the bench press.

Posted on June 13, 2007 - by

---
Reader Feedback - 455 Replies