Clean Hands, Pure Heart
Back to the Blog... | Post Feedback | Author Bio | Printer-Friendly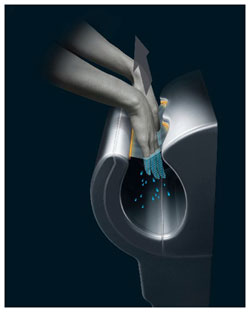 We somehow skipped writing all the stories we wanted to do on spring cleaning (we'll get to a few of them still; we'll just have to call them "summer cleaning"), but vowed to at least write up the new Dyson canister vacuum, which we test-drove recently.  (It sure sucked up all that Golden Retriever dog fur lurking around the old homestead, so we're happy!)  We do, however, have a better Dyson product here to tout -- the Airblade Hand Dryer -- although, we hasten to add, this is assuredly not for anyone.

We think you have to have a major mansion, with a basement family level -- outfitted with a pool, spa, home-entertainment center/movie theater, billiard room, wine-tasting facility, wet bar, and game room, and Lord-only-knows-what-else -- and you have to use it a lot and have a lot of guests over who use it a lot.  Mirabile dictu!  We don't have that kind of set-up in our less-than-a-thousand-square-foot domicile, but the mansions of the Antares Company in Greenwich, Connecticut (which we recently toured) sure do…so whoever buys those properties up there in Taconic Estates, listen up! (Also, for the record, these Airblade Hand Dryers are in the AMC movie theaters on 42nd Street near Eighth Avenue…go check them out if you're going to take in a flick over the long holiday week/weekend.)

So we're writing these Airblade Dryers up because we think they're cool. They dry hands faster than you can say, "Evaporate the water, Sesame."  And, they're hygienic.  No more sort-of dry hands, with damp spots underneath your rings.  No more using your elbow to press the knob on the wall dryer to avoid getting germs.

The way it works: You put your hands into the dryer well and they are instantly surrounded by gushing power streams of hot air, coming at you at 400 mph. The air is funneled through slits no thicker than an eyelash, so the resulting hot air streams are like having invisible windshield wipers removing the moisture from your hands, drying them in 12 seconds! Of course, this nifty little gizmo is a little pricey ($1,400), but then again, as we said, it's not for everyone, and it's hardly an apartment must-have.  But, nice to know it's around…definitely the cutting edge.

Posted on June 29, 2007 - by

---
Reader Feedback - Be the first to kick-start this discussion...



---
About the Author: About the Author: Ruth J. Katz is a well-known shopping and service writer based in New York City. She has written about shopping for 25 years for New York magazine; covered the topic on-air at Fox-TV for several years as the Home Services expert; and had her own show on both the USA and Lifetime Cable networks. Katz wrote extensively for The New York Times as well, and contributed periodically to the New York Daily News. She is a passionate shopper, always looking for not merely a good buy, but the best buy, ferreting out a "steal" or discovering up-and-coming designers. She has written five books and is a former contributing editor to Hearst's Redbook, Classic Home, and Colonial Homes; she is currently a Contributing Editor of New York Home, Golf Connoisseur, The Modern Estate, and Promenade magazines. She is also the former Shopping Director for Davler Media's Manhattan Living.

Recent Entries: