The Lure of Vacation: Gone Fishing
Back to the Blog... | Post Feedback | Author Bio | Printer-Friendly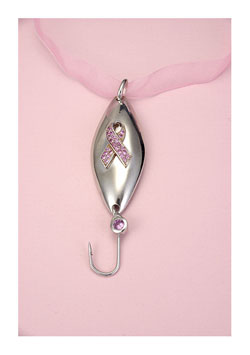 With a birthday of national importance upon us, today seems like the perfect day to check out early. "Gone Fishing," a notion we like very much, works for us. But at the moment, we mean "fishing" in a different fashion. Our hook is from MacDaddy's Fishing Lures and it's wrought from solid platinum (30 times more rare than gold, thank you very much) and accented with a pink ribbon crafted from rosy sapphires. It's an alluring little trinket, at a price that is also a bit of a lure (just a tad under $5,000) for those with some loose change in their pockets…and 10% of the sale proceeds goes to charities dedicated to cancer prevention and recovery.  Forget about trying to catch flounder with it.  Just wear it around your neck.  Available at www.macdaddysfishinglures.com and at fine jewelry stores nationwide.

Posted on July 03, 2007 - by

---
Reader Feedback - Be the first to kick-start this discussion...



---
About the Author: About the Author: Ruth J. Katz is a well-known shopping and service writer based in New York City. She has written about shopping for 25 years for New York magazine; covered the topic on-air at Fox-TV for several years as the Home Services expert; and had her own show on both the USA and Lifetime Cable networks. Katz wrote extensively for The New York Times as well, and contributed periodically to the New York Daily News. She is a passionate shopper, always looking for not merely a good buy, but the best buy, ferreting out a "steal" or discovering up-and-coming designers. She has written five books and is a former contributing editor to Hearst's Redbook, Classic Home, and Colonial Homes; she is currently a Contributing Editor of New York Home, Golf Connoisseur, The Modern Estate, and Promenade magazines. She is also the former Shopping Director for Davler Media's Manhattan Living.

Recent Entries: