The Urban Jewelry Jungle
Back to the Blog... | Post Feedback | Author Bio | Printer-Friendly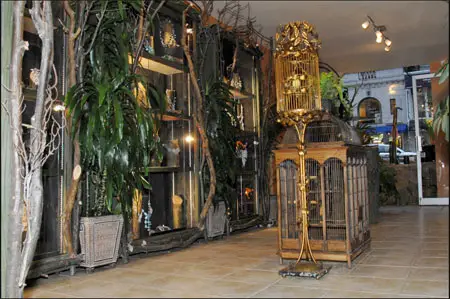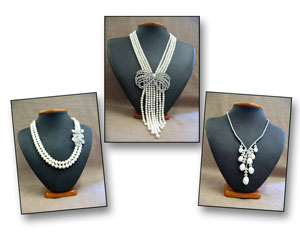 We're off to a wedding this weekend, and it got us to thinking about jewelry designer Siman Tu and his brand-new store at 860 Lexington Ave. at 65th St. It looks less like a bridal salon and more like a learning experience; something conjured up by the wizards behind the educational exhibits at the Bronx Zoo. Tu's shop, you see, is sort like a little Amazon rain forest in the middle of an urban jungle. The trees, the plants, the fish pond, and the birds are all accented with showcases of lustrous pearls, gleaming zircons, Victorian reproduction jewelry, and other sort of earthy bijoux, crafted from things like lapis and natural-looking stones. Tu has a few different collections (one of which is very bridal-y) and they couldn't be more diverse.  (Prices range from about $150 to $3,000.)  We're drawn, however, to the bridal looks -- they're sleek and grown-up looking -- and, they deliver a lot of bang for the buck. Moreover, just because you're not getting married, it doesn't mean you can't snatch up a tiara, or a stunning crown, or hair comb, or barrette, or whatever. Worst case scenario: a parure of a necklace, a bracelet, and earrings to wear to someone else's wedding.

Posted on July 06, 2007 - by

---
Reader Feedback - Be the first to kick-start this discussion...



---
About the Author: About the Author: Ruth J. Katz is a well-known shopping and service writer based in New York City. She has written about shopping for 25 years for New York magazine; covered the topic on-air at Fox-TV for several years as the Home Services expert; and had her own show on both the USA and Lifetime Cable networks. Katz wrote extensively for The New York Times as well, and contributed periodically to the New York Daily News. She is a passionate shopper, always looking for not merely a good buy, but the best buy, ferreting out a "steal" or discovering up-and-coming designers. She has written five books and is a former contributing editor to Hearst's Redbook, Classic Home, and Colonial Homes; she is currently a Contributing Editor of New York Home, Golf Connoisseur, The Modern Estate, and Promenade magazines. She is also the former Shopping Director for Davler Media's Manhattan Living.

Recent Entries: