Hot Nights, Cool Jazz
Back to the Blog... | Post Feedback | Author Bio | Printer-Friendly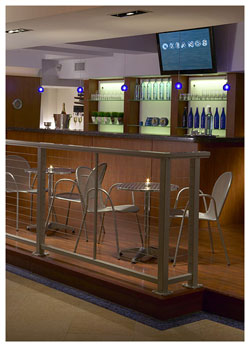 If last night's rain didn't cool you off enough, you'll be able to lower your internal thermostat and escape the pervasiveness of the week's heat tonight, and any Thursday this summer, at the Okeanos Club Spa at 211 E. 52nd St.  (212-223-6773).  For the rest of the summer, through the end of August, Thursday nights are free jazz nights.  The spa/club has a small lounge area where clients can relax between treatments and enjoy complimentary Baltika Russian Beer (the top-seller in the Motherland) and "fashionable" Zyr vodka -- although we suspect that ANY vodka is a top-seller in the Motherland, this one is a very trendy one here in the States. Petrossian is even supplying free hors d'oeuvres, although we rather doubt that they will be springing for the Royal Special Reserve Persicus that is $9,800 for 1,000 grams.
There is no cover fee; clients already using the club and spa facilities are welcome to linger and enjoy the jazz, from 5 to 10pm. While the club is open to both sexes, it's a little more of a men's hangout, what with the resident barber and the male-oriented activities. However, the traditional Russian banya (steamy sauna) and platza (sort of something you'd see in an Ingmar Bergman movie -- bundled birch branches tapped against naked flesh, to enhance circulation) are available to all, as are cooling dips in the plunge pool, and Russian, deep-tissue muscle massages, hot stone massage, reflexology treatments and so on. Tonight, the jazz trio includes Tom Baker on the drums, Matt Hughes, bass, and Andy Friedberg on the guitar.

 
Posted on July 12, 2007 - by

---
Reader Feedback - Be the first to kick-start this discussion...



---
About the Author: About the Author: Ruth J. Katz is a well-known shopping and service writer based in New York City. She has written about shopping for 25 years for New York magazine; covered the topic on-air at Fox-TV for several years as the Home Services expert; and had her own show on both the USA and Lifetime Cable networks. Katz wrote extensively for The New York Times as well, and contributed periodically to the New York Daily News. She is a passionate shopper, always looking for not merely a good buy, but the best buy, ferreting out a "steal" or discovering up-and-coming designers. She has written five books and is a former contributing editor to Hearst's Redbook, Classic Home, and Colonial Homes; she is currently a Contributing Editor of New York Home, Golf Connoisseur, The Modern Estate, and Promenade magazines. She is also the former Shopping Director for Davler Media's Manhattan Living.

Recent Entries: