Silver Lining: A Shining Repair Service
Back to the Blog... | Post Feedback | Author Bio | Printer-Friendly
William Manfredi spent a good chunk of the '70s in Florence, Italy, at first pursuing an masters in fine arts and then falling in love -- with sterling silver. Some 30 years later, Manfredi estimates that he's repaired 80,000 or even 90,000 metal objects (mostly sterling silver), from candlesticks to little boxes, to presentation items, to platters, to you-name-it.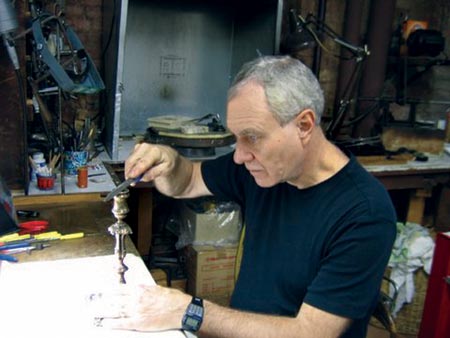 He works on precious metals only -- silver, gold, and bronze (no base metals) -- and hollowware and flatware, at that. The simplest repairs ($100) might involve removing a dent or soldering a broken foot onto a creamer or a handle onto a pitcher, and his most delicate or complicated jobs -- which could easily soar into the thousands -- involve fashioning missing parts for elaborate pieces (like armatures for extravagant candelabras), repairing Tiffany lamps, and creating new works on commission. He has a fully equipped metalsmith's studio and most days can be found sawing, hammering, sculpting, and crafting -- that is, when he's not teaching antique-metal restoration or silversmithing at the F.I.T. Restoration Program, or in the regular curriculum. Turnaround time for the easiest jobs can be as little as week to ten days. By appointment only. William Manfredi, Silversmith, Inc., 46 Great Jones St. btw. Bowery & Lafayette Sts., 212-260-5591 (This article originally appeared in the 1/06 issue of Manhattan Living.)

Posted on August 10, 2007 - by

---
Reader Feedback - Be the first to kick-start this discussion...



---
About the Author: About the Author: Ruth J. Katz is a well-known shopping and service writer based in New York City. She has written about shopping for 25 years for New York magazine; covered the topic on-air at Fox-TV for several years as the Home Services expert; and had her own show on both the USA and Lifetime Cable networks. Katz wrote extensively for The New York Times as well, and contributed periodically to the New York Daily News. She is a passionate shopper, always looking for not merely a good buy, but the best buy, ferreting out a "steal" or discovering up-and-coming designers. She has written five books and is a former contributing editor to Hearst's Redbook, Classic Home, and Colonial Homes; she is currently a Contributing Editor of New York Home, Golf Connoisseur, The Modern Estate, and Promenade magazines. She is also the former Shopping Director for Davler Media's Manhattan Living.

Recent Entries: