OXO Good
Back to the Blog... | Post Feedback | Author Bio | Printer-Friendly
We have had barbecues on the mind for weeks now, and decided to see what little culinary helpers our friends OXO have created to make our BBQ chores more fun. (Barbecues brought to mind s'mores, too, but we quelled the urge to go out and buy all those s'mores-y type ice creams.) We have always loved OXO's Good Grips tools and utensils, and sure enough, when we looked into what was new in the company's cupboard, there were some gizmos that we couldn't wait to test drive. Sure enough, after road-testing them, we can report that they are well worth yakking about, and even if you're not planning any grilling or al fresco dining, you might still want these great tools.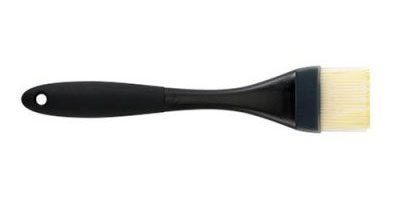 For starters, there's the classic basting brush, but with an extra-long handle to keep your digits away from the heat. The silicone bristles are designed with space in-between them to suck up and hold your basting solution or BBQ sauce from bowl to bass, and then it disgorges its bounty. And it's heat-resistant to 600 degrees F, too.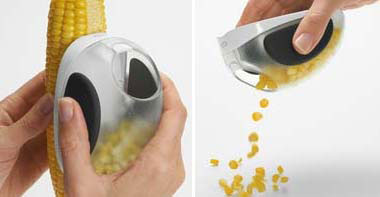 Then there is the brand-new corn stripper. Very neat. You can collect all the kernels in a little container, and when you're done, you can pop it in the dishwasher, too. We think this is a very neat gadget and we're glad that we don't have to get all those corn kernels stuck in our teeth. (Not to mention, this is the BEST time for that Silver Queen corn from Jersey and Long Island.)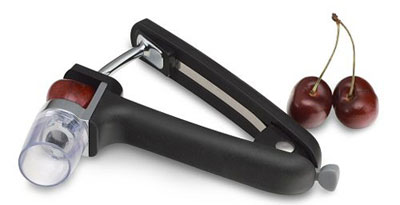 Next, we fell in love with OXO's cherry pitter. How cool is this? Take the pits out of those Bings in one easy motion -- and because OXO is so clever about all the little details, there is a splatter guard so you don't get nasty cherry juice on your summer whites.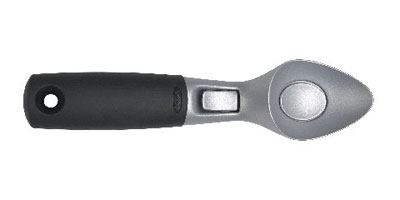 And the last item, for dessert, is the ever-trusty ice cream scoop. OXO makes many, but our favorite is the large aluminum one, with the beak that digs into really frozen ice cream. It has a little ejector button (like a James Bond sports car) to coax that nice ice cream ball right out of the scooper.
They're all $11.99 (save the scoop, which is $14.99)…get them all, because they're cheap enough and are perfect additions to any kitchen cupboard, regardless of whether you have a BBQ or picnic in mind.
Posted on August 13, 2007 - by

---
Reader Feedback - Be the first to kick-start this discussion...



---
About the Author: About the Author: Ruth J. Katz is a well-known shopping and service writer based in New York City. She has written about shopping for 25 years for New York magazine; covered the topic on-air at Fox-TV for several years as the Home Services expert; and had her own show on both the USA and Lifetime Cable networks. Katz wrote extensively for The New York Times as well, and contributed periodically to the New York Daily News. She is a passionate shopper, always looking for not merely a good buy, but the best buy, ferreting out a "steal" or discovering up-and-coming designers. She has written five books and is a former contributing editor to Hearst's Redbook, Classic Home, and Colonial Homes; she is currently a Contributing Editor of New York Home, Golf Connoisseur, The Modern Estate, and Promenade magazines. She is also the former Shopping Director for Davler Media's Manhattan Living.

Recent Entries: