Art on Sale
Back to the Blog... | Post Feedback | Author Bio | Printer-Friendly
The shops at the Metropolitan Museum of Art have been having a sale the last few weeks (shame on us, we were out of the country, so we just didn't get a chance to attend to blogging, but more about that in later posts), which ends on Monday, so here's your chance to get last licks in. The Museum has reduced tons of items (stock up now for Christmas, because it's not too early to think Santa -- despite the fact that it feels like summer outside!), and take advantage of the reductions up to 50% off original retail.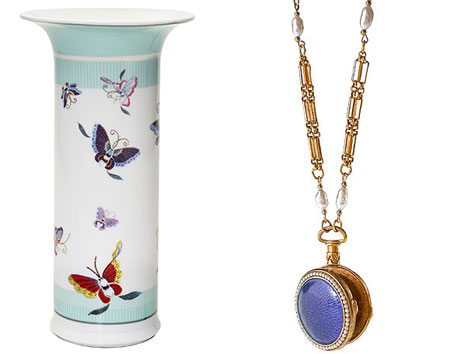 Here are but a few items you might find on sale: A Chinese trumpet-style "Butterfly" vase (porcelain), originally $85, now $57.38 (for members and $63.75 for non-members); a pearl-and-enamel chatelaine, normally $140 and on sale now for $62.99 (members) and $69.99 (non-members). The Metropolitan Museum of Art, 1000 Fifth Ave., 212-570-3894; other locations include Rockefeller Center, 15 W. 49th St.; Macy's Herald Square, 151 W. 34th St.; 800-468-7386.

Posted on October 25, 2007 - by

---
Reader Feedback - Be the first to kick-start this discussion...



---
About the Author: About the Author: Ruth J. Katz is a well-known shopping and service writer based in New York City. She has written about shopping for 25 years for New York magazine; covered the topic on-air at Fox-TV for several years as the Home Services expert; and had her own show on both the USA and Lifetime Cable networks. Katz wrote extensively for The New York Times as well, and contributed periodically to the New York Daily News. She is a passionate shopper, always looking for not merely a good buy, but the best buy, ferreting out a "steal" or discovering up-and-coming designers. She has written five books and is a former contributing editor to Hearst's Redbook, Classic Home, and Colonial Homes; she is currently a Contributing Editor of New York Home, Golf Connoisseur, The Modern Estate, and Promenade magazines. She is also the former Shopping Director for Davler Media's Manhattan Living.

Recent Entries: