Silhouettes and Profiles
Back to the Blog... | Post Feedback | Author Bio | Printer-Friendly
This is the time to start repairing your summer wardrobe and getting it ready for hibernation. And there is nothing that Irene Chermiakhovsky and Brenda Barmore and their crew of nimble-fingered magicians can't alter, take in, let out, lift up, hem, or just reinvent. Whether your problem garment's still got tags on it, or it's a resale-shop treasure, they can ply their sleight of hand and refit or retrofit it. In business nearly 35 years, they count the Metropolitan Museum of Art Costume Institute among their clients.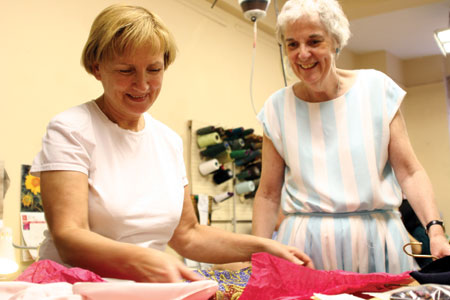 They'll work on humble raiment with no pedigree or the most rarefied couture -- blue jeans, fine lingerie, office attire, or wedding gowns -- anything. Not only is their work professional and creative, but better still, it's well priced: Pants hems start at $22; jacket hems, $22 and up; hems on unlined skirts, $25 and up. They're extremely clever with vintage fashion, inventing novel ways to "sculpt" a fit and salvage a potential jewel. (Repairs only, no custom clothing; closed on Sun. & Mon.) 160 W. 71st St. btw. Broadway & Columbus Ave., 212-877-3372 (This article originally appeared in the 8/05 issue of Manhattan Living.)
Posted on November 26, 2007 - by

---
Reader Feedback - 249 Replies