Cooking up a Hearty (and Healthy) Brew or Stew: Karen Lee
Back to the Blog... | Post Feedback | Author Bio | Printer-Friendly
Karen Lee has spent over 30 years at the stove -- whether teaching, lecturing, writing cookbooks, catering, developing recipes, or just fiddling around doing her favorite thing: cooking. Suffice it to say, she really knows her way around a whisk. And you and your "better half" will, too, if you take one of her heart-healthy cooking classes for couples. (Fret not: If you're not part of a couple, but might like to be, she's got classes for singles, too.) Everything Lee makes -- and will teach you to make (and you?ll dine plentifully after class) -- is geared toward wholesome eating, but unlike so many other so-called healthy meals, Lee's repasts are so flavorful, you'll swear the chef cheated.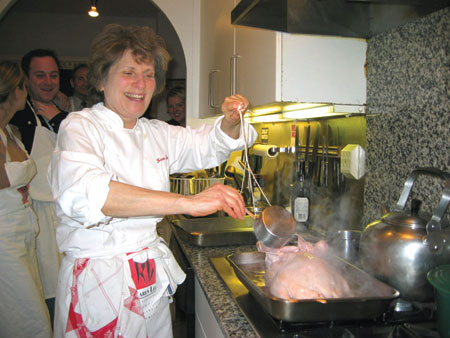 Lee's tasty cuisine is heavy on Asian and fusion influences, and all of her recipes are exciting?red snapper a la Veracruzana, chicken with shallots and walnuts, and winter squash stew (we swear, we?ve never eaten anything that is this delicious). Couples classes will meet on Tuesday nights, with a revolving schedule throughout the month); classes for singles on Thursday evenings. (Per person: $90 per class for four classes, or $100 per class.) Call for reservations and information. 212-787-2227; www.karenleecooking.com (This article originally appeared in the 2/06 issue of Manhattan Living)
Posted on November 26, 2007 - by

---
Reader Feedback - 248 Replies