Getting Floored: Janos P. Spitzer Flooring
Back to the Blog... | Post Feedback | Author Bio | Printer-Friendly
In his native Hungary, Janos Spitzer was a horse-drawn-carriage maker, but when he came to America over 40 years ago he realized he wouldn't be building too many carriages stateside. So he turned his prodigious woodworking skills to something more useful: flooring. Today he is considered one of the preeminent flooring artists in the city.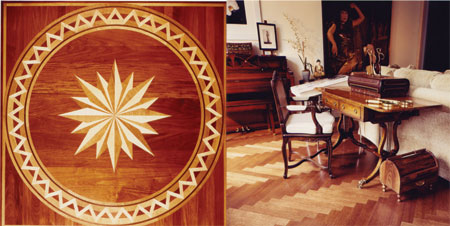 He focuses on high-end residential projects, building and repairing plain flooring, straight-strip floors, and elaborate parquets. Enamored by exquisite flooring, Spitzer matter-of-factly states the he is "on a mission to teach architects how to design properly constructed floor systems." And to do that, he holds monthly seminars for architects and designers. He further notes that one of his most satisfying projects was consulting "in the building that used to be Alexander's, the Bloomberg building. I designed the floor assembly, assisted in obtaining the quarter-sawn white-oak plank material, and supervised the milling and installation. I am proud to say that you can do a 'proper' floor in a high rise -- it's level, it has sound attenuation, built-in softness, and beauty -- and it's a whole lot less expensive than you would think." His talented artisans work on both pre- and post-war flooring, although they are handled quite differently. They will sand and refinish mechanical (i.e., nailed-down) floors, starting at $6 a square foot. "We sand four to five times with different grades of sandpapers, and our prep is very thorough. We will even move and protect furniture, taking photos so we put it all back where it goes when the floor is complete." Installation of top-quality flooring starts at $25 per square foot. 133 W. 24 St. btw. Sixth & Seventh Aves., 212-627-1818; www.janosspitzerflooring.com (This article originally appeared in the 3/06 issue of Manhattan Living.)
Posted on November 26, 2007 - by

---
Reader Feedback - 1405 Replies

ilqGsXjvEzrDh
by SokZQaBC @ 10/14/08, 05:14:42 AM

DMIL1Z gjsRt3i9fkls03GsAc