Hats Off! Peter and Irving, Inc. Hatshop and Showroom
Back to the Blog... | Post Feedback | Author Bio | Printer-Friendly
In business since 1935, this throwback to another era specializes in all things relating to hats -- from making fab, one-of-a-kind chapeaux to maintaining them. Horace Weeks, who's been with the company since the 1940s, will oversee whatever you fancy. For summer, it's the cleaning and the blocking that we're interested in, to keep our boaters and our big straw beach hats pristine.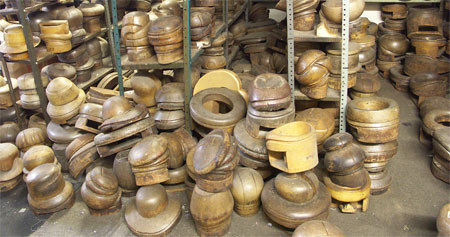 Anika Lopes, who runs the operation, says that they have the largest selection of hat blocks in the U.S. "Just hundreds -- it's like a museum! And there's nothing we can't do with a hat," she notes, and that includes minor things like changing the inside or outside sweatband, sizing, repairing, and so on. For cleaning and blocking (about $45 and up, with approximately a week's turnaround), walk-ins are welcome; other jobs require an appointment. 36 W. 38th st. btw. Fifth & Sixth aves., 4th flr., 212-730-4369; www.peterandirving.com (This article originally appeared in the 6/06 issue of Manhattan Living.)

Posted on November 27, 2007 - by

---
Reader Feedback - 740 Replies