A Medical Magician: Dr. Neil Sadick
Back to the Blog... | Post Feedback | Author Bio | Printer-Friendly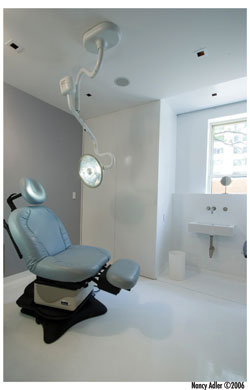 When you enter the Park Avenue offices of Dr. Neil Sadick, you may feel like you're on a Hollywood set, what an Oscar-winning art director thinks a Beverly Hills plastic surgeon's futuristic office should look like. But make no mistake: Very serious medicine takes place here.

Dr. Sadick's impressive credentials include four board certifications, and his list of prestigious titles and credentials takes up pages and pages in his resume. He has authored nearly a dozen books, written or co-authored hundreds of articles, and delivered speeches at over 500 medical seminars, classes, and workshops.

A gifted researcher and academic, Sadick is skilled with all the latest laser-lights and energy therapies, and the office is outfitted with state-of-the-art equipment, much of which he helped develop. His research has revolutionized contemporary dermatology with countless firsts: the first radiofrequency skin-tightening technology; the first lasers for treating varicose veins; the first ultrasound and radiofrequency liposuction. "The future will include more cost-effective, non-invasive, safe technologies that will require no down time," he says. "Some of these newer procedures will be incorporated into treatments in the physician's office, but many will be so safe that they can be used at home."

Come for the removal of a birthmark or to reinvent your birth date -- and everything in between: Botox, Sculptra, laser peels, Lipo-Selection, lesion removal, vein procedures, acne-scar treatment, hair transplant, or just a medi-facial. 911 Park Ave. btw. 79th & 80th Sts., 212-772-7242; www.sadickdermatology.com (This article originally appeared in the 9/06 issue of Manhattan Living.)

Posted on November 27, 2007 - by

---
Reader Feedback - 8 Replies