A Sure Shoe-In
Back to the Blog... | Post Feedback | Author Bio | Printer-Friendly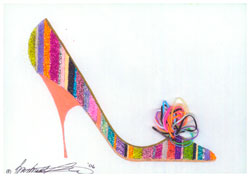 If you love shoes (and is there anyone among us who does not?), then you'll not want to miss Barbra Music's sale tomorrow, Saturday, from 1 p.m. to 6 p.m. It's an open studio sale, so you're going to get first crack at some charming "stuff" from this talented artist, obsessed as she is with creating delightful, flighty, and fun shoes -- as artwork and as for-real shoes (from her classes in shoemaking).  At this sale, there are no real shoes (she's not in the shoe business, but rather in the art business!), but there will be plenty to hang on your walls, or use as decoration, or for sharing: original shoe artwork (and without a doubt you'll find her shoe drawings and collages fanciful and whimsical); embellished shoe prints; boxed cards (for holiday and every day occasions); hand-printed T shirts, and more.

Where? 246 W. 80 St. (between Broadway and West End Ave.), Suite # 21 (fifth floor); from 1 to 6 p.m.; cash and checks.
Posted on December 07, 2007 - by

---
Reader Feedback - 19 Replies