Where to Buy a Tie
Back to the Blog... | Post Feedback | Author Bio | Printer-Friendly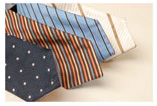 We would normally say that we think Century 21 is a good place to shop for discounts, and discounted designer ties among those bargains. Or Hermès, definitely, for classy ties, distinguished ties. Ties that any knowing eye would recognize as readily as one recognizes an Hermès scarf. And what other destinations? Bergdorf Goodman's Men's Store for variety. Or Barneys for the colorful displays...so many ties, so few -- only 365 -- days to wear them.
But we're going to throw in a ringer here: Lord & Taylor. And why? Well, it?s really because of the Henry Jacobsen reversible ties (pictured). Other stores have bigger selections, or better selections, or more reasonably priced selections, or whatever. But nobody has these neat reversible ties. And they're barely $75. We think at that price, considering you're getting two-for-the-price-of-one, they're a steal.
And lest we forget: For those venturing beyond the Hudson (mon Dieu!), there is a wonderfully upscale, family-owned store called Garmany in Redbank, in La Nouvelle Jersey, that has an amazing selection of ties, many of which you will find nowhere else. Don't ask -- we don't know how Larry Garmany and his son Johnell do it, but they find manufacturers in Italy who do exclusive, limited-edition runs of ties with prices that can soar up to $300...so we figured it's worth a mention here. You definitely will not see yourself coming and going in those Garmany ties. Lord & Taylor, 424 Fifth Ave., 212-391-3344; www.lordandtaylor.com. Garmany, 121 Broad St., Redbank, New Jersey, 732-576-8500; www.garmany.com
Posted on December 19, 2007 - by

---
Reader Feedback - 2333 Replies

Brooks Brothers
by M.J.W. @ 01/29/08, 11:14:32 AM

Although it may be cliché, buying a man a tie is always a great gift. Just as we women can never have too many shoes, men never seem to tire of ties. And, Brooks Brothers still carries one of the best selections of ties. Whether you want a stripe, pattern or a solid, Brooks Brothers always comes through with a choice, especially if you like a more conservative look. I find that when I go into the store, the salespeople are knowledgeable about their inventory and can help guide me when making a selection. And, if you check out their website, Brooks Brothers even offers a step-by-step guide of how to tie a classic knot, a skill I have yet to perfect!

e
by r @ 04/05/08, 11:41:50 AM

e

Great ties
by dlm @ 04/06/08, 10:42:17 AM

I love to buy my ties there because they re very attractive.

1
by 1 @ 08/25/12, 10:18:04 PM

-1'

1
by -1' @ 08/25/12, 10:18:04 PM

1

-1'
by 1 @ 08/25/12, 10:18:04 PM

1

1
by 1 @ 08/25/12, 10:18:05 PM

1