Spring Cleaning
Back to the Blog... | Post Feedback | Author Bio | Printer-Friendly
No, not that kind of spring cleaning, but a facial spring cleaning -- getting all the goop and gook off your face and out of your pores, so you can start the season with a shiny, bright visage.  And boy did we have a spring cleaning the other day. New in New York:  Blue Mercury.  Sounds like something a little space age-y, doesn't it?  But that couldn't be further from the truth.  Au contraire, it's something VERY cosseting. 
Blue Mercury is the latest beauty buzz to hit the Big Apple.  Sort of a cross between Sephora and Bliss Spas.  There is one store/salon (it's kind of a hybrid) here in the city now, on the Upper West Side.  And aren't we lucky, it's right in our nabe.  We now can boast of having, within a stone's throw of the old homestead, Jacques Torres, the Shake Shack (coming soon), the Magnolia Bakery, and Blue Mercury.  Yes, we've lost Williams Chicken and a myriad of other old-time retailers the Eclair on West 72nd Street and that old standby, Cake Masters (we were a sucker for those sugary, gelatinous hot-pink roses), but Blue Mercury more than makes up for at least one of them.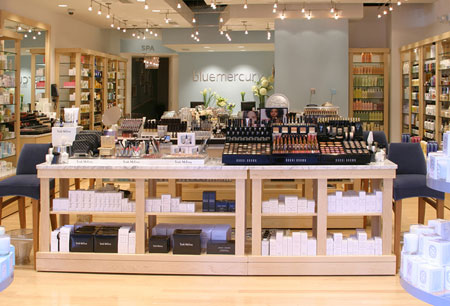 So, not to get off the thread here:  It's a candy store, in the way that Sephora is, but very different...there are no harsh fluorescent lights, no disco music, no trendier-than-thou hipness.  It's cozy, with wood and warmth everywhere, and family-friendly displays and lots of nice young woman who are there to make you up, cleanse your skin, and show you just what you need.  So many prestigious brands, all stocked on wooden shelves.  It's also a bit more upscale than Sephora, with products like Molton Brown, Lafco, The Thymes, L'Artisan Parfumeur, Diptyque, Creed, and Bumble & bumble, to name but a handful.  Many other usual suspects are there, though, too, like Nars and Trish McEvoy. 
But what truly sets Blue Mercury apart is the treatment salon.  In the back of the shop, through an Alice-in-Wonderland door (as there is truly another world on the other side of the portal), is an intimate spa-like salon where you can avail yourself of any number of self-indulgent, beautifying, and healing treatments, and we sure did have a humdinger of a cleansing -- quite a rejuvenation for spring. We tried the power facial, which had some micro-dermabrasion and a vitamin oxygen blast and, we must admit, we were ready to outshine that crystal ball that comes down at Times Square on New Year's Eve. What a sparkle in our face when we left the salon.  The alchemy was performed by Natalia Higginbotham, and she's a real conjurer when it comes to magic potions. There are fusion, crystal, hydrating, and purifying facials, and hot rock massages, and body polishes, and an entire menu to cleanse you for spring... 
So, get thee to 2305 Broadway, between 83rd and 84th Streets, for the treat of a lifetime.  Call 800-294-7700 for an appointment first, or visit them on the Web at www.bluemercury.com.  You will not be sorry.  This is one kind of spring cleaning for which you need no broom!
Posted on March 20, 2008 - by

---
Reader Feedback - 1396 Replies