Haute Hot Cocoa for These Cold Days
Back to the Blog... | Post Feedback | Author Bio | Printer-Friendly
You don't need a thermometer to know it's bitterly cold outside and, sadly, will continue to be just as nippy, at the very least, for days to come. BRRRR.....get out the handwarmers. Or, get in (as in imbibe) the hot chocolate, the most heart-warming, soothing, cold-weather brew, guaranteed to take the frost off the nose. Among the best cups of hot chocolate to be sipped in the city are those at Maison du Chocolat
and Vosges. Just thinking of them warms my soul.
Maison du Chocolat was founded over 30 years ago by Robert Linxe, who opened his charming jewel-box-of-a-shop on the very fashionable Faubourg St. Honoré (when everyone thought chocolate was something to be consumed just for Easter and Christmas, in the form of eggs and Santa Clauses). He started with a mere 15 chocolate creations, almost all of which are still among the favorites in the line.
Linxe was a visionary and was even called the "Sorcerer of the Ganache" by Jean-Paul Aron, a highly regarded French journalist. He completely revolutionized the way Parisians thought of and ate chocolate. Today, the business, located in Nanterre, is under the toque of master pastry chef-chocolatier Gilles Marchal, who has been the creative director since 2007 and who was named the Master Pastry Chef of the Year in France in 2004. (He previously served as a master pastry chef at some of Paris' great grandes dames hotels, Le Crillon, Le Plaza-Athénée, Le Bristol.) His battalion of chocolate wizards includes one chocolatier who garnered the coveted prize of Meilleur Ouvrier de France (Best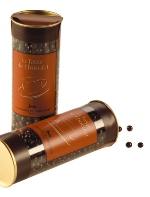 Artisan in France).
At Maison's café on Madison Avenue, you can sip a cup of hot chocolate ($8.00), or take home a container of the Tasse de Chocolat (the little pearls to make your own hot cocoa) for $ 18.00.
Downtown, the breezes still blow and it's just as cold. So, it's the perfect time to hie thee into Vosges Haut Chocolat's café and shop. Here, the company's signature line of Couture Cocoas, packaged in an elegant purple gift set box, topped with a grosgrain ribbon, sells for $55; the sampler, less suited as a gift, but with three boxes of tantalizing cocoas, is $19.50, and individual packets are $4.50 and $5.00
The cocoas (and you just need to buy the packets to make them at home) includ
e three intoxicating brews: Bianca, an Australian lemon myrtle, with lavender flowers, vanilla, and white chocolate-so good, you could eat it right out of the box; Aztec Elixir, a kicky recipe made with Mexican ancho and chipotle chillies, Ceylon cinnamon, Madagascar vanilla, and cornmeal dark chocolate (swoon!); and the classic, La Parisienne, a combo of Madagascar vanilla bean and dark chocolate.
All are special hot chocolate drinks, created by founder and owner, Katrina Markoff, who is enamored of chocolate. To wit, she says: "When I was a student at Le Cordon Bleu, a group of us became obsessed with dining at Michelin 3-star restaurants. The Michelin system was huge at that time, p
articularly in France, and we were so curious as to the ethos of a 3-star restaurant. One evening we went to the famed L'Ambrosie in Le Place des Vosges and at the end of the meal, Chef Pacaud brought out these very particular beignet bonbons on toothpicks. He had frozen ganache truffles, dipped them in beignet batter and deep-fried them to curvaceous golden perfection. One bite and the experience began - a sweet crunchy l'attack en bouche followed by a burst of molten liquid chocolate. Time stood still as it was nothing less than life-altering for me. That was my first chocolate moment and it's why I decided to name my company Vosges Haut-Chocolat."
You will undoubtedly have your own chocolate moment at Vosges' café when you sip Katrina's hot chocolates.
La Maison du Chocolat, 1018 Madison Avenue (78th/79th Streets); 212-744-7117, 800-988-5632; lamaisonduchocolat.com
Vosges Haut Chocolat, 132 Spring Street (Greene/Wooster Streets); 212-625-2929; 1100 Madison Avenue (82nd/83rd Streets); 212-717-2929, 888-301-9866; vosgeschocolate.com
Posted on January 06, 2010 - by

---
Reader Feedback - 3 Replies

1
by 1 @ 01/02/13, 10:44:15 AM

-1'

1
by -1' @ 01/02/13, 10:44:34 AM

1

1
by 1 @ 01/02/13, 10:44:56 AM

1