The Scent of Chocolate: Candles from Godiva
Back to the Blog... | Post Feedback | Author Bio | Printer-Friendly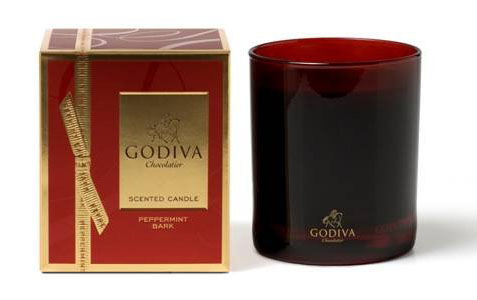 Well, not exactly dietetic chocolate. But close. If last week's cocoas were just too rich and too caloric for your New Year's resolutions-restricted waistline, then hie thee to Godiva or to Neiman Marcus and scoop up one of the company's brand-new scented candles. Infused with delicious aromas of luscious chocolate flavors, the nearly one-pound candle (the glass container contributes to the weight of the pillar-style candle), imparts heady, chocolate-y flavors even when unlit. Candles are about 3" tall, with a 10"diameter, and are "enrobed" in a cocoa-brown glass container.
Five mouth-watering flavors are on the market: Milk Chocolate Truffles, Black Almost Truffles, White Chocolate Magnolia, Raspbery Ganache, and Peppermint Bark (inspired by one of the company's traditional bestsellers, peppermint bark), and, all of which are truly evocative of the real deal. Created by Laura Slatkin (formerly of the eponymous Slatkin & Co., makers of fine home fragrances, which is now part of the Bath & Body Works family), the scents are intoxicating and they smell as if a few dozen boxes of rich and robust chocolates have been opened in proximity of the receptive scent detectives in your nose! Sniff the caramel, the Madagascar bourbon vanilla, the fresh mint, brown sugar, and ripe fruit...
The candles are available at Neiman Marcus and Bath & Body Works for $22.50 (50 hours' burn time); there are also smaller, travel versions (10 hours' burn time), for $12.50.
Posted on January 14, 2010 - by

---
Reader Feedback - Be the first to kick-start this discussion...



---
About the Author: About the Author: Ruth J. Katz is a well-known shopping and service writer based in New York City. She has written about shopping for 25 years for New York magazine; covered the topic on-air at Fox-TV for several years as the Home Services expert; and had her own show on both the USA and Lifetime Cable networks. Katz wrote extensively for The New York Times as well, and contributed periodically to the New York Daily News. She is a passionate shopper, always looking for not merely a good buy, but the best buy, ferreting out a "steal" or discovering up-and-coming designers. She has written five books and is a former contributing editor to Hearst's Redbook, Classic Home, and Colonial Homes; she is currently a Contributing Editor of New York Home, Golf Connoisseur, The Modern Estate, and Promenade magazines. She is also the former Shopping Director for Davler Media's Manhattan Living.

Recent Entries: