Color Rules at the Housewares Show
Back to the Blog... | Post Feedback | Author Bio | Printer-Friendly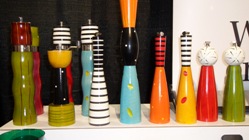 Last month, we walked miles of aisles, that is to say, 13 miles in countless aisles in Chicago's behemoth McCormick Place convention center, at the International Home Housewares Show. We scoped out the various booths where thousands of products were showcased, in several sections, including "Dine + Design," "Wired + Well," and "Clean + Contain." And don't' think these booths are like anything you've seen at a typical trade show; they are massive in size, and are made to feel like glamorous showrooms. Some have two levels, cooking facilities, hospitality suites, and so on....not to mention, all the necessary exhibition space where you can test drive products. We saw so many new, innovative gizmos and gadgets, not to mention items that sported new takes on old favorites, at the gazillions of pavilion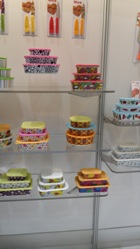 s at the show, that it's hard to pinpoint just a handful. But what we can target was the prolific use of color in all the things we saw....not that sleek, glittery chrome, shiny ebony plastic, and antiseptic white surfaces weren't in attendance-they were. But color ruled.
Herewith a glimpse of some of the housewares we spotted that created rainbows of splendid hues, sometimes splashed on unexpected accessories and appliances. In the next week or two, we'll highlight a few specific lines or products we've singled out for other reasons.
Posted on April 29, 2010 - by

---
Reader Feedback - Be the first to kick-start this discussion...



---
About the Author: About the Author: Ruth J. Katz is a well-known shopping and service writer based in New York City. She has written about shopping for 25 years for New York magazine; covered the topic on-air at Fox-TV for several years as the Home Services expert; and had her own show on both the USA and Lifetime Cable networks. Katz wrote extensively for The New York Times as well, and contributed periodically to the New York Daily News. She is a passionate shopper, always looking for not merely a good buy, but the best buy, ferreting out a "steal" or discovering up-and-coming designers. She has written five books and is a former contributing editor to Hearst's Redbook, Classic Home, and Colonial Homes; she is currently a Contributing Editor of New York Home, Golf Connoisseur, The Modern Estate, and Promenade magazines. She is also the former Shopping Director for Davler Media's Manhattan Living.

Recent Entries: