All Things Travel-Size
Back to the Blog... | Post Feedback | Author Bio | Printer-Friendly
It's travel season, officially, what with Memorial Day-the unofficial beginning of summer-upon us. And, darn, if it isn't inconvenient to start meting out three-ounce "servings" of all your vital and favorite cosmetics and toiletries to stick into plastic bottles, all of which then have to be stuffed into a ridiculously small plastic bag. Well, forget it. We just check our l
uggage these days, despite the nasty luggage fee. One royal pain, indeed.
However, if you want to travel in style, with the most gorgeous "train" case (yeah, these train cases know how to travel in plane luggage holds, too!) loaded to the brim with travel-size lotions and potions, then treat yourself to the Luxe Travel Cases from Minimus , a Web retailer which specializes in all things travel-size...and we mean all things! If it's something you want to take on the road with you, they've got it in miniature. Single-servings of things you do not want to buy in bulk; or oddball, travel accessories of medicines; or European cosmetics, or whatever.
For the lady-like jet-setter, there is a stunning, cream- and luggage-colored "Tuscan" train case by Bric's, makers of fine-quality valises and totes, all crafted in Italy-artistry, quality, and craftsmanship are inherent in these bags. The little valise is loaded up with 52 (yes, really) travel-size, beauty-regime products, and includes things like: Badger Headache Soother in peppermint and lavender; Evian Facial Spray (this is one of my favorites and I take it on every plane trip!); H2O+ Lip Mender; Philip B Chocolate Milk Body Wash & Bubble Bath (yummy, yummy); Nexxus Mousse Plus...and way more. The entire case and contents retails for $895, which is probably more than your plane ticket costs.
For those with a Y chromosome, there is a slightly smaller cache of goodies, 43 items, and they include high-end luxury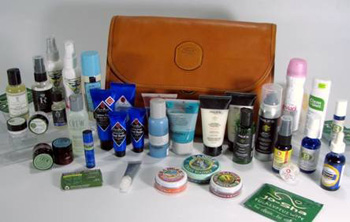 brands, and hard-to-find items, including things like: Dr. Singha's Travel Tonic Herbal Supplement; E-shave Pre-Shave Oil in a lavender scent; Jack Black Oil-Free Sweat Resistant Sun Guard SPF 30+; Badger Sore Muscle Rub (now, we're talking-who doesn't get absolutely trashed on long flights?); Brittanie's Thyme Organic Insect Repellent. It's all packed very handsomely in a tobacco-toned Bric's Italian "Life Pelle Necessaire" tri-fold toiletry bag for $549.
Posted on May 25, 2010 - by

---
Reader Feedback - 4 Replies

1
by 1 @ 01/22/13, 07:31:07 AM

-1'

1
by -1' @ 01/22/13, 07:31:07 AM

1

-1'
by 1 @ 01/22/13, 07:31:08 AM

1

1
by 1 @ 01/22/13, 07:31:09 AM

1