Visit Aurora: Mackenzie Childs Sale and Culture Galore
Back to the Blog... | Post Feedback | Author Bio | Printer-Friendly
Anyone who has ever swooned over the more-is-more, gay, highly patterned MacKenzie-Childs wares, full well knows that you could easily drop $600 for a "trinket." (Well, O.K., for the newest place settings...but it's easy to run up a big tariff if you let yourself go.) So, all those who love the brand and want to save a bit, Attention: Starting this week, July 16th through the 18th, the company is holding its annual blow-out barn sale...YEAH!!!! Expect savings up to even 80% off original retail.
The sale will be held at the company's headquarters in Aurora, in New York State's scenic Finger Lakes district (more about that later). But here are some examples of the kinds of savings you can count on:
Hand-painted glassware that normally sells for as much as $100 may be found for as little as $20.
Ceramic flower pots, canisters, and plates normally ranging from $150 to about $285 may be found for as little as $30 to $60.
Enamel trays, pots, and vases which would sell for as much as $128 full price may be found for as little as $30.
There are returns, overstocks, and seconds or irregulars, but as you well know, y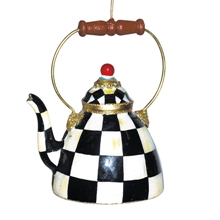 ou'd be hard pressed to find anything "irregular" about something that the company calls "irregular." There will be thousands and thousands of items up for grabs, including M-C's famous enamelware, glassware, furniture, home décor accessories, and "trinkets" of all stripes. The company will also be providing music and some Dinosaur BBQ delicacies. You can take a tour of the famous, restored farmhouse, a three-story Victorian mansion, and you can watch a video showing how many of the company's handcrafted pieces are made.
And if all that is not enough, stay a day or three longer and visit New York State's stunning Finger Lake District, an area with 11 pristine lakes, spread like fingers across central New York, encompassing 9,000-plus square miles filled with outdoor adventures and bucolic scenery. It's accessible from Gotham, Boston, Philadelphia and Toronto. In addition to an abundance of Thoreau-esque lakeside retreats, the region offers top-notch vineyards, farm-to-table culinary delights, and internationally acclaimed annual festivals:
Take in a show at the Merry-Go-Round Playhouse. Known as "Broadway in the Finger Lakes," the theater is currently featuring Promises, Promises through July 28.
At the Schweinfurth Memorial Art Center, you can see a show of the masterful quilter Nancy Crow. We have had the pleasure of writing her up many times, most notably in The New York Times. Let's just say, to call her a "quilter" is sort of like calling Michelangelo a doodler. The woman is a fab artist who has just chosen textiles as her métier. Her quilts are sensational. Period.
There is also a Finger Lakes Wine Festival taking place at the same time, so it's the perfect time to shop, enjoy the arts and have a drink!
MacKenzie-Childs is located at 3260 State Route 90, one mile north of the historic village of Aurora.
Posted on July 15, 2010 - by

---
Reader Feedback - 8 Replies

1
by 1 @ 02/26/13, 03:59:54 PM

-1'

1
by -1' @ 02/26/13, 03:59:56 PM

1

-1'
by 1 @ 02/26/13, 04:00:01 PM

1

1
by 1 @ 02/26/13, 04:00:03 PM

1

1
by 1 @ 03/02/13, 04:14:14 AM

-1'

1
by -1' @ 03/02/13, 04:14:31 AM

1

-1'
by 1 @ 03/02/13, 04:14:33 AM

1

1
by 1 @ 03/02/13, 04:14:37 AM

1