Luscious Lips: An Anti-Aging Gloss
Back to the Blog... | Post Feedback | Author Bio | Printer-Friendly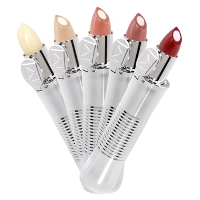 Speaking about his new line of lip glosses, Beverly Hills dermatologist Stuart Kaplan says that he wanted to "recommend a natural product to patients that not only moisturizes and protects from the sun, but also fights aging." He feels that with his Lip 20, he has developed the first true anti-aging treatment for the lips.
Lip 20 by KaplanMD is a treatment and color product that is enriched with marine collagen, peptides, antioxidants, and a long list of "good" ingredients, like sea buckthorn berry extract, a moisturizer that KaplanMD says is clinically proven to be 20 times more effective than Vitamin E, providing superior hydrating and lip-softening. Another miracle ingredient is the patented hyaluronic "filling spheres" that microscopically "infiltrate" lip tissue and therefore plump lips up and smooth them out. Another important asset of KaplanMD's glosses is the SPF 20 factor.
The packaging of the glosses is really fun, too. The hinged top of the tube flips up, the inner protective sheath of the tube spirals up, like a periscope, and then out of that, pops the lip gloss. The product is available in five colors: Clear, Sheer Natural, Sheer Berry, Sheer Ruby, and Sheer Nude ($30 each), and is sold in Gotham at Windsor Pharmacy. In addition to these five lip care-and-color products, KaplanMD makes a limited edition (very limited and nearing the end of production, so hurry up if you want to get one!) Peach Shimmer, in (duh) a peachy tone, nice enough in and of itself...but what makes it very razzly-dazzly, is the shimmer gloss that comes with it, to overlay on the peachy color. Very peachy, indeed.
Posted on July 19, 2010 - by

---
Reader Feedback - Be the first to kick-start this discussion...



---
About the Author: About the Author: Ruth J. Katz is a well-known shopping and service writer based in New York City. She has written about shopping for 25 years for New York magazine; covered the topic on-air at Fox-TV for several years as the Home Services expert; and had her own show on both the USA and Lifetime Cable networks. Katz wrote extensively for The New York Times as well, and contributed periodically to the New York Daily News. She is a passionate shopper, always looking for not merely a good buy, but the best buy, ferreting out a "steal" or discovering up-and-coming designers. She has written five books and is a former contributing editor to Hearst's Redbook, Classic Home, and Colonial Homes; she is currently a Contributing Editor of New York Home, Golf Connoisseur, The Modern Estate, and Promenade magazines. She is also the former Shopping Director for Davler Media's Manhattan Living.

Recent Entries: