Water Bottle, Filter Built In
Back to the Blog... | Post Feedback | Author Bio | Printer-Friendly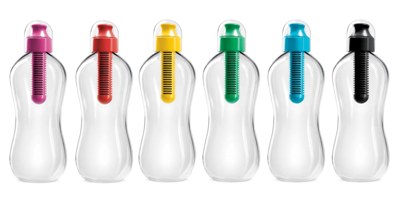 It's got a really cute name, Bobble, to go with its really cute design, which is from the fertile pen and mind of that genius of modern everything, industrial designer Karim Rashid. It's a stylish water bottle with a smart patented filter built into it, a filter that removes chlorine and organic contaminants from municipal tap water. It more or less replicates the experience of drinking purchased, clean, bottled water.
And since we spend over $15 billion a year to buy water, it's sure going to save us all a little bit of moolah, not to mention space in landfills. It's made from recycled plastic and is free of BPA and PVC...in other words, stuff you don't want your water bottle made of. Given the heat waves we have been experiencing these past weeks, nobody, not even a camel, is likely to leave the house without toting a bottle of hydration.
The Bobble comes in a half dozen snappy colors - Kelly green, poppy red, lemon yellow, turquoise, magenta, and sedate black. The carbon filter is good for about 40 gallons of water and it's suggested that it be replaced every two months or so; to clean it, soak in boiling water. It sells for $9.95 and is available on line, and at Bed Bath & Beyond and Barnes and Noble.
Posted on August 03, 2010 - by

---
Reader Feedback - Be the first to kick-start this discussion...



---
About the Author: About the Author: Ruth J. Katz is a well-known shopping and service writer based in New York City. She has written about shopping for 25 years for New York magazine; covered the topic on-air at Fox-TV for several years as the Home Services expert; and had her own show on both the USA and Lifetime Cable networks. Katz wrote extensively for The New York Times as well, and contributed periodically to the New York Daily News. She is a passionate shopper, always looking for not merely a good buy, but the best buy, ferreting out a "steal" or discovering up-and-coming designers. She has written five books and is a former contributing editor to Hearst's Redbook, Classic Home, and Colonial Homes; she is currently a Contributing Editor of New York Home, Golf Connoisseur, The Modern Estate, and Promenade magazines. She is also the former Shopping Director for Davler Media's Manhattan Living.

Recent Entries: