Dream Cream: NeoCutis' Newest Line-Smoother Using Swiss Technology
Back to the Blog... | Post Feedback | Author Bio | Printer-Friendly
Some years ago, when we were covering après-summer skincare, Dr. Soren M. White , a cosmetic dermatologist and Director of Dermatologic Surgery at Metropolitan Hospital, told us, "Keep it simple in the summertime." What he meant was that summertime is not the time for peels, procedures, "facial wor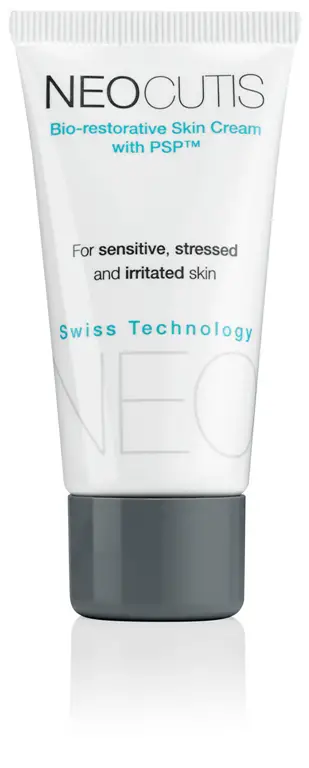 k," so to speak. He recommended for daily use-summer or winter-a strong sunblock and a product called NeoCutis, a cream developed by Swiss scientists, after years of bio-engineering research. Dr. White said it was a cream that had been developed to encourage new skin growth in burn victims. Regardless of its genesis, ever since that fateful interview, we have been addicted to NeoCutis, and now that we are getting ready for our winter beauty regimen, the NeoCutis folks have come out with more products, above and beyond the Bio-Restorative Skin Cream skincare cream that is our constant companion. (You need an amount the size of a pea to coat your entire face; $ 95.00/1.0 fl oz., and $135.00/1.69 fl. Oz.)
The official story of NeoCutis, from the horse's mouth: During years of research, physicians observed that fetal skin had a unique ability to heal without scarring and it was at the University Hospital of Lausanne, Switzerland, that scientists created a biotechnology process to extract the rich proteins responsible for scarless wound-healing fr

om cultured fetal fibroblasts; they then developed a dedicated cell bank for developing new skin treatments. The resultant products were meant for healing wounds and encouraging the skin of burn victims to recover.
However, fast forward to the present and the half dozen or so NeoCutis' products that all draw on this technology. Newest to the line and out just in time for winter is Lumière ($80.00 for .5 fl. Oz.); it's an intensive, line-smoothing eye cream with a high concentration of NeoCutis' secret ingredients. It will help smooth away telltale lines around the eyes, reduce puffiness, and remediate under-eye darkness.
Posted on October 21, 2010 - by

---
Reader Feedback - Be the first to kick-start this discussion...



---
About the Author: About the Author: Ruth J. Katz is a well-known shopping and service writer based in New York City. She has written about shopping for 25 years for New York magazine; covered the topic on-air at Fox-TV for several years as the Home Services expert; and had her own show on both the USA and Lifetime Cable networks. Katz wrote extensively for The New York Times as well, and contributed periodically to the New York Daily News. She is a passionate shopper, always looking for not merely a good buy, but the best buy, ferreting out a "steal" or discovering up-and-coming designers. She has written five books and is a former contributing editor to Hearst's Redbook, Classic Home, and Colonial Homes; she is currently a Contributing Editor of New York Home, Golf Connoisseur, The Modern Estate, and Promenade magazines. She is also the former Shopping Director for Davler Media's Manhattan Living.

Recent Entries: