Oooh la Bijoux! Van Cleef & Arpels at the Cooper Hewitt Museum
Back to the Blog... | Post Feedback | Author Bio | Printer-Friendly
Greta Garbo, Marlene Dietrich, Eva Péron, Barbara Hutton, Doris Duke, Marjorie Merriweather Post, Jackie Kennedy Onassis, Maria Callas, Elizabeth Taylor. What these bold-face-name ladies all had in common was the jewelry of Van Cleef & Arpels (And they also might have had in common very wealthy--and generous--h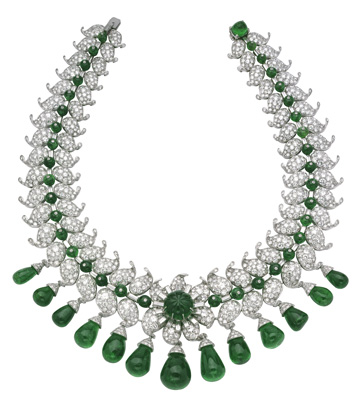 usbands who bought a few of their trinkets). And, oh what jewelry it was...and is, and lucky for us, some 350 pieces from the venerated jeweler is on view now.
If you were afraid you were going to miss this amazing show, Set in Style: The Jewelry of Van Cleef & Arpels, at the Smithsonian's Cooper-Hewitt, National Design Museum, fear not. This extraordinary exhibit, a fabulous collection of vintage jewels, has been extended through July 4th, so you still have another month to transport yourself to the museum at Fifth Avenue and 91st Street. Just plan on an hour or two to soak it all in; this is not a show for a fast look-see. And be prepared to drool and have your eyes pop out of your head.
The exhibition features more than 350 works, including jewelry, tiaras, timepieces, fashion accessories, and objets d'art, many of which were created exclusively for American clientele (like the aforementioned ladies), along with design drawings and sketches, commission books, fabrication cards, and imagery from the firm's archives.
Among the most startling and clever innovations is the company's signature mystery settings (I defy you to try to figure it out--not a prong or bezel in sight), in which stones seem to float in invisible channels. Also unique to the company is the minaudière, now a de rigueur fashion accessory for the well-dressed socialite. The story goes that M. Van Cleef noticed that the esteemed Mrs. Florence Jay Gould was all gussied up and carrying her "necessaries" in a Lucky Strike cigarette box (not too many necessaries, as you might guess, given the size of a cigarette box); he was inspired to create a petite, box-like evening clutch for the job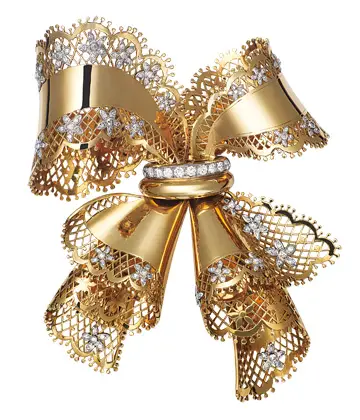 , something a little more classy than a pack of cigarettes...et voilà! Thus was born the classic, hard-sided, diminutive minaudière, with its adorable little boxy compartments for a hankie, cigarettes, a lipstick, a lighter (although it's likely that these kinds of grandes dames never had to light their own cigarettes--a ready and steady hand most likely was always nearby with a light), a compact, and perhaps even rouge.
The Van Cleef & Arpels salon opened its doors in 1906 on the fashionably chic Place Vendôme in Paris, and truly, the rest is history. You can follow that history through the carefully thematically organized jewelry in the vitrines; the cases themselves are also works of art, splendidly designed for maximum viewing--often a necklace will have a mirror behind it so you can view a fancy closure or catch the gleam of precious stones dangling at the nape of the neck, or so you can glimpse how a bracelet can be cleverly attached at the back of a necklace to make it longer. There are six sections to the exhibit: Innovation, Transformation, Nature, Exoticism, Fashion, Personalities.
Each area offers so many visions in color, texture, style, design, examples of technical expertise, and drama, that it would be impossible to pluck out just a few pieces to wax poetic about. Among my favorites, though, is the "Unzipped" necklace. This is a celebrated piece, that underscores the company's technical innovation, visible in all the "Zip" jewelry, where a necklace is zipped (yes, like a real zipper) together to create a bracelet. The technical difficulties in producing this work are evidenced by the length of time it took between its conception in the late 1930s, when the Duchess of Windsor proposed a piece of jewelry that zipped, and its production in 1951.
But don't take my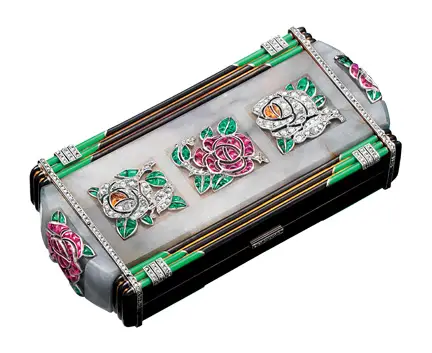 word for it, you'll find all your own favorites, as you scrutinize the items in the show. Be sure to pick up an iPad (free to use for perusing the show) to help you through the exhibit...there is lots of info loaded into it, supplementing the items' IDs and info cards, and it sure beats the old fashioned audio tours!
The museum is located at 2 East 91st Street at Fifth Avenue and is open Monday through Friday, 10 a.m. to 5 p.m.; Saturday, 10 a.m. to 6 p.m.; and Sunday, 11 a.m. to 6 p.m. General admission is $15. For further information, 212-849-8400 or visit www.cooperhewitt.org.
© Ruth J. Katz, all rights reserved
Posted on June 07, 2011 - by

---
Reader Feedback - Be the first to kick-start this discussion...



---
About the Author: About the Author: Ruth J. Katz is a well-known shopping and service writer based in New York City. She has written about shopping for 25 years for New York magazine; covered the topic on-air at Fox-TV for several years as the Home Services expert; and had her own show on both the USA and Lifetime Cable networks. Katz wrote extensively for The New York Times as well, and contributed periodically to the New York Daily News. She is a passionate shopper, always looking for not merely a good buy, but the best buy, ferreting out a "steal" or discovering up-and-coming designers. She has written five books and is a former contributing editor to Hearst's Redbook, Classic Home, and Colonial Homes; she is currently a Contributing Editor of New York Home, Golf Connoisseur, The Modern Estate, and Promenade magazines. She is also the former Shopping Director for Davler Media's Manhattan Living.

Recent Entries: