Tie One On: Josh Bach Neckwear for Father's Day
Back to the Blog... | Post Feedback | Author Bio | Printer-Friendly
Dad's Big Day is coming, and things like wallets and golf shirts are probably on the (uninspired) shopping list; if you're thinking about major purchases and are living large these days, then perhaps big-ticket items like an iPad or special barbecue grill, or even nifty things like motorized lawnmowers and sports memorabilia are the target gifts.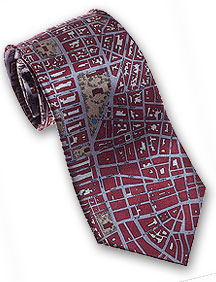 But, the one thing that is always on the list, and is often not terribly brilliant, is a tie. However, designer Josh Bach can handily come to the rescue here -- and in other gift-giving departments, as well, taking the blah out of that tie. Bach is an architect, who was educated at the University of Pennsylvania, and in 1993, when he was working as an art director in an advertising agency, decided to take a giant leap of faith and go into the tie business. I might add, with no prior experience in retail, fashion, or menswear (other than wearing it).
Before long, his unique ties were appearing not only on the bods of fashionable guys, but were also featured in magazines and movies, and spotted on celebs. It's no surprise: His ties are less fashion statements, and more emotional connections. Guys (and the women who love them) don't buy Bach ties because they need another tie -- something green and gold for a new suit -- but because they connect to the spirited, lively, and graphically pleasing designs emotionally. "One day I looked down and realized neckties are like blank canvases," he noted. "The original concept was to do witty and whimsical ties that are wearable." And so he did.
He is inspired by the mundane: the stock market ticker tape, animal motifs, the Gotham subway Baedeker, old maps of favorite cities (like London shown in red on the tie), and fun things like hula girls. It was not long after he set up shop, that commissions came to him from prestigious organizations and institutions like the American Museum of Natural History, the New York Public Library, the New York City Opera, and even the National Football League.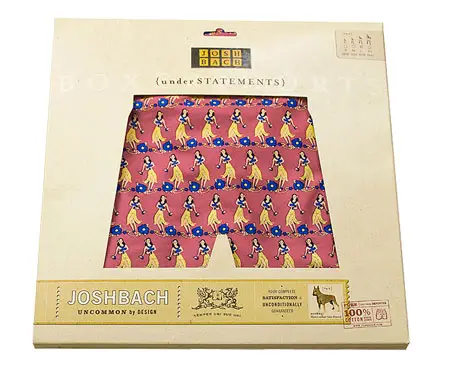 Soon, Bach's line of ties was joined by his adorable dresser cache-pots and colorful boxer shorts, too, along with other accessories. His line is sold online at www.joshbach.com, in catalogues, in museum shops, and in gifts shops around the country and abroad. He's your man for a tie for dad, or for whimsical boxers (above), or accessories. Ties are $45 and $55 (for the line I like the best, the "Civitas" ties, which depict interpretations of ancient city maps); boxers are $24; pens, $29.50; and Catch-It dresser trays are $45.
© Ruth J. Katz, all rights reserved
Posted on June 15, 2011 - by

---
Reader Feedback - Be the first to kick-start this discussion...



---
About the Author: About the Author: Ruth J. Katz is a well-known shopping and service writer based in New York City. She has written about shopping for 25 years for New York magazine; covered the topic on-air at Fox-TV for several years as the Home Services expert; and had her own show on both the USA and Lifetime Cable networks. Katz wrote extensively for The New York Times as well, and contributed periodically to the New York Daily News. She is a passionate shopper, always looking for not merely a good buy, but the best buy, ferreting out a "steal" or discovering up-and-coming designers. She has written five books and is a former contributing editor to Hearst's Redbook, Classic Home, and Colonial Homes; she is currently a Contributing Editor of New York Home, Golf Connoisseur, The Modern Estate, and Promenade magazines. She is also the former Shopping Director for Davler Media's Manhattan Living.

Recent Entries: