My Levia: Living With Clear Skin
Back to the Blog... | Post Feedback | Author Bio | Printer-Friendly
The writer John Updike felt his life was ruled by psoriasis. He wrote candidly and provocatively about its effect on him--and on all aspects of his existence--in a now-famous piece in The New Yorker, way back in September, 1985, Personal History: At War with My Skin. He wrote about this plague in his life, way before that, but fictionally, in his From the Journal of a Leper, in 1976. The deleterious effect of psoriasis on his life, he maintained, caused him to pick a profession which did not require "being presentable" and he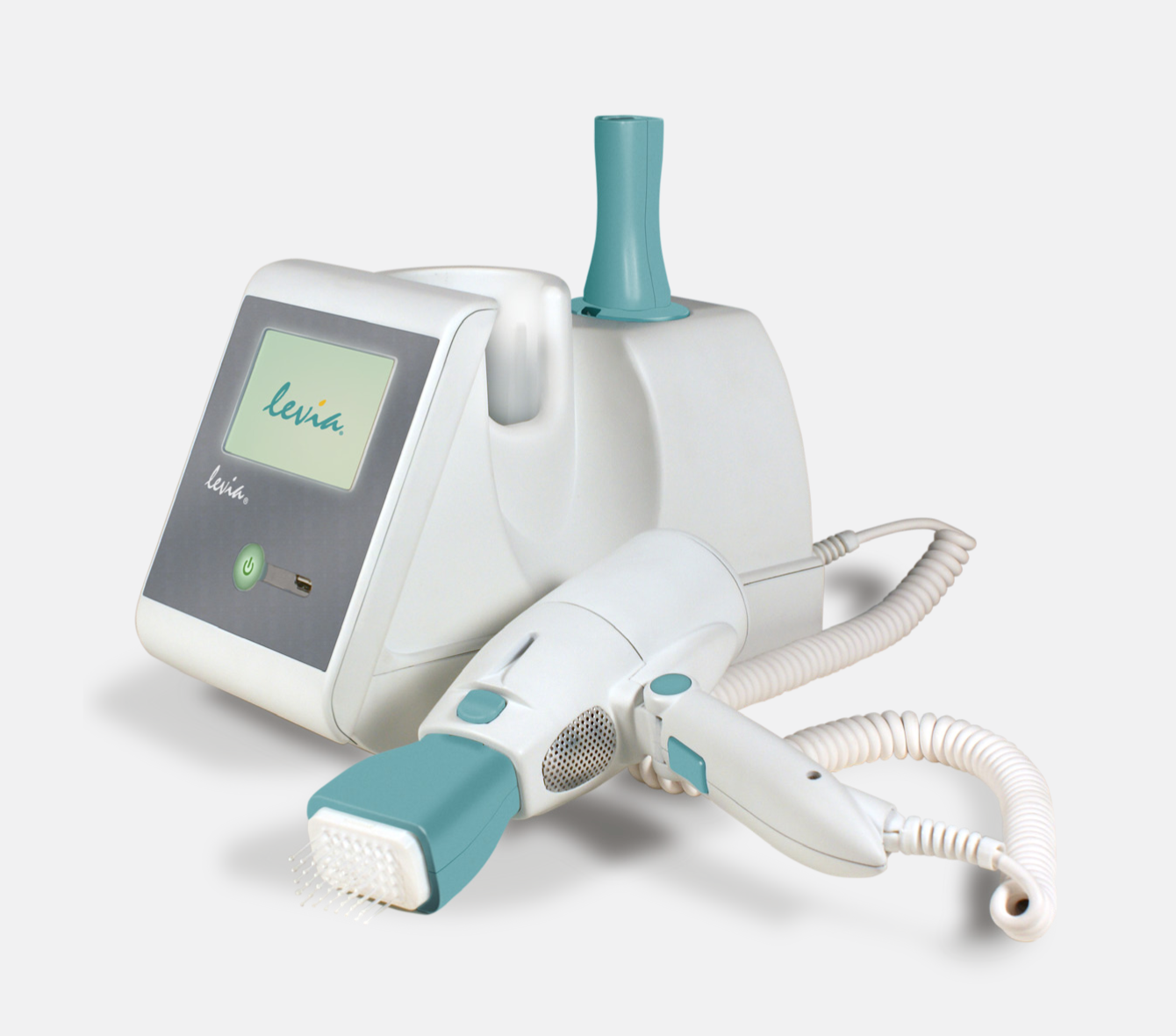 says he also married young because he found a wonderful woman who "forgave" him his skin. He moved to a beach town because way back then, when medical arsenals weren't as overflowing as they are now with cutting-edge weaponry (heretofore, the treatments were topicals, steroids, and systemic meds), one of the best defenses for psoriasis was baking in the sun (never mind what other things this baking caused, things that could prove, in the long term, to be far from salubrious!). In his highly personal recounting, he tells of flying to the Caribbean starting in 1960 during the winter--every winter--just to sunbathe, to achieve some normalcy in his life, however briefly it lasted. (You name the island, he was there!) Ultimately, at Massachusetts General Hospital, Updike found some light treatments that replicated the effects of sun and salt.
Imagine if only Updike were around today, to take advantage of an artificial light machine, a treatment he could use right in his own home, in the privacy of his own bedroom, or bath. Fairly new to the market, and joining a raft of medically sophisticated machines that each harnesses light rays in one form or another (and each treating some specific ailment), is a near-miraculous machine that psoriasis sufferers have been touting, Levia.

Since I was planning to devote a few more blogs to summer skincare (now that sunbathing season is officially upon us), it seemed like a good time to first address something a bit out of the norm for our blog, but something that is a breakthrough, and of particular interest to anyone suffering psoriasis' ill effects (and 7.5 million people are, in fact, beset by it).
Levia is a phototherapy device that has the power, accuracy, and ingenuity built into it to bring that seaside sunshine into a handheld wand. It creates the very useful ultraviolet B (UVB) light that sufferers need. It is a targeted device, used only under a personal plan designed by a physician that enables a patient to privately and personally treat his or her small-area and scalp psoriasis. It frees the patient from having to make countless trips to a hospital or treatment center , spending a tremendous amount of downtime elsewhere in order to get a treatment with a hospital machine. For those who have borne the slings and arrows of this disease, the Levia machine is an answered prayer...and well worth the price. A luxury (perhaps) at first blush, but definitley not in the long run!
The machine is small and compact (like the size of a hairdryer), the brainchild of a pair of medical professionals, Dr. Ethan Lerner, associate professor of dermatology at Harvard Medical School and Dr. Zafiris Gourgouliatos, a biomedical and optical engineer. It works--needless to say, without the potential systemic side effects of pharmaceutical treatments--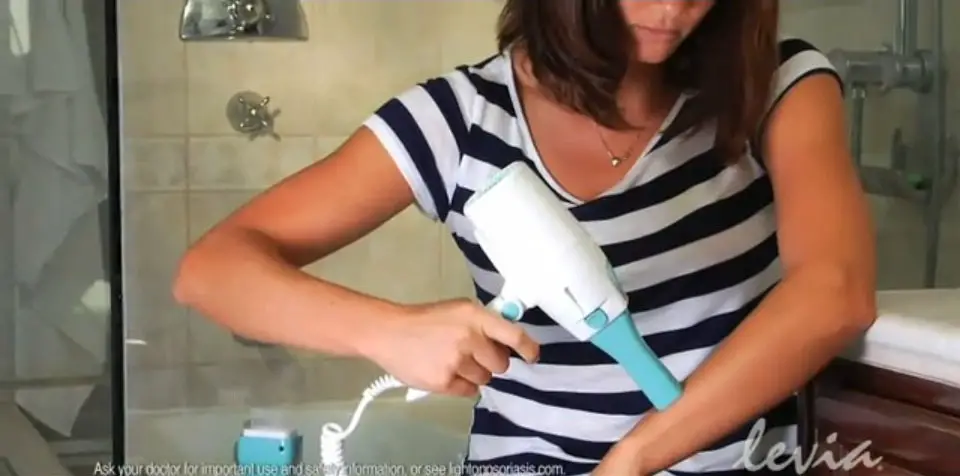 to keep the symptoms at bay by delivering the beneficial light through a wand or brush, according to the length of time and intensity prescribed by the physician.
In this era of concierge medicine, when people who can afford it, are subscribing to medical house-call services, purchasing their own wellness devices, and opting out of network care, it is no wonder that many are choosing to do their light therapy at home, and therefore buying their own machines meant for at-home, personal use. In early June, a blue-light laser that helps reduce wrinkles was featured on the local WNBC news. This past winter, a light machine was highlighted for people suffering from seasonal affective disorder, and yet a few days after that, also on the WNBC local news, a cutting-edge machine that treats hair loss was profiled. All were available in at-home versions, to help a patient maximize his/her time, to be able to apply the treatments when time permitted, within the scheduled, or prescribed program. Clearly, this is all the wave (no pun intended) of the future. To get more information, log on to www.mylevia.com
© Ruth J. Katz, all rights reserved
Posted on June 28, 2011 - by

---
Reader Feedback - Be the first to kick-start this discussion...



---
About the Author: About the Author: Ruth J. Katz is a well-known shopping and service writer based in New York City. She has written about shopping for 25 years for New York magazine; covered the topic on-air at Fox-TV for several years as the Home Services expert; and had her own show on both the USA and Lifetime Cable networks. Katz wrote extensively for The New York Times as well, and contributed periodically to the New York Daily News. She is a passionate shopper, always looking for not merely a good buy, but the best buy, ferreting out a "steal" or discovering up-and-coming designers. She has written five books and is a former contributing editor to Hearst's Redbook, Classic Home, and Colonial Homes; she is currently a Contributing Editor of New York Home, Golf Connoisseur, The Modern Estate, and Promenade magazines. She is also the former Shopping Director for Davler Media's Manhattan Living.

Recent Entries: