Summer Coolers - Drinks for the Dog Days...Barking Prohibited!
Back to the Blog... | Post Feedback | Author Bio | Printer-Friendly
These days -- especially these steamy days -- it seems every fourth e-mail I open has a cocktail menu: Suggestions for drinks to sip here or there or everywhere; drinks to savor at waterside cafes; drinks to sample at hot new restaurants; drinks on rooftop terraces; and on and on. Today's e-mails had a long list of fun drinks to make, inspired from by the legendary Venice Simplon-Orient-Express train. Last month, it was drinks galore in New York magazine, and a week before that it was a page of cocktails in The New York Times.
In the interest of research, I've pulled together a few drink suggestions (and dare I say I had to test-drive a few!) from the Barclay Bar at the InterContinental New York Barclay, where I had the not-unpleasant experience a month or so ago to nurse a Sidecar -- and it was just delicious. Then I discovered that the hotel is staging the "Decades Cocktail Hour," every night from 5 p.m. to 8 p.m., when a series of ab-fab cocktails are a mere $8.00.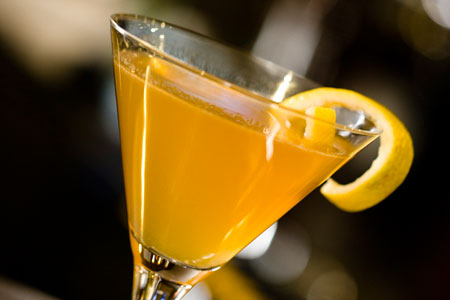 The 1920s is represented with that Sidecar (above), evocative of the Jazz Age -- and a very refreshing beverage, indeed. It's the Monday night special, along with the 1930s French 75. Tuesdays bring the 1940s and Bellinis, as well as the 1950s Harvey Wallbanger. The Vodka Martini reigns on Wednesday nights when the 1960s are feted; Thursday nights, it's the Caipirinha (I sure got a taste for this when I was in South America), representative of the 1970s. Friday night, the 1980s and the 1990s are celebrated with the Tequila Sunrise and the Cosmopolitan. (I remember the '90s and those Cosmopolitans!)
Five original video installations will be displayed nightly, which will serve as kinetic portraits of each decade, showcasing the highlights of those particular eras. Drawing from troves of stunning archival footage, filmmaker Cary Kehayan has assembled unique and mesmeric love letters to a rich history of the century. For each period, there is a classic playlist, styled by an internationally known music consultant, Music Styling. The spirit of the decade will ring with authenticity.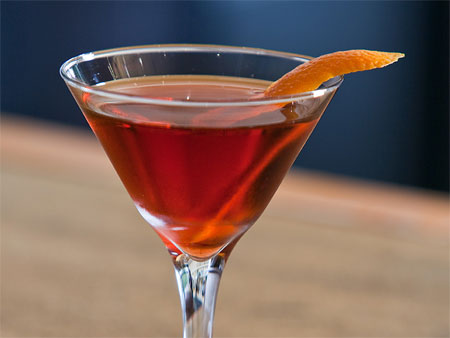 While you are it -- exploring nearly a century of interesting drinks -- there is one drink that you might want to make at home, that is not on the Barclay's hit list: the Negroni (above), an apéritif that is more or less one of Italy's signature cocktails, and is named for Count Camillo Negroni. It is said -- apocryphally or as gospel -- that the Count asked his favorite barkeep to make his usual drink, the Americano, a little stronger, and the result was the Negroni. When created properly, the Negroni is made with equal parts of gin, sweet vermouth, and Campari. It's another great thirst-quencher for the season.
Cheers! Salute!
Posted on July 19, 2011 - by

---
Reader Feedback - Be the first to kick-start this discussion...



---
About the Author: About the Author: Ruth J. Katz is a well-known shopping and service writer based in New York City. She has written about shopping for 25 years for New York magazine; covered the topic on-air at Fox-TV for several years as the Home Services expert; and had her own show on both the USA and Lifetime Cable networks. Katz wrote extensively for The New York Times as well, and contributed periodically to the New York Daily News. She is a passionate shopper, always looking for not merely a good buy, but the best buy, ferreting out a "steal" or discovering up-and-coming designers. She has written five books and is a former contributing editor to Hearst's Redbook, Classic Home, and Colonial Homes; she is currently a Contributing Editor of New York Home, Golf Connoisseur, The Modern Estate, and Promenade magazines. She is also the former Shopping Director for Davler Media's Manhattan Living.

Recent Entries: