Woof Woof for The Dogs of Central Park
Back to the Blog... | Post Feedback | Author Bio | Printer-Friendly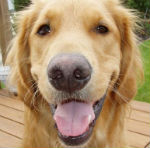 Austin Katz here again, just in case you didn't recognize me. (I am a vain boy, so for my "author's photo" I am using a different picture this time.)
I am here to tell you about my favorite new book for fun reading at the beach, The Dogs of Central Park.
It's SOOOOO good that I actually gave up my tennis ball at the beach in order to read this book (not that I am bragging about my reading abilities); it's just that good that you'll give up your tennis ball, too, in order to enjoy it. It is a MUST for all dogs, friends of dogs, owners of dogs, boyfriends and girlfriends of owners of dogs, people who love dogs, dogs who love dogs, dogs who love people, and anyone who loves New York City. That should just about take care of everyone. I ♥ this book! OMG. It's the BEST.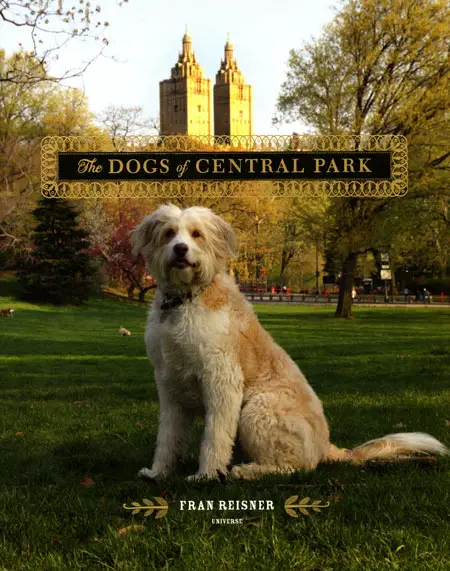 It is by a nice photographer-lady named Fran Reisner, who has created a photographic love letter to me and my canine pals, although I personally use Riverside Park, I must admit. Mom says we are boycotting Central Park -- although I have no clue what "boycotting" means -- until the civic-minded (narrow-minded?) Central Park Conservancy decides that it can afford to give up a tiny parcel of the park for a real dog run like we have elsewhere in the city, but that is another story.
So, back to Central Park's dogs... and in this wonderful book we meet many friends -- here are two, just to give you an inkling of what lies ahead: Lenny, another Golden, like me, was born in Austria and loves to frolic in the freshly fallen snow; there is Charley, a standard poodle (not one of those fussy ones, with a topiary hair-do), who does therapy work at Mount Sinai Hospital (my predecessor Violetta was a therapy dog at Roosevelt Hospital, but I'm just too high strung to take the classes).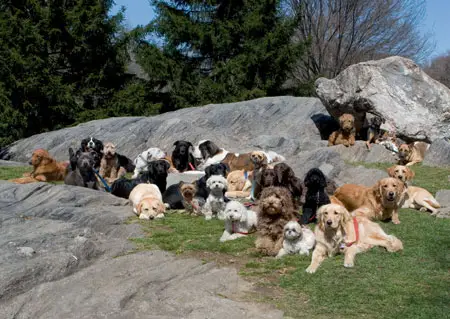 You will love looking at all the pictures -- there are 144 pages and most of them are filled with fetching canine pix. You have to buy this book, because a portion of the proceeds from sales goes to animal rescue organizations, and that is a really-very good thing. Besides, it's only $19.95 and that is a really-very good price for a book, especially one with a hard cover. And after you're done reading it, you could always eat it, too. (When I was a pupster and had just come to my forever home from the animal rescue place, I was left alone during my first week while The Mangement went out gallivanting. Well, since opportunity was knocking, I went exploring, on an expedition to the bathroom and there, I filched two books -- a volume of Italian sonnets and Micheal Lewis' Liar's Poker. I sort of nibbled on both -- all around the perimeters. After that, I knew how to tell fibs in Italian.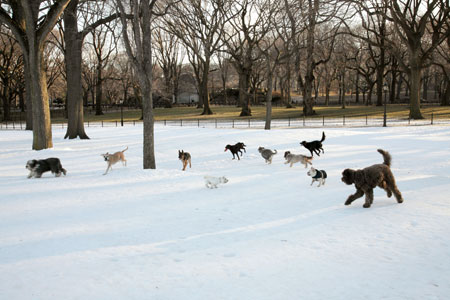 So, to reiterate, buy this book, smell this book, eat this book, love this book, give this book as a gift to everyone you know, and help save animals. It's from Rizzoli New York.
Posted on August 02, 2011 - by

---
Reader Feedback - Be the first to kick-start this discussion...



---
About the Author: About the Author: Ruth J. Katz is a well-known shopping and service writer based in New York City. She has written about shopping for 25 years for New York magazine; covered the topic on-air at Fox-TV for several years as the Home Services expert; and had her own show on both the USA and Lifetime Cable networks. Katz wrote extensively for The New York Times as well, and contributed periodically to the New York Daily News. She is a passionate shopper, always looking for not merely a good buy, but the best buy, ferreting out a "steal" or discovering up-and-coming designers. She has written five books and is a former contributing editor to Hearst's Redbook, Classic Home, and Colonial Homes; she is currently a Contributing Editor of New York Home, Golf Connoisseur, The Modern Estate, and Promenade magazines. She is also the former Shopping Director for Davler Media's Manhattan Living.

Recent Entries: