Sneaky Sneakers! Don't Leave Home Without Them!
Back to the Blog... | Post Feedback | Author Bio | Printer-Friendly
I am on and off planes a great deal most notably for our Promenade, mag travel stories. The bane of my travel adventures (and it's the only thing that could qualify as a "bane" when it comes to travel—save the ordeal of actually flying!), is packing my sneakers: When I take a "legal-size," carry-on-board size piece of luggage, I may as well forget about packing anything else—the sneakers take up half the volume my suitcase. However, sneakers are vital for a trip—I need them for comfy walking, especially when I know I am going to be touring, exploring, and ferreting out the kinds of places I like to write up (and that you like to read about).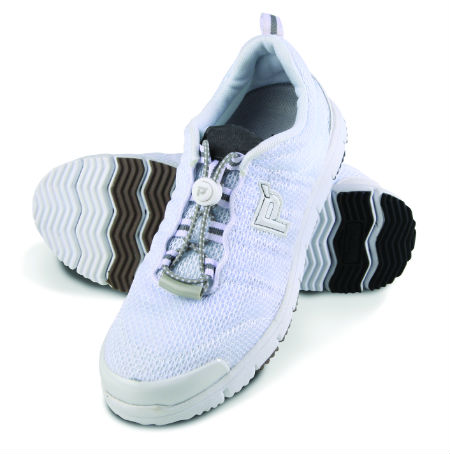 The best part is, they fold up! (See below.)
But then, about two months ago, just as I was ready to start the summer season of heavy travel, I discovered Hammacher Schlemmer's, packable, washable sneakers. Oh joy, oh rapture! And the company is not kidding when it states that these sneaks are packable, and washable (I just washed them). BUT, the best part is that they are foldable! And they're also perfect for sightseeing—they are wonderfully comfortable walking sneakers (I made them even more comfy by removing the insoles they came with and inserting my own orthotics). They have Nylon mesh uppers, which allow air to circulate, so they're not hot; and they have a lightweight, but shock-absorbing sole, so they are very comfortable. They fasten easily, too, with an elastic cinch, that has a button that opens the closure and releases it.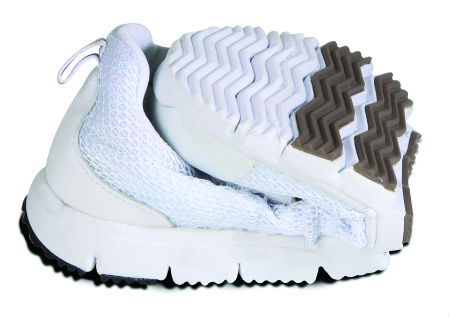 WOW---HOLY COW!
These are an absolute must-have for anyone who travels. You will not regret this purchase, in fact buy two pairs! One to keep at home and one to take traveling. And, what's even better: They are VERY well priced: $59.95. They come in white, sizes 8 to 11, and there is also sizing for men. And they weigh all of 8 ounces! You are never going to leave home without these sneakers!
Hammacher Schlemmer, 147 East 57th Street; 212-421-9000
Posted on August 08, 2011 - by

---
Reader Feedback - Be the first to kick-start this discussion...



---
About the Author: About the Author: Ruth J. Katz is a well-known shopping and service writer based in New York City. She has written about shopping for 25 years for New York magazine; covered the topic on-air at Fox-TV for several years as the Home Services expert; and had her own show on both the USA and Lifetime Cable networks. Katz wrote extensively for The New York Times as well, and contributed periodically to the New York Daily News. She is a passionate shopper, always looking for not merely a good buy, but the best buy, ferreting out a "steal" or discovering up-and-coming designers. She has written five books and is a former contributing editor to Hearst's Redbook, Classic Home, and Colonial Homes; she is currently a Contributing Editor of New York Home, Golf Connoisseur, The Modern Estate, and Promenade magazines. She is also the former Shopping Director for Davler Media's Manhattan Living.

Recent Entries: