Singing for Their Neighbors: The Metropolitan Opera's Free HD Screenings
Back to the Blog... | Post Feedback | Author Bio | Printer-Friendly
"Of all the noises known to man, opera is the most expensive," so quipped Molière.
Well, Molière, grab your opera glasses -- and leave your checkbook at home. This Saturday night, August 27th, you'll get your big, fat chance to see splendid, joyous, brilliant opera at its finest, and it won't cost you a single sou! The Metropolitan Opera's annual high-definition opera fest -- which takes place in the plaza at Lincoln Center on a jumbo screen attached to the outdoor terrace of the opera house -- begins its annual ten-day run. (I guess the Met has been doing it about five years now.) This summer mini-session kicks off with a stellar Don Pasquale (Donizetti), featuring the lovely Anna Netrebko opposite Matthew Polenzani in an Otto Schenk production. (O.K., UPDATE: BAD NEWS, THIS SCREENING HAS BEEN CANCELED BECAUSE OF "MEAN IRENE." The outdoor opera screenings will commence on Monday night, August 29th, see below.)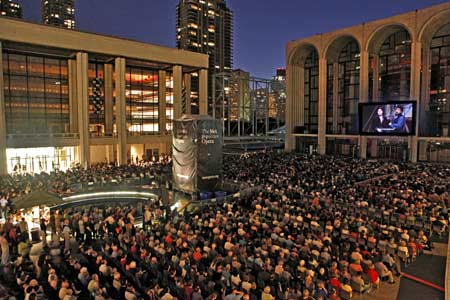 The Metropolitan Opera's "Summer HD Festival" on Lincoln Center Plaza. Photo: Cory Weaver/Metropolitan Opera © 2010
The figurative curtain goes up at 8 p.m.; there are no intermissions as there are in the real-time HD performances that are simulcast during actual Saturday afternoon performances during the opera's regular season, so it will not be as long a production as a live opera is. In other words, you can get the babysitter home early. BUT, while you'll get out at a reasonable hour, you must come at an unreasonable hour, if you like to sit up close, as I do. The plaza holds about 3,000 seats, but frankly, in my humble opinion, le tout New York shows up for these special evenings, so I (and my opera posse) always go very early. Bring a boxed dinner with you and you'll be a happy camper.
The rest of the productions include:
Sunday, August 28 at 8 p.m., Simon Boccanegra (Verdi) (BAD NEWS, IT'S CANCELLED)
Monday, August 29 at 8:30 p.m., Iphigénie en Tauride (Gluck) (N.B: THIS WAS ORIGINALLY SCHEDULED FOR 8:00 P.M., BUT CURTAIN TIME HAS BEEN PUSHED BACK TO 8:30.)
Tuesday, August 30, 8 p.m., La Rondine (Puccini)
Wednesday, August 31, 7:45p.m., Nixon in China (Adams)
Thursday, September 1, 7:45 p.m., Carmen (Bizet)
Friday, September 2, 8 p.m., La Fanciulla del West (Puccini)
Saturday, September 3, 7:15 p.m., Boris Godunov (Mussorgsky)
Sunday, September 4, 8 p.m., Lucia di Lammermoor (Donizetti)
Monday, September 5, 7:15 p.m., Don Carlo (Verdi)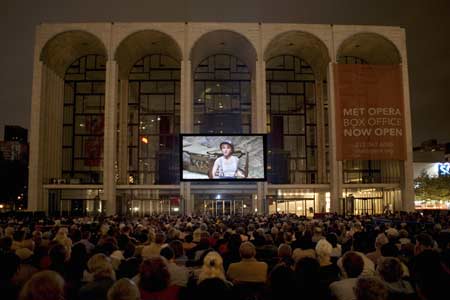 The Metropolitan Opera's "Summer HD Festival" on Lincoln Center Plaza. Photo: Cory Weaver/Metropolitan Opera © 2010
If you have a good time -- and you will -- do a good deed and text a $10 contribution to the Met. The company has very cleverly put up some pre-production coming attractions and donation info on the screen before the opera begins...and who could resist texting a paltry $10 contribution for such a wonderful ten days of FREE opera!? Seriously. And even if you don't kick in a little, at least thank the Powers That Be, who have made these evenings possible -- the Metropolitan Opera Guild and the founding sponsor, the Neubauer Family Foundation.
This is truly one of Gotham's greatest gifts to its citizens and you'd be a fool not to go.
Note to the wise: With a weather advisory for the weekend -- both Saturday and Sunday -- log on to the Met's site to see if presentations are canceled...or check back here. As soon as I know if the screenings are canceled for this weekend, I'll post it. ALREADY POSTED IN THE BODY OF THE BLOG...BOO-HOO, WE WILL MISS TWO FABULOUS OPERAS!
Posted on August 26, 2011 - by

---
Reader Feedback - Be the first to kick-start this discussion...



---
About the Author: About the Author: Ruth J. Katz is a well-known shopping and service writer based in New York City. She has written about shopping for 25 years for New York magazine; covered the topic on-air at Fox-TV for several years as the Home Services expert; and had her own show on both the USA and Lifetime Cable networks. Katz wrote extensively for The New York Times as well, and contributed periodically to the New York Daily News. She is a passionate shopper, always looking for not merely a good buy, but the best buy, ferreting out a "steal" or discovering up-and-coming designers. She has written five books and is a former contributing editor to Hearst's Redbook, Classic Home, and Colonial Homes; she is currently a Contributing Editor of New York Home, Golf Connoisseur, The Modern Estate, and Promenade magazines. She is also the former Shopping Director for Davler Media's Manhattan Living.

Recent Entries: