A Pearl of an Idea: Carolee and Breast Cancer Research
Back to the Blog... | Post Feedback | Author Bio | Printer-Friendly
Carolee, the jewelry company with the "mostest" (no, I am not going to say, "for the leastest," as Carolee's lines are not cheapo -- although they are value-oriented, for sure -- great goods, stylish design, excellent workmanship, all for a good price -- and the Carolee Luxe line features fabulous designs that only look like they cost a mint....but I digress)....so as I was saying, the jewelry line with the "mostest" has once again produced a wonderful charity item.
Carolee has been affiliated with the Breast Cancer Research Foundation for 17 years and every year, come back-to-school time, the company creates a terrific item to benefit the not-for-profit BCRF, whose mission is to achieve both prevention and a cure for breast cancer in our lifetimes; the organization provides critical funding for innovative clinical and translational research at leading medical centers worldwide and it seeks to increase public awareness about good breast health. Since its inception, the foundation has raised over $330 million and those funds have helped underwrite the most advanced and promising breast cancer research for this cause.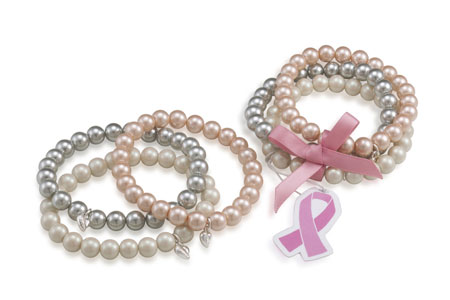 This year's fundraising jewelry is a set of bracelets, pretty and pearly: One is multi-colored, glass-pearl (white, pink, and pewter) bracelet ($35, with $5 going to the organization; pictured above); the other is an all-freshwater, white pearl bauble ($75, with $10 going to the charity; pictured below). Both bracelets have charms inscribed with the words Love, Happiness, and Hope.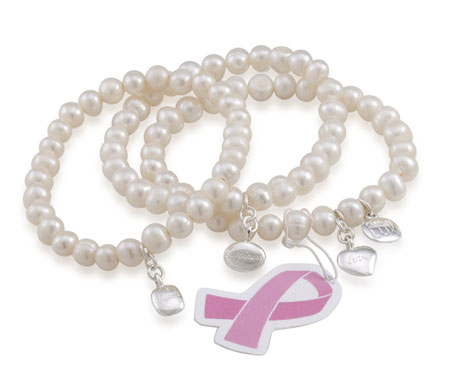 They are available currently at Bloomingdale's.
Posted on September 15, 2011 - by

---
Reader Feedback - Be the first to kick-start this discussion...



---
About the Author: About the Author: Ruth J. Katz is a well-known shopping and service writer based in New York City. She has written about shopping for 25 years for New York magazine; covered the topic on-air at Fox-TV for several years as the Home Services expert; and had her own show on both the USA and Lifetime Cable networks. Katz wrote extensively for The New York Times as well, and contributed periodically to the New York Daily News. She is a passionate shopper, always looking for not merely a good buy, but the best buy, ferreting out a "steal" or discovering up-and-coming designers. She has written five books and is a former contributing editor to Hearst's Redbook, Classic Home, and Colonial Homes; she is currently a Contributing Editor of New York Home, Golf Connoisseur, The Modern Estate, and Promenade magazines. She is also the former Shopping Director for Davler Media's Manhattan Living.

Recent Entries: