Costumes -- But Not for Halloween! London's Royal Opera House Sells Mimi, Cio-Cio San, Violetta...and more!
Back to the Blog... | Post Feedback | Author Bio | Printer-Friendly
It's rare that I write something up that you really don't have a snowball's chance in proverbial hell of participating in. However, this is such a wonderful event, I just want to share it. Maybe it's also because I am such a fan of opera. But, I think it would be interesting for anyone to see and share -- and at least to know about.
London's world-renowned Royal Opera House at Covent Garden is cleaning house, emptying the closets, and unloading the wardrobes of countless operas. More than 1,500 costumes will be on sale in a massive clearance -- the garments are costumes from operas that are no longer in the repertory. They range from post-war Paris -- things that resemble Dior's "New Look"-inspired costumes from the opera Boulevard Solitude, designed by Tobias Hoheisel -- to modern-day suits from the 2009 production of Cosi fan Tutte. There are costumes from Katya Kabanova, designed by Maria Bjornson, the designer of Phantom of the Opera, Don Carlo, Parsifal, and on and on. It's possible that you might buy something that had been worn by the likes of the celebrated baritone Simon Keenlyside. Prices range from modest sums for bits and pieces, to "kingly" sums for kings' raiment.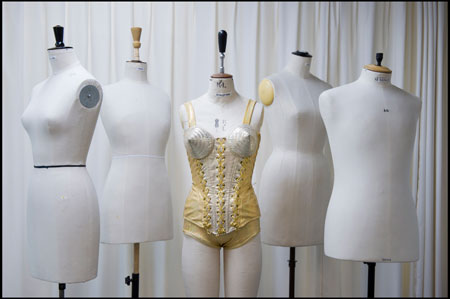 Proceeds from the sale benefit the Royal Opera. The sale is taking place this weekend (Saturday, from 10 a.m. to 5 p.m. And Sunday, from 19 a.m. to 4 p.m.), at the new Bob and Tamar Production Workshop at the High House Production Park in Purfleet, and if you are lucky enough to be reading this and are in the UK, then hie thee there, and have a look-see around the grounds, the café, the orchards, kitchen, and beautiful walled gardens. (There is a train station in Purfleet and it's about a half-hour's ride from London.)
Posted on September 23, 2011 - by

---
Reader Feedback - Be the first to kick-start this discussion...



---
About the Author: About the Author: Ruth J. Katz is a well-known shopping and service writer based in New York City. She has written about shopping for 25 years for New York magazine; covered the topic on-air at Fox-TV for several years as the Home Services expert; and had her own show on both the USA and Lifetime Cable networks. Katz wrote extensively for The New York Times as well, and contributed periodically to the New York Daily News. She is a passionate shopper, always looking for not merely a good buy, but the best buy, ferreting out a "steal" or discovering up-and-coming designers. She has written five books and is a former contributing editor to Hearst's Redbook, Classic Home, and Colonial Homes; she is currently a Contributing Editor of New York Home, Golf Connoisseur, The Modern Estate, and Promenade magazines. She is also the former Shopping Director for Davler Media's Manhattan Living.

Recent Entries: